Perhaps not so surprising, but yes rich people have smartphones.
The majority of rich people will not buy the cheap Chinese brands – nearly half of wealthy smartphone users own an iPhone, about one-third use an Android device, while less than one quarter use a BlackBerry. This contrasts the average, which sees 46% of users owning Androids, 30% owning iPhones, and 15% owning Blackberrys.
Rich folks use their smartphone differently than the poor. Those earning annual incomes of $150,000 (mean income $295,000, mean net worth $2.8 million) display different habits than less wealthy folk. For example, the rich are less likely to play games or tweet from their device. They would rather download weather, news, sports and business/finance applications.
Most people enjoy having a quality cell phone, but they also recognize that cellular phones are a consumable good and will have to be replaced within in a few years. For this reason, people often do not purchase the most expensive cell phone when they purchase their mobile. Some though must have a costly mobile phone. The world's most expensive cell phones were made to satisfy just that type of person.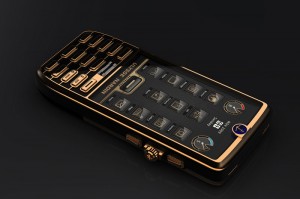 The Chairman by Ulysse Nardin is the world's most expensive Android smartphone, (US$49,500) and includes both a touch screen and a physical number pad. The Ulysse Nardin name is most often associated with luxury watches and that fact shows in the Chairman's sophisticated design. The volume controls look like watch buttons and the crown between them can actually be wound to generate power for the device. In fact, the phone features a kinetic rotor power system visible through the backplate.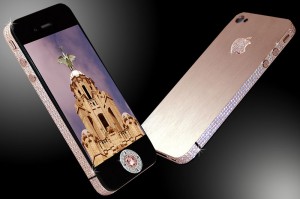 The Stuart Hughes iPhone 4 Diamond Rose Edition, which will set you back a staggering $8 million US. Hughes has recreated the infamous antenna band that wraps around the sides of the latest iPhone, as well as the back plate, using rose gold. The band is adorned with 100 carats of flawless diamonds, and the Apple logo is formed with fifty-three more diamonds. Once again, the home button gets the most love – it's made of platinum and features a rare 7.4 carat pink diamond. The phone comes in an imperial pink 7 kilogram chest cut from a single block of granite and lined with nubuck top-grain leather. It also comes with an 8 carat flawless diamond that can be used in place of the pink one.
Rich People Applications
So are there apps out there for only the rich and famous?
iVIP Black (iVIP Ltd.) – $999.99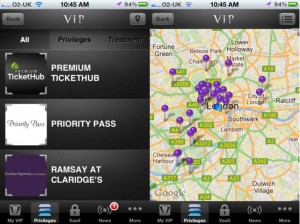 The first thing you need to know about using iVIP Black is that you need to be a millionaire; once you've purchased the app, you'll be asked to certify that you're a "High Net worth Individual" before you can make use of its services. Also keep in mind that the service is UK-centric, so not only do your millions need to be in British pounds (worth about 1.6 times the US dollar) but you'll also need to visit the UK in order to take full advantage of the services offered by iVIP. If you're still interested, you'll find that iVIP offers access to a number of exclusive goods and services, such as a limited edition iVIP Black iPhone, penthouses in London and New York, private islands, racehorse ownership, helicopters and VIP lounges.
Best of all, iVIP Black can be customized to suit your individual needs.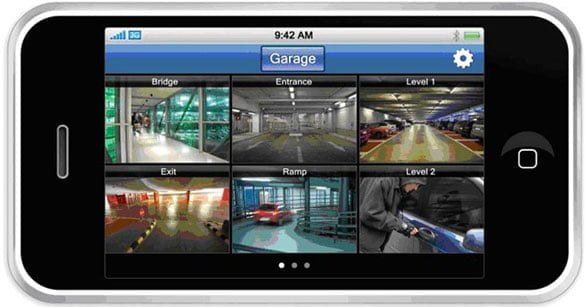 iRa Pro (Lextech Labs) – $899.99
Intended for security professionals who need to maintain unlimited mobility, iRa Pro allows users to monitor IP-based surveillance equipment. This expensive iPhone app interfaces with a video management server to provide that extra sense of security that comes from knowing that you can always check in on whatever it is you're protecting.
World's Most Expensive Mobile App
If you have your own private aircraft you would pay a lot of money for the privilege of a mobile phone system. Rather than installing a $500k conventional mobile phone system, users of ASiQ's SafeCell will use the existing Bluetooth connection on any computer connected to the aircraft's satellite link and running the SafeCell server software. The result allows phones running the SafeCell app to make calls as if they were receiving traditional Telco coverage.
The best part is there're no roaming charges!
8 people download $1000 iPhone app – I am rich

The LA Times reported in 2008 that eight people who bought the useless application called I Am Rich which cost $999.99 for every download. These eight iPhone users have already downloaded and purchased the expensive application before Apple Inc. removed it from their latest App Store. However, not everybody was shocked with this. Everybody knows that there are numerous people who can afford and waste their money on an application that does nothing except display a glowing red gem and your mantra (whatever that means).
The same app is now available for the Windows Phone 7 platform. Priced at $500, this app does the same thing…which is actually nothing, except of course show that you are stupid enough to pay $500 for it.
And on that note, I would say straighten your tie as rich people are almost just like us normal people.