When it comes to investing in property in Indonesia, Bali is often the most common choice. That said, people are starting to look elsewhere for a more efficient alternative.
Another promising development lies in an island east of Bali and west of Sumbawa. Lombok has been steadily gaining traction over the past few years, so you begin to wonder: is now the time to invest in Lombok property?
When Indonesia Expat  interviewed Jean-Marc Reynier, the founder and CEO of Naga Indo Investment Limited in 2015, Silk Air had just requested a direct route from Perth to Lombok – an indication that the world was taking notice of this travel destination.
On the potential of the property development industry, particularly in South Lombok, the Frenchman had this to say:
"Lombok has for too long been in the shadow of Bali, just 40km away. However, Bali has reached a tipping point where mass tourism dictates uncontrolled and polluting developments. Five years ago, the Gilis in northwest Lombok started their boom and now it is spreading across South Lombok. The opening of the international airport and the government's commitment to building infrastructures in a more civilized manner offer bright prospects."
Two years later and a spike in global interest cannot be denied. In fact, efforts to make West Nusa Tenggara (NTB) especially Lombok Island as a favourite destination for tourists and investors continues to be initiated.
South Korean airlines Korean Air, Jin Air and Hanjin Travel have began exploring opportunities to open direct flights from Incheon to Lombok. As reported by Bisnis, representatives from the airline companies met with NTB Deputy Governor Muhammad Amin to express their interest in launching low-cost carrier services, which will be initiated by charter flights before introducing scheduled flights.
Amin has welcomed the plan and told local officials to monitor and facilitate the planned direct flights.
Also, according to Suarantb, the number of Muslim tourists to NTB increased by 20 percent this year. After declaring itself as a halal tourism destination, the NTB government kept on aggressively promoting to attract more Muslim tourists. This is evident in the increasing number of tourists who visit the District of North Lombok.
Aside from the focus on tourism, Lombok has also been included in the government's programme to develop 10 new cities and improve their respective infrastructures.
The new city in Lombok, West Nusa Tenggara (NTB) namely Bandar Kayangan in North Lombok Regency is still being developed.
"One of the main factors in the development of new areas is the development of road connectivity," said Rido Matari Ichwan, Head of Regional Infrastructure Development Agency (BPIW) KEMENPUPR, as quoted from Detik.
He adds that "the width of the road to the Bandar Kayangan area needs to be improved because most still have a width of 7 metres."
Geographically, Bandar Kayangan is one of the world's strategic trajectory locations. Therefore, the development of this new city can be directed as an industry strategy and trade between nations that come from other countries.
Is Lombok an up-and-coming resort investment frontier?
This was the question raised in an article by The Edge Property in 2016. Lombok can hold its own against tourism giant Bali with its pristine waters, lush greenery, great hiking trails and its reputation as a prime surfing spot.
The managing partner of Indonesian resort developer Selong Selo Group, Andrew Corkery, first saw the island's potential as a resort destination in 2009 when he visited with his business partners. He said they felt Bali has "become saturated and commercialized."
Lombok saw a boom in domestic tourism of 32 percent in 2012. And the previous years of 2008 to 2011 had a consistent growth in arrivals.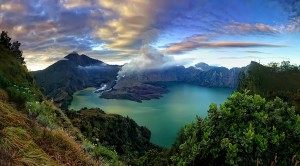 According to the report by the Central Statistics Agency (BPS) in 2016, Lombok is becoming more popular with foreign tourists. During the first three months of 2016, a total of 18,702 foreign tourist arrivals through Lombok International Airport was recorded.
Jean-Marc Reynier points out the big change he has noticed in the property market in Lombok and the Gilis saying more mid-scale businesses are entering the market as well as a few boutique hotels; many coming from overcrowded Bali.
He then adds: "this has attracted much attention from expatriates across Asia seeking a holiday home destination at a fraction of Bali's prices." According to him there are two kinds of investors – those looking for pure investments and those looking for a family home.
Should you go for it?
It's inevitable that foreign investors would be wary of investing in Indonesia for several reasons – the economy being one of them.
When asked if Lombok is a safe region to invest in, Reynier responds, "Emerging markets carry more risk than developed ones but the return goes with it. Expect a 30 percent net return a year. If you perform with proper due diligence and you have the right team around you, you will be safe."
Despite the fact that Lombok isn't as highly developed as Bali yet – considering its lack of diverse shopping, dining and recreation sites – it still has its own perks and charm.
Reynier enumerates the positive aspects of investing in property development in Lombok such as having an international school, international standard hospital, an international airport close by – and pure beauty. To many, Lombok is among the top ten most beautiful places in Asia.
Bali may be its superstar neighbour, but Lombok's low-key grandeur silently calls out to anyone willing to take a chance.