HappyFresh Indonesia is a recently launched grocery delivery app for Jakarta. The startup has seven co-founders, bringing together a myriad of experience, ranging from Boston Consulting Group, Blackstone, JP Morgan, Lazada, German startup KaufDa, and Indonesia's Koprol.com. We talk to Group COO, Benjamin Koellmann, to learn more about this much-anticipated service and how HappyFresh could be beating the traffic for you.
Let's start with a bit of background on the company, founded in October last year. Can you share with us your vision and mission for HappyFresh? And can you explain the name to us?
We founded the company at the end of last year with the vision to inspire customers to make better food choices through the use of technology and delight them with flawless delivery. We want to help people eat healthier, keep their refrigerators fully stocked, and enable them to spend more time with their families, doing the things they love, rather than spending hours braving the traffic to go grocery shopping.
The name combines two essential elements of our company.
'Happy' is what we want to make the customers on every single order, and 'Fresh' is what we do and what we're focused on.
We deliver the full assortment of your favourite stores, but what really differentiates us is that we also deliver fresh products such as fruits, vegetables, meat, and seafood.
You started HappyFresh in Kuala Lumpur before launching in Jakarta this month. What attracted you to start this business in these two major cities of Southeast Asia and have you plans to expand in the region?
Kuala Lumpur and Jakarta are very interesting markets for us. Spending power and credit card penetration are higher in KL than in Jakarta, and in general people are more used to buying things online there. Jakarta, on the other hand, is interesting because we really feel we can solve a huge problem here. We all know about the infrastructure challenges this city faces, and the traffic problems this often leads to. That's why we think HappyFresh is such a powerful idea here; it's one less trip you need to make, which often translates into several hours saved that you can now spend on things you actually want to be doing.
In terms of further expansion, we have very concrete and ambitious plans already – we already have a team in Bangkok and are preparing to launch there very soon. Don't be surprised to see us in almost all major Southeast Asian cities very soon!
Could you please explain the order process using the HappyFresh app? 
When you first log in, we ask you where you would like us to deliver. We then show you the stores you can shop from. Once you have chosen the store, we show you the entire assortment of products available, split into various categories and subcategories. You can also use the search function to directly search for specific products.
Once you've added the products you want to your shopping cart, you can review them and adjust quantities. When you press "check out", you have the option to specify replacement products. Sometimes our supermarket partners run out of stock on certain items, and here the customers have a chance to let our personal shoppers know which replacement products they would accept if this were to happen.
We then let you choose your desired delivery slot – all one-hour each, starting from the next hour, all the way to five days in advance. We made these slots 60 minutes each because we don't want to force our customers to plan their day around a longer delivery window. We'll also send you push notifications along the way, so you can track your order progress live in our app.
Payment is currently via credit card, and we are soon adding a cash-on-delivery (COD) option. You can even choose to securely store most of your credit card details, so that you only have to type in the CVV code on your next orders.
Our shoppers and drivers are constantly standing by at the supermarkets. As soon as we receive your order, one of our shoppers starts to carefully pick your items, hands them over to one of our drivers, and the driver delivers them directly to your doorstep within the desired delivery slot. All of the steps in this delivery chain are supported and enabled by mobile technology, and each function uses their own specialized app to fulfil the orders, allowing us to achieve the necessary speed, and monitor the orders real-time from order placement until delivery.
You currently work together with Ranch Supermarket in Jakarta – do you plan to reach out to other supermarkets as well? 
Ranch Market and Farmers Market have been great partners to work with, and we will spend the next few months bringing all of their stores across greater Jakarta online. However, our goal remains to be a platform where customers can purchase their groceries from a large variety of stores across a variety of formats and price ranges. We are very open to new partnerships and are already talking to several other chains, which will come onboard later this year. I think most of the retailers realize that HappyFresh can provide them a fast, easy, and low-risk way to start selling online. I think they also realize that it can be risky for them to miss out. You don't want to be the only supermarket not on HappyFresh in a year from now!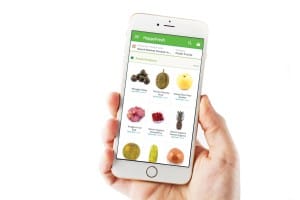 How are your personal shoppers trained to choose only the best produce? What are their backgrounds and what attributes do you base your hiring of these shoppers on?
We're very proud of our stringent hiring and specialized training. The people we hire often come from a retail background and have worked at high-quality supermarkets. All staff undergo two weeks of intensive training at our HappyFresh Academy. The Academy is our central knowledge base where we constantly update and improve our SOPs, training materials, and run training sessions with our staff to ensure they are fully trained before we put them in any stores. Of course all of our staff also undergo a background check before they are allowed to deliver any orders to our customers' homes.
Your app is sleek and very easy to use. Where was it developed and what features did you feel were most important to incorporate?
Our CTO Fajar and his team developed the app in-house, which is why we were able to build such a fantastic app in such a short time. There are many new features in the pipeline and the app will continue to get better every week, but we are already quite proud of what our team has achieved in the matter of a few months!
Our main goal was to have a clean, sleek, and easy-to-use app. We want to make your life easier, and we want to put the entire assortment of your favourite stores at the tip of your finger. Our product and engineering teams have done a phenomenal job and have achieved exactly that. There's always room to improve, but the initial feedback we have received has been overwhelmingly positive.
What has been the most challenging aspect of getting your new company off the ground in Indonesia?
It's still much too complicated to start a foreign-owned company here. It takes a lot of money, good lawyers, and lots of patience. Many sectors are completely off limits, and even if you're allowed, it takes months just to get the right licenses and permits. For Indonesia to really start taking off, this is one of the biggest aspects that needs to be fixed. What Indonesian lawmakers need to realize is that an inflow of foreign capital and expertise can only benefit Indonesia. It creates new jobs, sometimes entire new industries, and an influx of knowledge from which Indonesians end up benefitting. The moment Indonesia realizes this and truly open its doors, the sky will be the limit for this wonderful country and its amazing people!
Do you have any competitors? 
We have relatively few competitors since we decided to partner with the grocery chains rather than compete with them. Our message to our partners is simple: You focus on what you're good at, which is running grocery stores. We take care of the online and fulfilment part for you.
It creates great synergies and being on the retailers' side rather than competing against them makes everything a lot easier.The competitors we currently see in Indonesia either have a very limited assortment and long delivery times, or they are courier companies not fully focused on groceries. It's a matter of customer preferences. Would you rather have your family's fresh groceries picked by one of our professionally trained personal shoppers, or by a random ojek driver off the street after he just had a smoke and changed the oil on his bike?
Do you have any pearls of wisdom to other would-be entrepreneurs?
What I would tell other aspiring entrepreneurs is "Do it!" but tread carefully. Entrepreneurship and startups have been very glorified over the past few years, and no boom lasts forever. What most people don't realize is that starting a company is incredibly hard work and over 90 percent of all startups fail. The big successes are called "unicorns", precisely for that reason – because they're incredibly rare.
All that being said, don't let it discourage you! If you have a great idea, my advice would be to go and do it, but don't do it alone! Startup life can be tough and even lonely sometimes, so it's important to have a great team on your side. I've been very fortunate to find such a great group of people. I can't wait to see what we will achieve together, and how we will change the way people shop for groceries all across Southeast Asia!
Thank you, Benjamin! To get in touch, please e-mail:[email protected]