Dr. Andri is the owner of Neu Premium Dentistry, which has two branches in Jakarta. He explains his business philosophy to us, and how New Premium uses new technologies to help patients.
Dr. Andri, thank you for taking the time to answer our questions. What made you want to open your own dental practice? 
I feel dentistry is an art: we dentists can change someone's appearance by designing the shape and position of their teeth. I am also passionate about making patients unafraid to go to the dentist. And finally, due to advancements in technology in dentistry, it is exciting that patients no longer need to wait a long time to change their appearance.
How many clinics do you have today and where can they be found?
We have two clinics in Jakarta now. Neu Premium Dentistry is on Jl. Asia Afrika in Senayan City, in the Panin Tower, and the other, named Digital Dental Clinic, is in The East Tower, Mega Kuningan.
Many people are petrified of going to the dentist and avoid going until it's too late. What technological advancements have improved the quality of treatment, and pain management, for patients today?
Nowadays, with the latest clinical techniques and technologies such as laser dentistry, it is possible to have a painless dental treatment. Patients should not be afraid to come to our clinic for dental procedures, hence there is no need to delay any treatment until it's too late. A procedure as simple as regular scaling (cleaning) can really improve dental health.
You offer 'pain-free' and 'minimal trauma' services – can you explain how this is possible for a tooth extraction, which can be extremely painful?
Tooth extraction is a two-stage procedure. First, the specific tooth and surrounding tissues are numbed with anaesthetics. Once the tooth is numbed, it will no longer produce pain sensations. With proper application of techniques, patients will not feel any pain during the anaesthesia procedure. Secondly, with the correct, gentle manipulation, teeth can then be removed with minimal trauma. This way, the whole extraction procedure will be pain-free and with minimal trauma.
What is laser dentistry?
Laser dentistry is the use of laser lights in dental treatment. It can be a precise and effective way to perform many dental procedures. It allows treatments on very exact areas of focus without damaging the surrounding tissues. Laser dentistry gives comfort to anxious dental patients because procedures can be performed painlessly with minimal to no bleeding. Some of the benefits associated with laser dentistry are reduced requirements for sutures; faster-healing wounds, and minimised bleeding and risk of bacterial infections. Laser treatments can offer pain therapy too, for example for patients with TMJ (jaw joint) problems.
Where are your patients predominately from and what are the main issues you come across?
As a pioneer and a leader in the use of advance German dental technologies in Asia and Indonesia, our clinic is recognised as the first dental clinic here to use these methods. Hence, our patients are predominately expats. The main issues we see involve patients needing some treatment but without pain; in a sterile environment with top technology, quick service, and perfect results.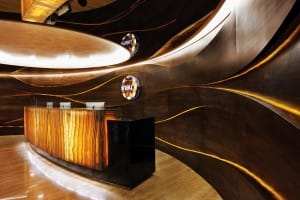 How do you believe oral health relates to overall bodily health?
Your mouth is key to overall bodily health. Taking care of your teeth isn't just about having a nice smile and pleasant breath. Your mouth is the gateway to your body: bacteria that builds up on teeth makes gums prone to infection. The immune system moves in to attack the infection and the gums become inflamed. The inflammation continues unless the infection is brought under control. Sometimes, the inflammation doesn't clear up properly. The result of the intense gum inflammation is that it also affects the bloodstream and is believed slowly to damage blood vessels in the heart and brain over a long time period.
Over time, inflammation and the chemicals it releases eat away at the gums and bone structure that hold teeth in place. The result is severe gum disease, known as periodontitis.
Periodontitis or gum disease has been linked to a variety of other health problems, including heart disease and heart attacks, diabetes and its control, stroke, and also rheumatoid arthritis. In worse-case scenarios this can actually be fatal.
What are the aesthetic treatments you offer at Premium Neu Dentistry?
We can design our patients' smiles with CAD/CAM technology (i.e. 'digital smile design'), to bring out the best smile we can, in a painless, one-day treatment .
Is tooth whitening 100 percent safe? 
Tooth whitening in general is 100 percent safe. Having said that, it is advisable to consult your dentist beforehand. There are so many tooth-whitening products in the market, with different methods of application. Our dentists can help determine the appropriate tooth whitening product and method for you, and explain what kind of preparations are needed, and what to expect afterwards.
What oral treatments should we avoid, if any?
Generally, we would advise patients to avoid tooth extraction unless the tooth can no longer be treated by any other means. Once a tooth is extracted, it can potentially pose more problems. Post-extraction, the bone is no longer supporting the root of the tooth, hence it will "resorp", with adjacent teeth starting to tip towards the empty space created. Once this is happens, the patient's normal occlusion can start to shift and potentially cause TMJ problems, which in turns may cause headaches, jaw and neck pain, ear ringing, and more. We always advice our patients, prior to tooth extraction, to consider a tooth replacement such as dental implant to prevent bone resorption.
Most of us are aware that we need to brush twice a day and floss regularly for optimum oral health. What else should we be doing?
You can try a water-based interdental tool such as Waterpik. And, of course, visit the dentist and dental hygienist regularly for cleaning and check-ups!
What challenges do you face running a dental clinic in Indonesia?
Dentists face incredible challenges now. They have to do so many things well: providing optimal patient care; keeping up with the latest clinical techniques and technologies; managing a practice; leading a team, and operating a successful business. Technology is also growing fast, and dentists must choose carefully to take advantage and make it a success. You can expose yourself to lots of techniques and technologies, but that doesn't mean that you want to apply all of them in your practice.
Tell us how your game room at your surgery in Senayan helps your young patients to de-stress?
The clinic is designed so that when the patient comes into our Clinic, they do not feel that they are in a medical facility. The game room adds to this, hence when younger patients come in they will feel at ease. Combined with our gentle and painless treatment, this will give an overall positive experience.
What is your company's vision for the future?
Our company continuously offers the best dental treatments, performed by qualified dentists and supported with the most advanced German dental technologies.
Our vision is to make our clinic the one with the best performance in the world.
Thank you, Dr. Andri. To learn more, please visit www.neudentistry.com