"When I returned to Indonesia in the early 2000s, I became adamant to bring forth slices of the countries I've visited so that people of all sorts of backgrounds could have a taste of familiarity in an ʻunknown land'," explained Alvin Gozali, the President Director of Thamrin Nine, PGW.
Who is Alvin Gozali?
My name is Alvin Gozali. I'm Indonesian but I've been raised globally. I'm a Finance and Communications graduate of Boston College.
Since returning to Indonesia, I've been transforming Jakarta's leisure and retail markets by co-founding 12 dining, sports and entertainment concepts. In 2006, I expanded into property development with the notable UOB Plaza.
My brother, Leonel, and I then started developing Thamrin Nine, a transformative mixed-use destination in the heart of the capital. I'm highly involved in design, engineering, architecture, sales, and development because I reckon, innovation and quality continuously push PGW projects to break new ground.
Tell us more about Thamrin Nine.
Thamrin Nine's philosophy is to move a part of the suburbs back into the city and cultivate a community and the ecosystem. Thamrin Nine is a district where a community can work, live and play conveniently.
There has been a fad of relocating to the suburbs in early 2010, which has become a sprawl. Hence, we are vertical and assured to be well connected to all modes of transportation (MRT, LRT, Commuter Line and the Airport Train) and the CBD area. Travels for business and leisure purposes are therefore efficient as at least 80 percent of their needs are at their disposal within this complex, meanwhile, 20 percent is easily accessible via public transportation.
Other components of Thamrin Nine include the 304 metre Luminary Tower, a comprehensive podium, extensive hospitality offerings, sports and recreation facilities, and the luxurious Le Parc Residences. Thamrin Nine development will have a CFA total estimated 7.5 million square feet, making it one of the largest contiguous projects in the Southern Hemisphere.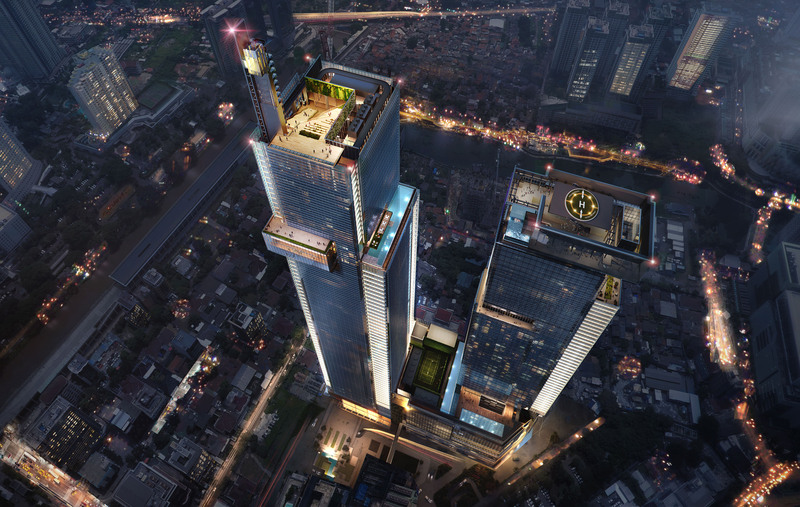 As a foreign investor interested in Thamrin Nine, what can they attain?
Thamrin Nine strives to provide convenience; reduce congestion by supporting public transport; create a community where people could exercise, play and whatnot under one roof; and hopefully, bring in other elements found abroad into Jakarta. The same quality of service and entertainment are attainable without having to travel far away.
Property prices around the area will exponentially increase. For investors, that's monumental. Along with the current trend of starting with a relatively low price point. Thamrin Nine is expected to have about 30,000-35,000 people living and working, which hopefully would be a model for Jakarta because it has worked for Singapore.
Indonesia is projected to be one of the top ten GDP countries in the world by 2030–2035. Jakarta is a large city with a continuous cash flow, thus the potential for investment is feasible despite the country's current trading being at a discount compared to Bangkok, Singapore, Kuala Lumpur and Manila.
Unfortunately, that shouldn't be the case because Indonesia's GDP is much higher but I think because Indonesia only emerged in the foreign market a little bit later than other Southeast Asian countries. Looking forward, as Indonesia is expanding its international footprints, more regional buyers would understand Indonesia and love to set Jakarta as their home base. Jakarta could interestingly become an alternative compared to other Asian countries considering plenty of business opportunities are around.
We would love to aid Indonesia in a strong step towards the direction where we could provide high levels of quality for many events and exhibitions, as well as residential, entertainment and office facilities. For expats, it could cure their taste of homesickness. We also want to provide a platform so events could be hosted in Indonesia without too many excuses. Thamrin Nine has an amphitheatre suitable for artists to perform effortlessly.
Le Parc is a rare collector's piece property delivering the utmost privacy as the only low-rise, low-density residence in the heart of Jakarta. Available for foreign ownership, what specialities are offered?
Le Parc is ready by the end of 2023. Residents of Le Parc will be transported to the tranquillity of a resort in Indonesia. Situated in one of the world's busiest metropolises, the desire to decompress in one's own space "away" from Jakarta's hubbub is high. Therefore, Le Parc is a small Eden in the heart of the CBD to allow residents to save themselves from the madness going on beyond the estate.
We've worked with international architects to infuse some quality and essence of what a resort should be, also Dutch art deco flair, but found in CBD Jakarta. Moreover, the low-density design is to boost privacy and exclusivity accentuated with a European feel.
There's a climate-controlled greenhouse that comes with a retractable roof to allow natural light. Residents can score some strikes at the first bowling alley installed in an apartment; swim some laps in the 50-metre Olympic pool; play in the basketball and badminton courts; relax in the cigar lounge and wine cellar.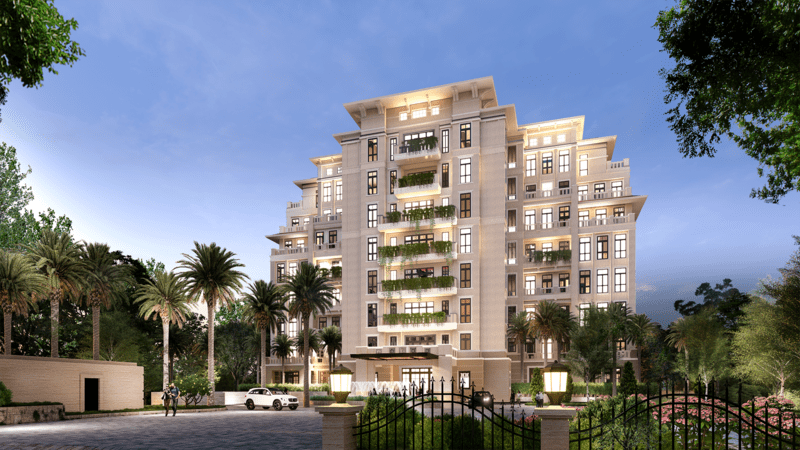 Who did you have in mind when curating Le Parc?
Well-travelled families with high demands such as sound sensitivity, appreciate security, yearn for connectivity within the city and own pets. We designed Le Parc for families as there are merely two-and three-bedroom apartments available.
Residents will get the best of both worlds – living in the city but having the feeling of being in the suburbs, which thus far is unavailable at this moment. We're quite excited to see how the first buyers would react.
The developments of Pan Pacific Hotel and Waldorf Astoria Hotel are ongoing. Please share some glimpses of these with our readers.
Pan Pacific Hotel has been a long fixture in Indonesia and wishes to make it permanent. Since it's Tokyo-and Singapore-based, many Japanese and Singaporean clients could feel at home in Thamrin Nine. The Japanese embassy is merely one MRT stop away. Pan Pacific is planned to have its soft opening in three months and be fully operational by the end of 2023. In the meantime, we're working on PARKROYAL Hotel & Serviced Suites which will be open in late 2024.
We're also thrilled about the first-ever Waldorf Astoria in Indonesia. Construction will begin in 2025. The original one in New York was an art deco hotel located in the Dutch colonised area or where the Empire State Building stands today. History, sophistication – these words describe the original Waldorf Astoria. The six-star hotel will return to its ode of being a gala hotel where presidential speeches and various other events could take place, accommodating up to 4,000 capacity in the grand ballroom.
Congratulations on the Autograph Tower entitled Indonesia's tallest building! Besides offices, are we to expect more activities there?
Thank you. Autograph Tower is the centrepiece of Thamrin Nine, soaring 385 metres (400 metres including the basement), which makes it the tallest in Indonesia as well as in the Southern Hemisphere. Offering over 1.6 million square feet of space, Autograph Tower has operated since early 2022 and has successfully obtained an occupancy permit. Indonesia's first Observation Deck is also here.
We built the Autograph Tower as a nod to the Empire State Building, being about the same height, although the Autograph is slightly taller by a few metres and was built a century later. It would be pleasant to have Jakarta as the New York of Southeast Asia in terms of business, infrastructure, residential and more.
In your opinion, how do you foresee properties, architecture and design in the next five years?
Indonesia has a very high fertility rate, unlike Japan which is shrinking every year. Families in Indonesia almost on average have at least two to three kids, which is good for apartment sales and therefore not having the need to rely too much on foreign buyers all the time. Jakarta's supply and demand are, however, smaller than Singapore, in terms of land mass and Jakarta has more than double the population of Singapore. Prices will generally go higher.
Indonesia has plenty of creative people in architecture and interior design. The up-and-coming homegrown talents are doing well. Indonesia is definitely going down the right path. However, more focus on education and opportunities for creatives and designers to utilise the proper equipment to do their jobs, as well as more exposure are needed.
What's next for Thamrin Nine, Alvin?
Ultimately, visitors' satisfaction whenever they're in the complex will always be our motivation. We aim to accentuate the piece of land we have to deliver something Indonesia hasn't seen before by incorporating a unique selling point into each of our projects. Hopefully, Indonesia will be viewed as the next top, modern country with not only Jakarta as its headline but also other regions, for example, Manado and Bali.
How can our readers get in touch?
For inquiries and viewing, you can reach out to +62811306399. Follow us on Instagram @thamrinnine or visit our website www.thamrinnine.com for more information.