Deciding whether to relocate your workspace can be tricky. One of the nation's most successful serviced offices Marquee Executive Offices shares why companies should consider moving to modern workspaces in Jakarta.
For the past few years, businesses and entrepreneurs across the globe have turned their attention from traditional to modern work life due to the rise of shared office facilities. In Jakarta, serviced offices are among those alternative workspaces that have spurred businesses, both big and small, to relocate. Here is everything you need to know about choosing the right serviced office in Indonesia's capital.
Growing Business Prospects
Relocating is not necessarily about expanding or downsizing your business. Instead, it is part of an overall strategy that is concerned with price, the company's brand, human resources and cultural objectives. To relocate means that you are not only finding the right place for your business to grow, but also making sure that the new workspace can help you realize its full potential.
Reducing Rent Costs
Some might wonder if investing in a serviced office is a worthwhile venture. As a matter of fact, this is one of the most common reasons why startups and even big companies turn to serviced office. Rent and utility costs in conventional offices tend to be more expensive, while serviced offices like Marquee require no upfront capital, as furniture and other amenities are already provided.
Flexibility
The work environment in a serviced office can be tailored to your company's specific size and culture. This way, your firm is able to grow and downsize based on whatever your needs are at the moment. Unlike corporate spaces, serviced offices also offer more networking opportunities due to the collaborative nature and floor plans that place you directly next to other businesses. Jumping into a serviced office could very well expand your professional network.
Location
Considering the right location is important when relocating to serviced offices. Companies based in Jakarta should go for business district areas like South Jakarta (TB Simatupang and Pondok Indah) where they are free from strict government regulations, yet still surrounded by hotels and shopping areas. With new ways of reorienting the work environment, serviced offices are taking over Jakarta's workspace market. The model is efficient, simple and makes too much sense to ignore, particularly for young startup companies.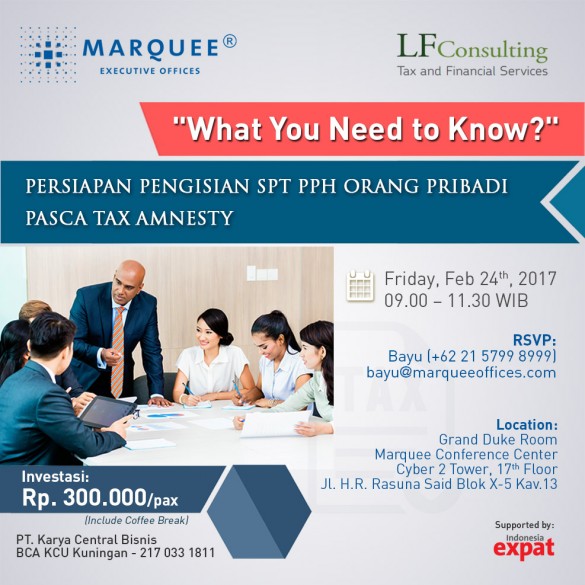 Marquee Executive Offices is the leading Indonesian premium serviced office provider with a primary focus on offering a one-stop business solution. Currently, Marquee Executive Offices has a total of 11 centres located in Grade A office buildings all throughout Jakarta. For more information, visit www.marqueeoffices.com
Featured Image via Pexels