While the island is often regarded as a beach paradise with a variety of boat tours and diving options, many foreigners are looking for the quintessential jungle experience when they get on a plane bound for Bali. If you are keen to stay somewhere that is surrounded by nature, here are our picks for the top five treetop stays in Bali.
Magical Tree House
One of the fun things about this treetop accommodation on the edge of the jungle is that you literally get to live with a tree. Your little two-level, two-bedroom house has a tree growing inside. Showering upstairs is another delight, as you can gaze out at the spacious gardens and rice fields.
In the evening, the tree house becomes fairly romantic and soft mood lighting surrounds you. Perhaps the most unique feature of this stay is the downstairs bathroom that opens into a waterfall curtain. Walk directly through the veil of water to plunge into your private pool. The accommodation is only 1.6 kilometres from the city's central district, so you have both seclusion in nature and the close by buzz and action of Ubud.
Address: Jalan Raya Pengosekan, Ubud, Bali 80571
For a booking, visit www.airbnb.com.sg/rooms/792724?af=1430245&c=direct_link
Sunrise House
This luxury four-level bamboo house has an on-site restaurant that delivers beautifully presented meals to your door. This means you can have more time (and privacy) in your bamboo haven surrounded by the sights and sounds of nature.
Sunrise House is somewhat of an architectural bamboo masterpiece, matched with high-end service. Guests are sure to feel treetop-high with towering bamboo rafters and a swirling staircase that takes you on a journey through four levels of the three-bedroom stay.
The open-air design enables window-free living, and as you look down on the mighty Ayung River valley, you cannot help but immediately feel relaxed. Sleeping is peaceful under your large soft cream canopy sleeping net. The energy of the nearby river and the feeling of the breeze gently circling the house contribute to a calm state of mind. There are five bamboo homes available, all located 25 minutes from Ubud.
Address: Jalan Tanah Ayu, Sibang Gede, Abiansemal, Kabupaten Badung, Bali 80352
For a booking, visit www.airbnb.com/rooms/798483
Bali Eco Stay  
This secluded mountain retreat in Central Bali is located at the foot of Mount Batukaru.
Your eco-bungalow, The Waterfall Bungalow, is positioned at treetop level. To get to Mount Batukaru, you'll need to travel two hours from the airport, taking a scenic route through a greenbelt known as the 'Rice Bowl of Bali'.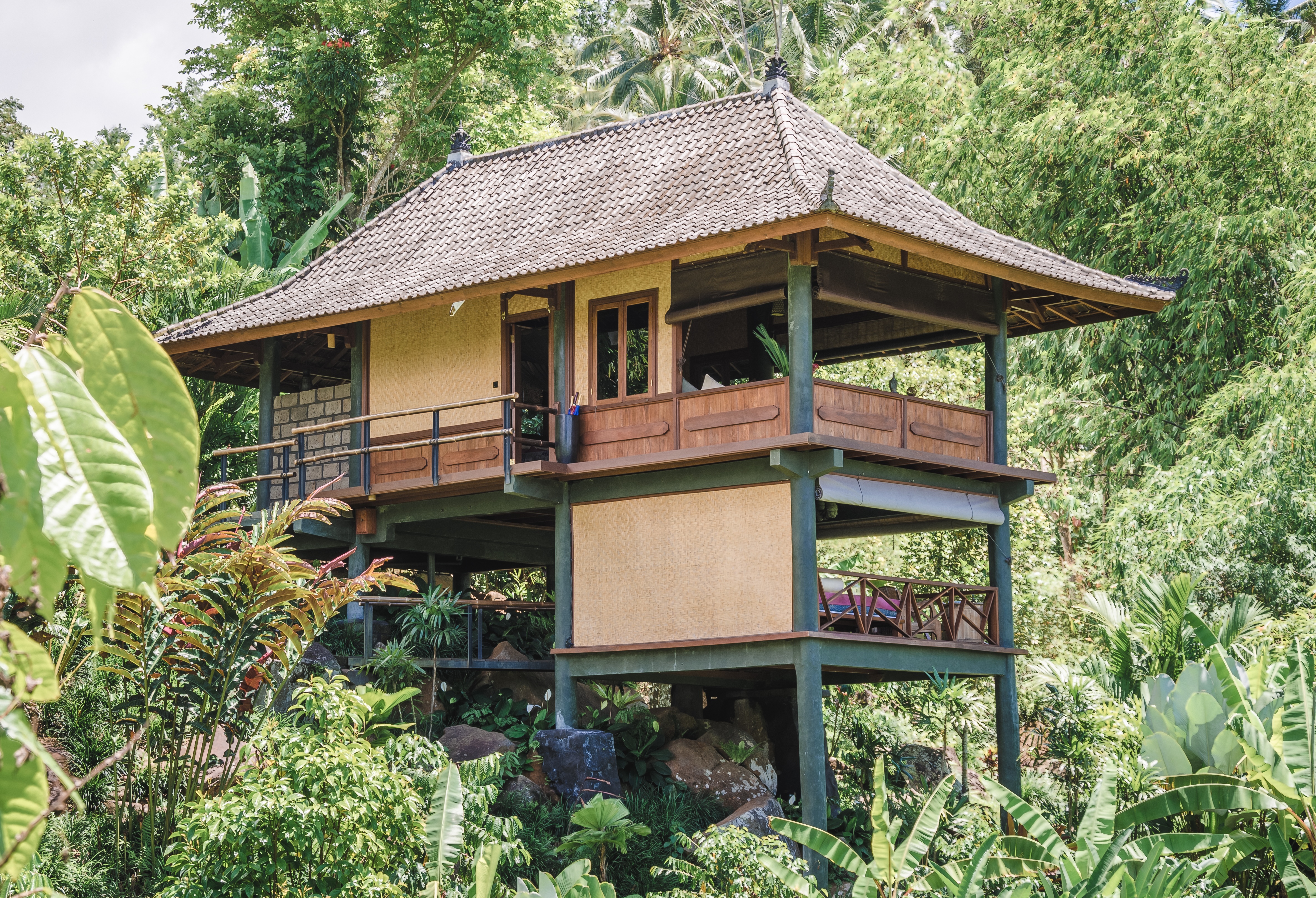 When guests arrive at this remote mountain spot, they may not want to leave. A private path from your accommodation leads to a stunning waterfall with a 12-metre drop only five minutes away. This eco-resort goes a step further and makes its own hydropower – right in the waterfall.
For guests who want who want to learn more about cooking, the restaurant has an open kitchen and hosts cooking classes daily. The Australian owners take pride in their attention to detail. A commitment to sustainable eco-principles is rendered at this unique retreat in the middle of nature.
Address: Kanciana Village, Desa Gunung Salak, Selemadeg Timur, Mount Batukaru, Tabanan, Bali 82113
For more information, visit www.baliecostay.com
Villa Pererepan
The opulent Awang Awang Resort is made up of five villas, and the treetop pick is Villa Pererepan.
The room is for couples and swimming in your own plunge pool is a relaxing experience with the jungle surrounding you. If you're a fan of wildlife, the Petanu River courses through the jungle valley below and from your balcony you can watch the antics of a troupe of monkeys that hang out in the valley. Living in the wild with plenty of forest fruits and food, they have no inclination to enter the resort area, but their lively exchanges can keep you enthralled for hours.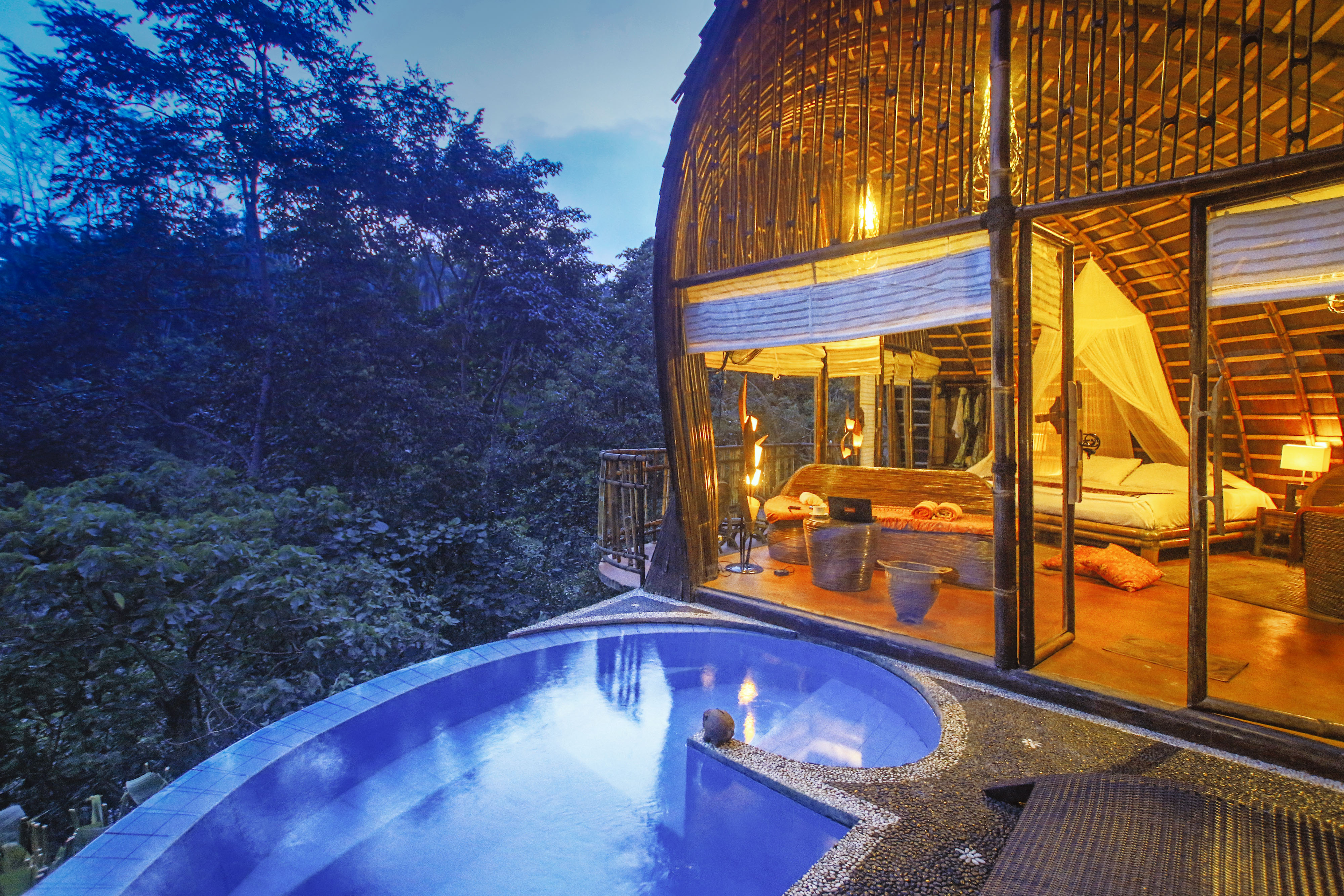 The name of the resort, Awang Awang, means the space that hovers between heaven and earth. A restful stay awaits you in nature, high in the treetops. Only consider this stay, located 4.5 kilometres from Ubud, if you are happy to take a steep flight of stairs to gain access.
Address: Jalan Melayang, Pejeng Kaja, Tampaksiring, Gianyar, Bali 80552
For more information, visit www.awangawang.com
Tree House in Vintage Eco-Village
This is a budget-style accommodation in a mango tree. The tree house features a tree growing out of the lounge, bathroom and through the rooftop.
A couple's or single's retreat, this quiet one-bedroom accommodation aims to please. If you love deserted beaches and a natural environment, this might be the place for you. The hidden beach location near this five-bungalow venue adds to its allure. You get to sleep, read books and eat in a tree, which serves as the focal point within the villa.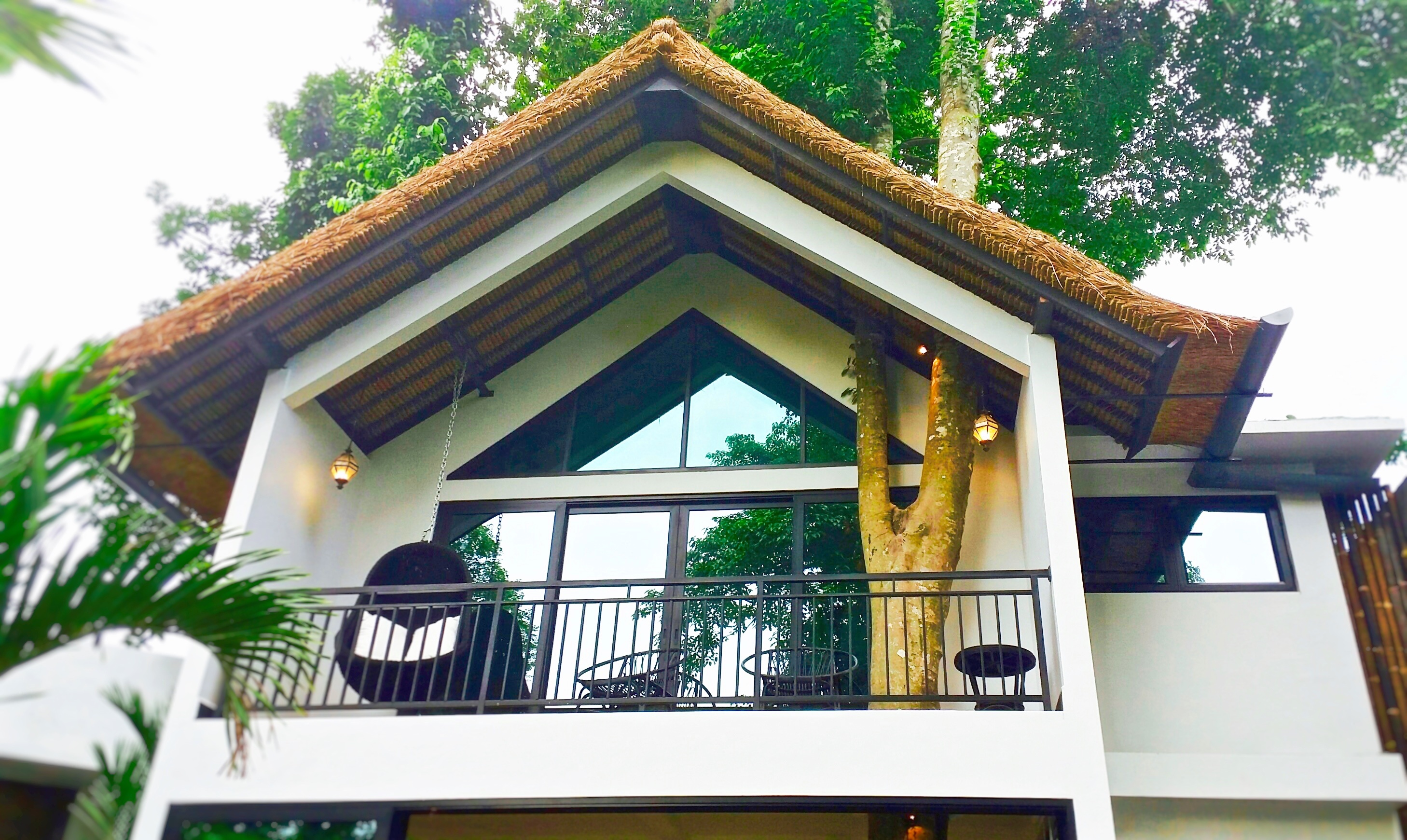 Bicycles are available, and just a 10-minute ride away, the clear turquoise waters of Balangan Beach await. Tucked away near the South Kuta area of Bali and only one hour from the airport, this hidden gem is considered more of a hangout for locals rather than a developed tourist location.
Address: Vintage Village, Balangan Beach, South Kuta, Bali 80361
For a booking, visit www.airbnb.co.uk/rooms/9035833?s=69a2svFe