Centuries before electronic charts and 10,000 horsepower engines existed, ancient Indonesians have voyaged as far as Africa on the wind in their sails. Grace Susetyo visits Rofinus Monteiro, a Lembata island native who lives to prove that his ancestors' technology is indeed capable of conquering the world's oceans.
Accounts of ancient Indonesian seafarers are often romanticised in tourism campaigns, literature, social media and heritage-themed events. But not many Indonesians can say they've sailed across their country in the kinds of vessels their ancestors made. But 29-year-old geologist and diver Rofinus "Fino" Monteiro has.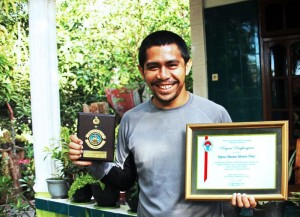 In June to November 2014, Monteiro embarked on the solo expedition Merangkai Indonesia (Discovering Indonesia), sailing from Makassar to Sumbawa, Lombok, Bali and Jakarta in a sandeq. A tradition of West Sulawesi's Mandar people, sandeq is a single-outrigger sailboat.
Most places in Indonesia have stopped using traditional vessels because they are costly to maintain and require rare raw materials. They remain important for ceremonial and display purposes, but people prefer the convenience of modern vessels for daily uses.
Monteiro bought his secondhand sandeq from a family in Pambusuang, West Sulawesi, and conducted essential safety repairs without altering the vessel's original form. Christened Senang Hati (Happy Heart), the sandeq was equipped with a detachable motor used for emergencies and manoeuvring the boat in and out of seaports.
Consuming only 60 litres of petrol over five months, Monteiro sailed most of the journey manually. His minimalist supplies included emergency communication devices, flotation devices, a survival kit with three days' food and potable water and a meagre stipend he declined to specify.
"Indonesian coastal people have been very kind to me," Monteiro said. "At sea, sharing rice is the language for saying 'We are brothers.' I once took down my sails, and this fisher boat immediately came racing for fear that I was drowning. When I spent nights sleeping on the beach, locals came over to offer me their homes."
As Senang Hati docked in Jakarta, the Ministry of Youth and Sports welcomed Monteiro with a ceremony and awarded him a seal of honour.
Monteiro's dream began in 2006, early in his studies at Trisakti University, Jakarta. There, he came under the mentorship of seasoned explorer and boatmaker, the late Effendi Soleman who sailed without an engine from Jakarta to Brunei in 1994.
This moved Monteiro's research to build a database of Indonesia's diverse traditional vessels. He envisions starting a coastal museum of Indonesian vessels where visitors can actually travel on water aboard these vessels.
"We hear of revivals of vintage cars and motorbikes all the time. Why not a revival of traditional vessels, and actually sailing the seas of Nusantara in them?" said Monteiro.
In 2011, Soleman invited Monteiro to sail across Indonesia aboard Katir Nusantara II, Soleman's self-made sailboat modelled after the sandeq. Unable to go due to working a full-time office job, Monteiro helped Soleman behind the scenes.
Katir Nusantara II sailed from Jakarta to Aceh in May-August 2011, and from Bangka to East Kalimantan in January 2012. Unfortunately, Soleman encountered financial difficulties and passed away in January 2014 before completing the expedition.
Soleman's dream lives on in Monteiro, who in the meantime had started preparing for Merangkai Indonesia.
"I told my colleagues, I'm quitting my job in 2014 to sail. And I'm a man who keeps my word," Monteiro said.
After Merangkai Indonesia, Monteiro planned to display Senang Hati at the Maritime Museum in Jakarta's Sunda Kelapa harbour. But the Museum allegedly breached the contract by refusing to transport Senang Hati to its premises. The sandeq spent a month abandoned in the Bahtera Jaya port, the training arena of Indonesia's sailing athletes east of Ancol. Since then, Senang Hati has been housed in a workshop in Bogor. Monteiro occasionally takes her out for sailing with fans.
"I used to dream of bringing Indonesia's diverse cultural heritages to Jakarta. Today, I dream of bringing them to Lembata," said Monteiro, who envisions a future Lewoleba Bay as the port of traditional Indonesian vessels, and a Traditional Maritime Academy in Lembata.
Currently, Monteiro lives in his late father's home in Lewoleba, Lembata. There he runs a diving tour operator, volunteers at the Taman Daun whale hunters' library, and remains active as a freelance geology consultant. He regularly visits his ancestors' village in Lamalera with plans to help locals solve water and sanitation issues, and revive the cultural economy amid the pressures of tourism, conservation and development.
Monteiro's research on Indonesian vessels continues, currently focusing on the pelédang: the Lamalera clan boat in which his ancestors hunted whales. The pelédang tradition is in limbo due to complicated cultural protocols and modernisation. There are 19 pelédang, all in Lamalera, owned communally by whale hunting clans. The last pelédang was made in 2005.
"Boatmakers in Lamalera are afraid to breach the protocols of the pelédang's clan ownership," explained Monteiro, who does not inherit a Lamalera whale hunter's surname and technically has no cultural rights to order the making of a pelédang.
"Parking the pelédang in Lewoleba would stir a huge controversy, as well as its use for sports instead of for hunting whales."
Recently, Monteiro has pitched a proposal for a 2018 pelédang sailing race before the government tourism office and the East Nusa Tenggara (NTT) Regional House of Representatives.
In Monteiro's prior years of experience pitching traditional vessel revivals, garnering the sceptical government's support has not been easy.
Yet when it comes to international diplomacy, the government can give generous support. In 2008, Indonesia sailed the replica of a 13th century wooden junk carrying a crew of nine aboard Ekspedisi Majapahit to Japan. The junk was gifted to Japan at the end of the expedition.
It is an unfortunate reality that Indonesians tend to trust other nationals more, regardless of the other nation's vested interests in the Indonesian heritage or an expat's proven capability to help locals achieve their goals.
"I've done good things in other people's hometowns – why not in my own? Why can't I help my own people make the most of what we already have?" said Monteiro.
To learn more about Fino's work in sailing, diving, and community development, follow his Instagram @monteiro_541 and Facebook fb.me/LembataDiveOperator.
Fast Facts
Country: Indonesia
Province: Nusa Tenggara Timur (NTT)
Land area: 1,226 square kilometres (Lembata Regency)
Largest city: Lewoleba (Lembata Regency)
Population: 117,289 (2010 estimate of Lembata Regency)
How to get there: Flights into Lewoleba via Kupang
What to bring: Camera, hat, comfortable shoes, sunscreen, insect repellent.
Swimming costume, snorkelling or diving gear.
Flashlight, extra batteries, power bank).
Books to donate to the Taman Daun library
Cash for transactions – draw cash in Soe or Kupang.