Pelabuhan Ratu town sits in the armpit of the eponymous bay, on the ruggedly beautiful and sparsely populated south coast of West Java. The town is the new administrative capital of the Sukabumi regency with associated economic prosperity, but its history is aligned with thriving fishing, harbouring and tourism industries.
It makes for a great weekend or holiday getaway from Jakarta and offers relaxation, as well as many and varied adventure activities. The surfing along the coastline west and south of the town is world-class, with famous breaks at Cimaja, Indicators, Loji's, Suwarna, Karang Haji, Ocean Queen and more. These spots attract experienced surfers from all over the world, but beginners can find surf schools and sites to suit their abilities too, or enjoy swimming and boogie boarding. Always take advice on local safety as the area is notorious for rips and undertows at some beaches. Depending on the weather conditions, some spots work better and some less well.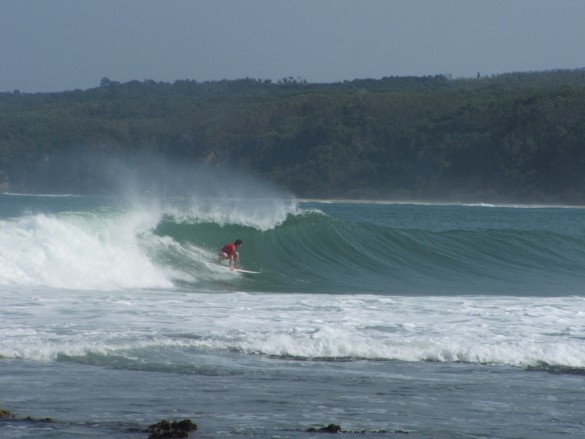 White-water rafting is also in the world-class category. The Citarik river, which cascades down from the mountain Gunung Halimun to eventually disgorge into the Mandiri river and harbour, hosted the 2015 world championships; testimony to its fierce rapids. Depending on the section chosen, this activity can suit first timers too. There are half a dozen companies operating commercial rafting on the Citarik, all professional and safety conscious. They offer a valet service so you can put in at Cikidang and raft all the way down to near the town. Again this activity is weather dependent, but since Java had no dry season this year, great rafting has been on tap all year.
The deep trench off the south coast of Java is the source of the nutrients that foster a myriad of wonderful sea life in the bay and further south. See sharks, sailfish, marlin, tuna, mahi-mahi and wahoo in the fish market. Better still, take a fully equipped trolling boat out for a 12-hour day and catch all of the above.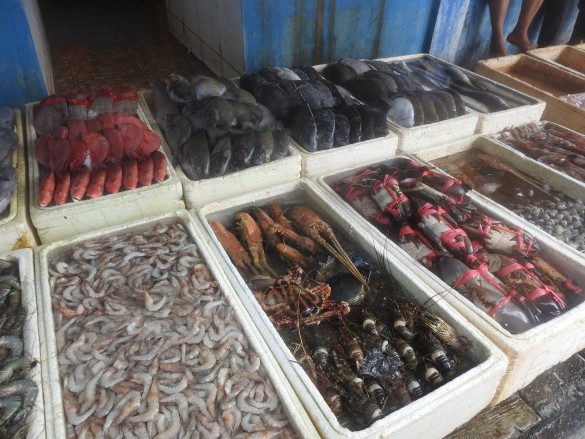 Hiking is great fun and varied. You can walk west along the coast, passing pristine white sandy beaches, frothing churning fissures, blow holes and craggy headlands with no one around. Stop at one of the swimming friendly beaches and let the crystal clear seas invite you in. You can access some of these with a drive and short walk, but the best and remotest require clambering over rock outcrops, fording streams and detouring around headlands through forests and plantations. It's not for the faint of heart and you need a guide, but the rewards are worthwhile. The foothills of Gunung Halimun Park, northwest of the town, offer higher elevation hikes. These pass through traditional villages but also rubber, clove and lontar palm plantations. They also traverse rice paddies and over rivers with steam vents that show off the volcanic heritage of the archipelago. A local guide is necessary for most of these hikes, but they are available at reasonable cost. Gunung Halimun National Park, with its endemic Javan gibbon and silvery leaf monkey can be reached and explored.
For the less strenuously inclined but equally adventurous traveller, charter a local fishing boat along the coast and view all these sights from the "comfort" of a wooden perahu. Stops can be made on some of the beaches for a swim or a picnic. Perhaps try your hand at line fishing along the way.
For more genteel pleasures, try the local Hot Springs (Air Panas) experience. It is spectacular and certainly hot. It's also an introduction to a typical local tourist site. The infrastructure is old and shabby. Forego the pools and baths and go straight for the jets of steam that blast up from the riverbed. Be advised, these are superheated so keep a safe distance.
The bat cave disgorges over a million insectivorous mammals every evening, for their nightly hunting and feeding.
Plan to be in place by late afternoon, or you will miss the exodus, and be prepared for a strong stench of ammonia; the floor of the cave is thick with guano. Long lines of bats stretch out as far as you can see to the ocean. They will spend the night on the wing and return pre-dawn.
Exploring the local markets is fun too. The fish market is at the busiest from 3 am to 4 am, but there are offerings all day long, displayed colourfully and neatly on tables and in ice boxes. Buy seafood for a BBQ and take it back to your villa or hotel to cook. Ask the chef to cook your purchase to your liking. Walk around the harbour, adjacent to the fish market, to see the variety of boats that brought in this catch, all brightly painted and industrious. The inland side of the road hosts extensive traditional "dry" markets, interesting for their locally grown spices, herbs, vegetables and tropical fruits. You can hone your bargaining skills here, as most will not display fixed prices. If they do, they will likely be willing to negotiate down from them.
Getting to Pelabuhan Ratu is still tiresome, but the road is in the best condition it has ever been. Ironic as the toll road from Ciawi to Sukabumi is finally under construction. Take the Jagorawi toll road south to the very end at Ciawi, go straight on for some 32 kilometres and turn right where signposted to Cikidang. Do not pass through Cibadak, as this is the main road taken by heavy vehicles. Google Maps will help, and check out detours through Lido lakes to avoid traffic jam hotspots like Cicurug. After making the turn off, the road is delightful, passing through plantations and other agricultural areas. You will see why only light vehicles use this shortcut, as it has some very steep sections. Timing, like driving around in Jakarta, is critical, so use Google Maps again for planning and time estimates. Early departures are generally preferable, both outbound and inbound.
Stay at Ocean Queen Resort, 17 kilometres west of the town centre. They have self-catering, but fully serviced bungalows where you can BBQ the seafood bought at the fish market, or caught on your fishing trip. Enjoy the swimming pool and kids' pool as well as the beach and ocean. The resort can help with guides, rental equipment and suggestions. For more information, visit www.oceanqueenresort.com