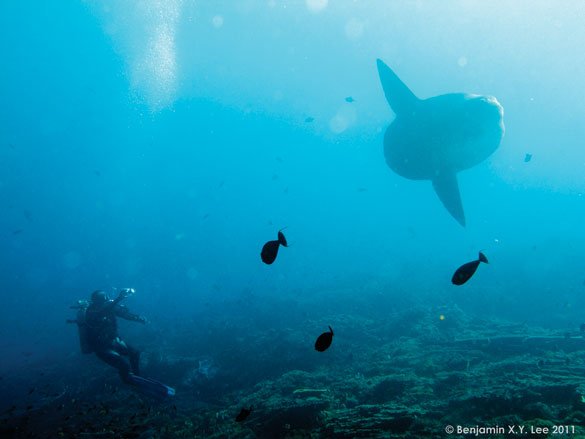 Some of the world's best storytellers are divers. Fishermen, hunters—they simply can't compare. There's nothing quite like sitting under a thatch roof after an unforgettable dive, sipping sweaty Bintangs and stretching out your arms wide to sketch out the uniquely shaped mola mola or re-enacting for friends what it was like to sit still as Buddha on the ocean floor, craning your neck to the surface while a mob of jet-black manta rays skimmed metres from your mask, casting shadows on the white sand below.
Mola mola and manta rays reside near the top of every diver's bucket list, so if a 45-minute boat ride to Nusa Penida, just south of mainland Bali, is all it takes to catch a glimpse of some of the ocean's most memorable encounters advanced and novice divers alike are looking for a place to sign up.
Luckily, Nusa Penida, Bali's most sought-after dive spot, has plenty of operators headed out from the main island every day in search of mola mola and mantas.
Getting to Nusa Penida is as easy as swinging open the door to a dive shop. Operators from Sanur to Candidasa take off anywhere between 8 and 8:30 every morning champing at the bit to beat the crowds of boats that moor up at some of the more popular dive spots, like Crystal Bay and Manta Point.
Nusa Penida, with its sheer rock cliffs and rugged terrain isn't home to much beyond the dive spots that lurk below the tall ridges. A quick scan of the horizon offers little more than sparse vegetation and a glimpse of a wandering goat or wayward buffalo. Divers started flocking to the island off the southeast coast of Bali as early as 1975 to see the uniquely shaped mola mola, famous for growing up to 4 metres tall and weighing in at almost 2,300 kilograms. For the last three decades Nusa Penida has been the first stop for divers visiting Bali. Most divers who were certified in Bali completed their courses just off the Nusa Penida coastline where the water temperature can fluctuate between a chilly 19 degrees Celsius and a wet-suit shedding 27.
Tourists who would rather stay above the waves can travel to the island for day-trips and tag along with locals who visit the island's temples and caves. Some more tourists looking to get away from the crowds on Bali opt to stay the night at the few hotels offering austere accommodations on Nusa Penida. But if you're looking to get off Bali proper and spend the night close to Nusa Penida, most friends would recommend staying overnight on the perfectly secluded Nusa Lembongan rather than risking it on Nusa Penida.
And while August and September were designated as the "season" to see mola mola off of Nusa Penida, most dive operators would tell you that the sunfish, which rise from their normal depths of 200 metres to just 30 metres for a quick day spa, where smaller fish clean parasites from their scales, start showing up in July and sometimes stay as late as October.
Nusa Penida is actually home to more than 10 different dive spots. Depending on the time of the year and whom you ask, recommendations waver between Blue Corner and Batu Abang to Toyapekeh and Sekola Dasar, or SD, aptly named because you can see a local grade school from the boat. So you're not married to simply Crystal Bay and Manta Point, although first-time divers will want to check out these spots for sure before moving on to places like Batu Abah and SD.
Meanwhile, other dive spots along the island—with names that vary depending on which operator you dive with—have been known to serve up everything from whale sharks to threshers and hammerheads.
Crystal Bay, the island's most popular dive spot, is a pleasant drift dive so long as you keep the reef on your right and the conditions are right. While some anxious divers might complain that there is little to see until you get down to 35 metres and congregate in hopes of seeing a sunfish, others would point out that Crystal Bay, with its unpredictable currents can provide divers with the chance to spot anything from reef sharks to humongous frog fish, the size of footballs.
"SD is a drift dive with a wonderful coral garden," says Nicky Wirawan, who owns and operates Bali Marine Sport, based in Sanur. "Plus, you'll see more fish there than you will in most any other dive spots in Indonesia. Meanwhile, Blue Corner is quite challenging to explore and offers plenty of chances to see a number of pelagic fish."
Blue Corner is a favourite of Priska Widya Raharjo, a reporter with Dive Mag Indonesia, as well. "Blue Corner is a famous spot for drift diving," says Priska. "The current can be very strong. I'd say it's more suited for any adrenaline-junkies and advanced divers. You see a lot of sharks, mostly white-tipped, and rays out there—mola mola if you're lucky. The water temperature can be very cold too, 15-22 degrees Celsius. If the currents there are strong and you don't stick with advanced divers you can drift off into the blue, hence the name, Blue Corner. Then again, sometime there will be no current and Blue Corner will be as calm as Sleeping Beauty."
So while most divers and operators will begin their stories of Nusa Penida with tales of elusive mola mola at Crystal Bay and acrobatic rays out at Manta Point, keep in mind that there are plenty of other dive spots out there, and plenty of other stories to be told.