If you enjoy baking festive treats at home during the Christmas season, you may have noticed that imported foods such as dried fruits, nuts and Christmas sauces can all be expensive and sometimes difficult to find in Indonesia. Fortunately, many seasonal ingredients are easy to discover at your local pasar (market) – these include the Christmas spices of Indonesia. Cloves, nutmeg and mace all originate from Maluku (the Spice Islands) and many other spices, including ginger, cinnamon and vanilla are also easy to obtain.
The history of the spice trade is full of European control struggles and in 1522, Spain was the first to circumnavigate the globe in their search for the highly prized spices – a voyage in which only 18 men survived and 232 sailors lost their lives. Over the centuries, the powerhouses of Europe competed for trading routes and the prices of the spices rocketed. Stowed away in locked boxes the spices were often saved for the Christmas season in many wealthy households and became a status symbol.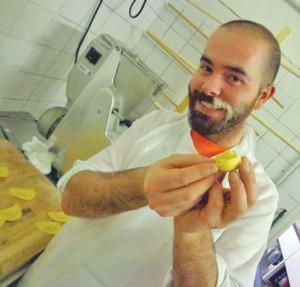 Having visited Indonesia five times, Italian chef Bruno Giordano returns to the Spice Islands every year, looking for inspiration for The Ristorante Torre's menu at his seafood restaurant in Northern Italy. "Spices, great culture and beaches make Maluku one of my favourite regions to visit," said Bruno. "The food is very simple (as always when visiting remote places), but the use of nutmeg, cloves and pepper make it delicious."
Bruno's restaurant is in partnership with the Slow Food Foundation, which aims to promote sustainable agriculture, small-scale producers, culture, as well as traditional knowledge. In his garden, Bruno grows old varieties of fruits and he buys from local producers in order to support the community and "preseve our culture and our products from mass production."
Inspired by Indonesia's local and fresh vegetables, fruits and spices, Bruno has also grown a wide variety of Indonesian plants that are suitable for the mild temperature of Celle Ligure in North Italy. "Now I've grown lemongrass, different kinds of Indonesian chillies (I use the leaves for soups), taro, pera katak (bitter gourd), avocadoes, different kinds of selasih (basil) such as cinnamon basil, red basil, lemon basil and long beans, kangkung, ginger, galanga and passion fruit."
French chef Simon Baudoin was similarly impressed by the freshness and vitality of Indonesia's produce, and after settling down in Bandung, he now plans to open a bar called L'Societe, this New Year's Eve. His recently opened pastry shop, Prenkis, aims to introduce French tarts and pies to the Indonesian market and Simon also uses fresh Maluku spices in his cooking. "Many snacks around Indonesia use monosodium glutamate (MSG), which rounds the flavours and makes everything taste the same. We are not using this, only the real flavour of the products and nutmeg enhances the flavour of our quiches."
A popular Christmas beverage from America and Canada, which also uses nutmeg, is eggnog – made from milk, eggs and liquor, often garnished with cinnamon or nutmeg. However, nutmeg is in fact native to the Banda islands, and in England, during the reign of Queen Elizabeth I, it was thought that nutmeg could hold off the plague; as the spices trickled through England, Queen Elizabeth I ordered the first gingerbread figures to be made in the likeness of her important guests. Ginger is native to Southeastern Asia and is easy to find at local Indonesian markets. Most gingerbread recipes suggest using ground ginger, yet Christmas recipes using fresh ginger and shredded coconut are easy to find online.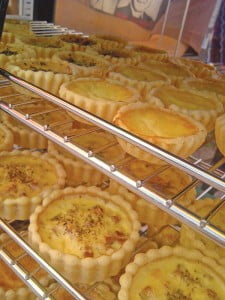 Gingerbread biscuits are often seen in Germany's Christmas markets during the festive season, along with giant Christmas trees and brightly-decorated stalls selling Christmas stollen and mulled wine (Glühwein or "glow wine"). For me, mulled wine brings back fond memories of friends, pubs and English winters, yet this beverage was first prepared in Rome in the 1st century. Now heated wine is made throughout Europe, Russia and Turkey. Despite its many variations, dry red wine is the popular choice and citrus fruits, sugar and spices such as cloves, ginger, nutmeg and cinnamon are often added.
Although cinnamon (kayu manis) originates from Sri Lanka; historically it was cultivated in Java and Sumatra and was later cultivated by the Dutch. Now cinnamon sticks are easy to find in the market and are popularly used in Javanese beverages. Cinnamon is an ingredient in many Christmas treats, including fruit cakes, mince pies and Christmas pudding (which can also be infused with mace and nutmeg).
Yet cloves originate from the Spice Islands and after the Spanish returned from their round-the-world trip, the Italian explorer Antonio Pigafetta published his journal of the expedition led by Ferdinand Magellan. Here, Antonio describes Maluku, "No cloves are grown in the world except in the five mountains of those five islands. Almost every day we saw a mist descend and encircle now one and now another of those mountains, on account of which those cloves become perfect. Each of those people possesses clove trees, and each one watches over his own trees although he does not cultivate them. Some nutmeg trees are found in that island: the tree resembles our walnut tree, and has leaves like it."
The historian David Snowden recently compiled a list of recipes used in the Medieval era by the monks of Evesham Abbey in England, which were surprisingly rich in spices (demonstrating the Abbey's wealth) and a recipe was found for nutmeg cookies.
At Christmas in Maluku, cloves are used to flavour the Dutch-Indonesian fusion dish – Brenebon.  Red kidney beans with pork and beef are prepared in a soup with cloves, chilli and nutmeg and the taste is said to be flavoursome. The word Brenebon derives from the Dutch words bruine (brown) and bonen (beans) and in the original Dutch version of the dish (known as bruine bonensoep or brown bean soup), brown or pinto beans are infused with cloves.
The spices provide the perfect opportunity to cook some traditional, slow food with fresh, local ingredients. As chef Simon Baudoin says, "Nowadays it's easy to find these spices in supermakets in France, but nothing beats the fresh quality here in the pasar."
Further Information
Antonio Pigafetta, The First Voyage Around the World, 1519-1522: An Account of Magellan's Expedition (2007) University of Toronto Press
History of the spice trade: https://indonesiaexpat.id/history/of-spice-and-profit/
The Ristorante Torre: http://www.ristorantetorrecelle.it/
Prenkis pastry shop (orders and deliveries): [email protected]
Slow Food: http://www.slowfoodfoundation.com/