Since the discovery of oil a mere 50 years ago, Dubai has experienced increased growth and prosperity, and has undergone a rapid transformation, from a pearl diving and fishing village to one of the fastest-growing cities on Earth, now the 7th most visited city in the world. It has emerged as the contemporary face of the Arab world and its diversity makes it a truly captivating and memorable destination to visit. 
Whether you are looking for an indulgent getaway, a relaxing beach retreat, a gastronomical adventure or something a little more cultural and laid back, Dubai has it all, and more. Lined with pristine beaches and shimmering sands, Dubai offers a healthy outdoor lifestyle, from which you can marvel at the mixture of ancient and modern architecture during the cooler but balmy winter months from December to March, before the year round sunshine really heats up.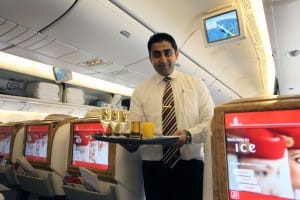 A journey to Dubai is easily accessible from Indonesia with Emirates, offering three daily direct flights from Jakarta. Flying in business class is an amazing experience with the selection of food and beverages available, the incredible in-flight entertainment system featuring over 1,200 channels of the latest films, TV programs and music from around the world, and the friendly flight attendants ready to see to all your needs. You can lay back and stretch out in your own personal space and feel refreshed and ready to navigate the city upon arrival.
There are festivals every month in Dubai, with January hosting the most exciting event in the city's shopping calendar: the Dubai Shopping Festival, now in its 20th year. This is a month-long retail extravaganza with major sales, entertainment and prizes to be won and with 95 malls to choose from, this is a veritable shopper's paradise. As a home to some of the most luxurious malls in the Middle East, the Dubai Mall is one of the largest malls in the world and houses over 1,200 shops with many American and European branded labels and goods. Whilst visiting the Dubai Mall, you can also enjoy views of the largest suspended aquarium in the world, home to over 140 species of aquatic animals, or enjoy a meal and take in the spectacular light and water display of the dancing Dubai Fountain in the evenings with views to the Burj Khalifa, the world's tallest building at 828 metres. There are also options of visiting shopping neighbourhoods, which offer amazing options for bargain hunters, where you can find anything from fresh food to tailors that can replicate anything found on a magazine page.
If you prefer a more cultural shopping experience, the exotic souq, or traditional markets, provide a bustling atmosphere and are alive with the sounds of shopkeepers and excited customers bargaining for the best prices for their wares. Set within traditional interiors, you can catch an abra (traditional wooden boat) from the textile souq to the gold and spice souq. Here, travellers are sure to find the perfect souvenirs from Persian carpets, electronics, handicrafts, aromatic spices or jewellery of silver and gold. This is a truly rewarding way to experience a completely different side to Dubai, away from all the glitz and glam of the city.
Once you have exhausted all possible shopping options, one of the greatest highlights of a trip to Dubai is a visit to the desert, and what better way to experience it than to enjoy a desert safari? Heading into the golden sand dunes in a 4×4 you have many options available of getting the most out of this unique destination. You can enjoy a falcon show before setting off on a dune buggy adventure, navigating the dunes with your desert guide, with a roller coaster ride sure to get your adrenaline pumping.  You can watch as the sun sets over the barren and magical landscape, and enjoy a camel ride in the windswept desert, before feasting on a traditional Arabian barbecue dinner under the stars in a Bedouin-style camp. In this desert camp you can dine on a delicious spread of grilled meat, vegetables and mezze, whilst being entertained by belly dancers, as well as treating yourself to a temporary henna tattoo.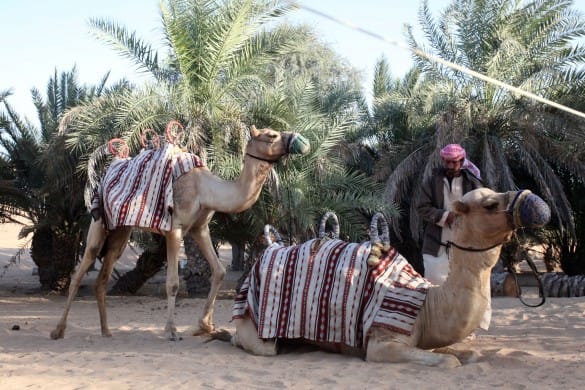 As Dubai enjoys its continued growth and has many plans in process for bigger and better ways to experience the city, the ever-changing landscape will remain full of surprises and places to explore, continuing to cater to every traveller's needs. Whether you decide to stay overnight in transit or make it your final destination, you are sure to leave with all your senses more than satisfied and wanting to return.
Fast Facts
Country: United Arab Emirates
Land size: Dubai has a land area of 4,114 square kilometres.
Population: 2.106 million (2013). Only 17% of the population is composed of Emiratis. The rest are immigrants and tourists from around the world.
How to get there: Fly Emirates, three times a week direct to Dubai (flight duration eight hours).
What to do:
Dubai Fountain, Aquarium and shopping at Dubai Mall
Visit the textile, spice and gold souq (traditional markets)
Explore the old district of Al Fahidi District (Bastakiya)
Dubai Museum
Visit At The Top observation deck at  Burj Khalifa
Desert Safari and Arabian BBQ Dinner
Where to eat:
Wafi Gourmet (Lebanese Cuisine) at Dubai Mall
3in1 at Vida Downtown Dubai
Moana Seafood Restaurant, Sofitel Dubai The Palm
Where to stay:
Enjoy a 5* stay at Waldorf Astoria at Dubai Palm Jumeirah
Enter a whole new world at Atlantis The Palm
What to bring:
Sun hat, sunglasses, sunscreen, flip flops, comfortable walking shoes, camera, bathers, long light pants for men and knee-length skirts and tops that cover the shoulders for women. Emiratis love to get glamorous in the evenings, so take a cocktail dress for that special occasion.