Indonesia is the world's largest archipelago and is a place of rich and diverse culture and natural beauty, much of which is off the main tourist trail and therefore has managed to retain its original charm.
The local people are always quick to offer a friendly smile and show you warm and welcoming hospitality, which is a major appeal when travelling throughout the country.
This month Mandala airlines has opened up a new sector with direct flights from Jakarta to Padang, the capital city of West Sumatra, making the area more accessible and providing opportunities for both local and international lovers of nature to reach and explore the majestic scenery in just over an hour and a half.
Padang seems to be most famous for its food and is one of the most popular dishes throughout Southeast Asia and is the cuisine of the Minangkabau people of West Sumatra. It is usually referred to as Masakan Padang and is most renowned for its rich flavours of coconut milk and spicy chilli, and most dishes include meat which must follow the strict Muslim halal dietary law. There are also plenty of options available for vegetarians with fresh vegetables simmered in thin curry and plenty of cassava, fresh corn and rice options available and as the dishes have no msg, they are incredibly tasty.
One of the first and most striking features you will notice upon arrival is the distinct Minang architecture which can be seen scattered throughout West Sumatra, where the elegantly styled and decorated roofs soar high up to the sky at both ends, looking enchanting against their mountainous backdrops. This styling resembles the look of buffalo horns and symbolises the Minangkabau culture and according to Indonesian folklore, it originated from a legend of a fight between two buffaloes in a war between the Minangkabau and an invading Javanese clan.
Due to its tropical rainforest climate and average temperature of 26 degrees celcius, it is one of Indonesia's wettest cities with frequent rainfall throughout most of the year, which has resulted in vibrant green vegetation, lakes and rivers in plentiful water supply. During the heavier rainy season starting around November, Harau Valley is not to be missed as the water cascades over the sheer and magnificent rock faces transforming them into breathtakingly beautiful waterfalls. The area is absolutely stunning with rice fields and lush tropical foliage and a perfect location for those who love the outdoors and enjoy hiking and rock climbing, or just soaking up the tranquility provided by Mother Nature. Anai Valley Waterfall is also worth visiting as the spray from the waterfall brings welcome relief from the hot sun and is easily accessible from Padang city.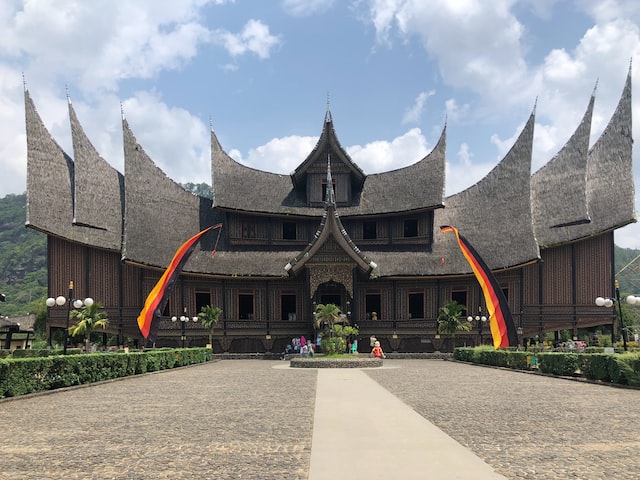 Nature lovers will also enjoy Singkarak Lake – the biggest lake in West Sumatra – spanning 1,000 hectares. It is set in a dramatic volcanic landscape with breathtaking vistas, where you can enjoy the sunset over the cloud capped mountains with a cup of local coffee and fresh seafood snacks, surrounded by the natural beauty that Indonesia is famous for.
Bukittinggi is one of the largest cities in West Sumatra and is set in the Minangkabau highlands close to the volcanoes of Mount Singgalang and the active Mount Merapi. At 930 metres above sea level, it is popular with visitors for its cool climate and is a perfect city to explore on foot. A great place to stay is at the Grand Rocky Hotel which was newly completed in early 2012 and has breathtaking views out to the Sianok Grand Canyon – also walking distance to 'Jam Gadang' – the giant Clock Tower built by the Dutch in 1926 and Pasar Atas and Pasar Bawah, the traditional downtown markets in the centre of Bukittinggi.
If it's culture you are searching for, you can enjoy a candlelight barbecue dinner under the stars with music and performances of the martial art of Pencak Silat and the beautiful Tari Piring plate dancers where the women wear lit candles in their headwear before smashing their plates and dancing on the broken pieces. You may also like to take a walking visit through the quaint kampungs and rice fields of Sanjai Village where you can also visit the cassava factory and sample fresh and delicious cassava chips to keep up your energy for more exploring.
For a lesson in history you can visit the Lobang Jepang (Japanese Caves) which is a network of underground tunnels and bunkers which were built by the Japanese during World War II. Also on the scenic drive from Bukittinggi to Padang, stop at  the 'Mbah Soero' Mining Tunnel in Sawahlunto where you can learn about the tunnels dug out by the 'chain people' and miners from 1898 to the late 1920's. There is a small gallery showing the original chains worn by the workers around their legs and arms and also photos of the Sawahlunto mines. Close by is the Museum Goedang Ransoem which was a General Kitchen built by the Dutch Colonial Government in 1918 to supply food for coal mine workers and hospital patients. There are photo walls and descriptions of the history of the kitchen and outside you can watch the women as they patiently weave traditional cloth.
With a full and satisfied stomach and after the fresh air and idyllic scenery you will feel rejuvenated and ready to tackle the chaos of Jakarta once again. I am sure the impression of West Sumatra will have you wanting to return again and again to be reminded of the simple lifestyle and beauty which is now so easily reached thanks to the lovely staff at Mandala Airlines.