The Sulawesi city of Manado is known for many things: its spicy (and sometimes wacky) food, its cosmopolitan and beautiful women, and, of course, its staunch Christianity – there is said to be a church for every 100 metres of road in Manado and its surrounding area. But more than any of these, Manado is also hailed as the gateway to one of Indonesia's prime diving destinations, and indeed one of the best in the world – the magnificent Bunaken marine park.
Whilst there are many dive spots in Indonesia, what makes Bunaken such a special place is the way in which geographical forces have conspired to create a unique bathymetry characterized by shallow coastal areas that suddenly drop off to vast depths of up to nearly 2km in some places. If you're diving here, it's the underwater equivalent of standing at the top of a Jakarta skyscraper and looking over the edge. Spectacular to say the least!
Compared to Indonesia's other marine parks (Wakatobi, Sangalaki, Raja Ampat), Bunaken has one clear advantage – its easy accessibility. Manado may be closer to Manila than Jakarta (respective journeys of 935 and 1,350 miles), but the flight from Jakarta to Manado International Airport is still a tolerable three hours, 15 minutes.
From the airport, it's a 20-30 minute drive into the small city of Manado, which the great naturalist and explorer Alfred Wallace, back in the late nineteenth century, described as "the prettiest in the East". It may have changed a bit since then – especially given all the cars – but the rugged vista of soaring volcanic peaks certainly impresses, much as it must have in Wallace's day.
Like most harbours in Indonesia, the one in Manado is a grubby-looking affair, complete with dodgy-looking eating stalls. Above, a huge uncompleted bridge mocks the scene. It's a bizarre sight, akin to the abandoned monorail pillars in Jakarta. Most probably they just ran out of money – as is so often the case it seems.
The next part of the journey is brief but it may be the trickiest: getting to your speedboat. This is because there are so many speedboats packed into the harbour that your particular one may be quite far from the shore, thereby requiring you to clamber over others to reach it, sometimes having to jump between boats (not easy if the waves are strong) and possibly – if the distance is too far – walking across rather-too-bendy planks placed between boats.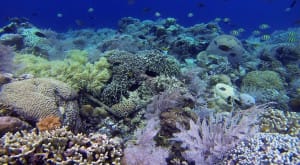 Although the boat trip across to Bunaken only takes about 40-45 minutes, it can take longer if the speedboat's propellers get ensnared with plastic garbage, which then has to be freed. The floating garbage is courtesy of Manado residents who throw their trash into the river, much of which gets washed out to sea, and is particularly bad when there are storms or heavy rainfall.
Bunaken itself is about 8 km² large, shaped somewhat like an upside-down horseshoe and is surrounded by coral reefs on all sides. In the distance is the imposing sight of Manado Tua, an inactive volcano in a classical cone shape and 27-45 degree slope.
Accommodations are located on both the north and south sides of the island, each side having its own unique appeal. For snorkelers, the north side – where most of the accommodations are grouped in a low-lying area off the coast – is probably the better bet as the reef is more accessible. Soft corals dominate strongly and there is a stunning array of marine life. Some of the reef fish that you are likely to come across include butterflyfish, clownfish, angelfish, blue fusiliers, surgeonfish, and batfish.
By comparison, the accommodations on the south side of the island are perched on a slope which rises sharply from the coast. Cooling onshore breezes can be enjoyed most nights. In contrast to the north side of the island, most of the reef on the south side is made up of hard corals. It takes a good swim of about 100 metres to reach them, however, but the effort is certainly worth it – especially when you come to the famous Lekuan dropoff, which features one of the most magnificent and impressive reef walls in all of Indonesia and indeed the world.
For divers, Bunaken is a wondrous place. All in all, there are at least 22 dive sites around Bunaken and its neighbouring islands of Manado Tua and Siladen with a number of others a little further away. Sea temperatures are a balmy 27 to 29 °C. Marine diversity is extremely high whether in terms of corals, fish, echinoderms or sponges, and seven of the world's giant clams can be found here. Investigate the reef walls carefully and you will find a host of wall critters such as nudibranch, gobies, and tiny seahorses. Turtles, barracudas and reef sharks can also be seen.
While there's not much else to do in Bunaken apart from diving and snorkelling, the island does have a couple of traditional villages you can visit. But beware if you are asked by the locals to try the Manado home brew called 'Cap Tikus'; being about 99 percent proof, this stuff could literally strip the paint off a Metro Mini bus, and even when mixed with a soft drink like Coca Cola, can still leave you sicker than a rabid Balinese street dog, putting paid to any diving you may have planned the next day!
Traveller Tips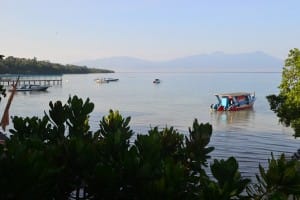 Getting there:
Flights daily from many cities in Indonesia. The Manado airport serves international destinations as well, Singapore among them.
Make your travel arrangements beforehand. It's easy enough to get from the airport to the port by taxi but it's no fun dealing with touts when trying to charter a speedboat to Bunaken (to charter a speedboat for a one-way crossing should be about Rp.500,000). A much cheaper way to make the crossing is by the daily public boat (around Rp.50,000 one way), leaving Manado at around 2-3pm. The boat returns from Bunaken at around 8am every morning except Sundays.
What to bring:
There aren't any shops on Bunaken so bring plenty of snacks, and if you think you might need it, a bottle or two of booze (a far safer alternative to the highly potent Cap Tikus moonshine!).
Marine park:
Pay the one-time marine park fee which is set at a reasonable Rp.150,000 (children below 10 years exempt).
Where to stay:
One of the best places to stay on the south side of the island is a small and affordable diving resort called Cicak Senang. Unlike many larger resorts which are rather impersonal, Cicak Senang has a very relaxing and homely vibe thanks to its very friendly owners – a Dutch lady called Willeke and her husband Jerry.