Let's face it, Julia Roberts' "Eat Pray Love" was just way too glib to get the old heart racing. An airbrushed, one-dimensional view of spiritual nirvana that depicts Bali as one huge, menopausal, beauty salon come yoga centre, run under the jackbooted dictatorship of Oprah Winfrey and her shrieking minions. No, that movie would have reached a conclusion far more fitting for these troubled times, in my view, if Italy and India had been followed by a trip to take in Jakarta's postmodern, urban angst.
Feel-good moments may be thin on the ground here, but at least one doesn't feel as if one is trapped in some vast honeymoon photo album minus the bride and groom. So folks, forget jetting across to Bali the next time you get a short break. Stay here and explore some of Jakarta's more eye-opening backwaters instead. I dare you. Yes, this is the city that never sleeps folks, so let's get down to brass tacks with a few leftfield suggestions shall we?
Setu Babakan
One of the city's lesser-known retreats, Setu Babakan sports a Betawi Cultural Village and a sizeable lake, and can be found around four or five kilometres southeast of Ragunan Zoo in South Jakarta, on the way to Depok. There are supposedly two and a half million ethnic-Betawi residents in the Indonesian capital, and they have a culture, language, music, food and traditions all of their own. The Betawi people are also often viewed as being rather rough and ready in comparison with the supposedly refined Javanese. The most famous son of Betawi, as of now, is probably Jakarta's current governor and budding amateur moustache enthusiast, Fauzi Bowo.
In any case, the lakeside experience down at Setu Babakan is, on balance, just about more bucolic than it is bubonic, and there are a whole load of cheap warungs to enjoy, which are mainly full of courting couples looking for some respite from the urban pressure cooker. Later on in the evenings, the local lads crank up the dangdut music and swig fearsome looking concoctions from plastic bottles, blended from Red Bull, local grog and perhaps even a splash of Pertamax Plus thrown in for good measure.
Fishermen also dot the lake's shores although, seeing as the lake is fed from the turbid waters of the Ciliwung River, there surely can't be much to catch down there. There's also a Betawi Cultural Village to check out, which puts on regular musical and theatrical performances, as well as ethnic Silat martial arts demonstrations. Visitors to Setu Babakan can also take a pedalo out on the lake. So, go and weigh "Anker" in Bintang Bay folks. Disneyland it ain't, but Setu Babakan makes for a pleasant few hours nonetheless. A Betawi Disneyland though, now there's a thought. Imagine a roller coaster ride with Bluebird taxis looping the loop, or a Ferris wheel with bajajs for gondolas. I can see it now.
Jakarta Planetarium
Many of you may be familiar with Taman Ismail Marzuki, commonly known as TIM, a theatre complex frequented by the city's thespian fraternity located in the Cikini area. The complex's huge new Theatre Jakarta building is currently making big waves. Less well-known however, is the fact that the complex also contains a planetarium, which is well worth a visit if you have a few hours to kill. The planetarium runs four shows a day at the weekends and admission is cheap.
Planetariums are now old technology of course, but they still have the power to amaze and inspire, and to fill the reclining stargazer with cosmic awe. On a recent visit, I was treated to a great show, in Bahasa Indonesia mind, by an MC who seemed to have some serious comic pretensions. The audience was informed that Pegasus, the mythical half man/half horse constellation, didn't have to wear trousers because his bottom half wasn't human. I also learnt that Saturn's rings consist of lumps of rock the size of Metro Mini buses, although presumably they aren't orange and move in a more predictable manner. Go and see what's out there folks, the kids will love it.
Real Jakarta Tours
 If you're feeling particularly brave, then you may wish to book yourself onto a Real Jakarta Tour and see how the other half (well 65 percent actually) lives. Takers can choose from a number of slum breaks, including a tour down the somewhat less than pristine waters of the Ciliwung to meet shantytown residents whose lives are blighted by flooding and who use the river as bathroom, washing machine and toilet. Alternatively, you can visit the salubrious neighbourhood of Gabur, a crowded and impoverished area full of hot and cramped tofu and tempe "factories", and check out Jakarta's underclass firsthand. There are also trips to the crowded fish market up in Kota. Disaster tourism has come in for a lot of flak and Real Jakarta Tours could, in a sense, be considered disaster tourism, given that these people's lives are perhaps one perpetual disaster. Real Jakarta Tours donate half of the $50 fees that they collect to the Interkultur charitable foundation. Is charity in this context really going to empower these poor communities though? If you're interested, then take a look at: www.jakartahiddentour.wordpress.com.
Marina Batavia Cruise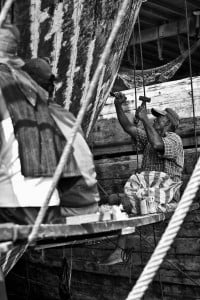 Head up to the battered warehouses and dilapidated docks of Sunda Kelapa and have a stroll around, soaking up the historic ambience whilst being spooked by colonial era ghosts of yore. Afterwards, head over to the gleaming Marina Batavia, a recently built multi-storey building conceived by Jakarta's previous governor, Sutiyoso. The Marina building itself houses a pool hall, karaoke lounges and a restaurant. If you see yourself as a salty sea dog however, then why not take in a Quicksilver Sunda Kelapa Fun Cruise, or a Quicksilver Sunda Kelapa Dinner Cruise.
The Fun Cruise runs from 11.30 a.m. until 2 p.m., and involves a luxury catamaran sail around Jakarta Bay, whilst affording cruisers the opportunity to take in the pungent, if not actually sinus singeing, Jakarta Bay air. There's also a huge buffet lunch to enjoy. The dinner cruise runs from 6.30 p.m. until 9 p.m. and features live music, a dance show and even a magic show. The cruise makes for a cool evening and you will be swept across Jakarta Bay for several kilometres in the lap of luxury. For more details, point your browser at: http://bataviaaa.blogspot.com/2011/05/quick-silver.html
Good luck chaps, it's a jungle out there.