Australian BBC Journalist Rebecca Henschke was ordered to leave the province of Papua after the Indonesian military said tweets she sent on her trip had "hurt soldiers' feelings", as reported by Reuters.
Henschke was in Papua on a reporting trip to cover a health and malnutrition crisis in the area. Foreign reporters are not usually allowed in the area due to Indonesia's sensitivity about the independence movement there, but restrictions have been loosened to allow coverage of a measles and malnutrition crisis that has killed scores of children near the town of Agats.
During her visit she had tweeted a photo of supplies on her personal Twitter account, with a message saying, "This is the aid coming in for severely malnourished children in Papua – instant noodles, super sweet soft drinks and biscuits."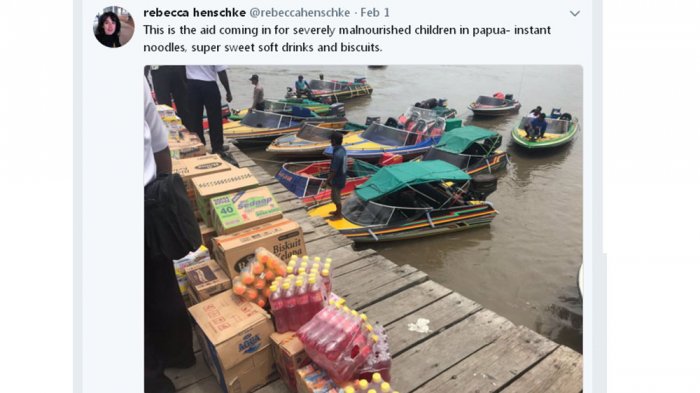 However, Papua military spokesman Colonel Muhammad Aidi said, "(The food and drink) that she took the picture of at the speedboat pier are not donations or aid. It was merchandise from merchants that was incidentally there." He said the tweet was misleading.
Henschke later took down the photograph and tweeted, "Adding important NOTE: Other sources say this is NOT aid but normal supplies. Huge relief effort underway here."
The series of tweets led to her being questioned by security forces. She was held by immigration and later returned to Jakarta, where Henschke is based.
The incident is an example of the obstacles foreign journalists continue to face when trying to report in Papua.
President Joko Widodo, after coming to power in 2014, pledged to ease media restrictions in the area and speed up the development of one of Indonesia's poorest areas.
However, Henschke's treatment showed that pledges to open up Papua had not materialised. Andreas Harsono of Human Rights Watch stated, "She had her travel permit – the only Indonesian area where foreign journalists need to get a permit to visit – and still got intimidation for a single tweet."
Photo courtesy of ABC.net.au.
To read more about the crisis in Papua, click here.