When you think of lounging in a tropical paradise, one of the first places that comes to mind is Bali.
An island frequented by tourists seeking tranquillity and that much needed R&R, Bali is home to a plethora of resorts that range from budget-friendly to luxurious.
Upon entering these stunning accommodations, it's difficult not to notice an inviting sight such as the infinity pool. In these spots, you get to bask in the sun and enjoy the refreshing water as well as a magnificent view.
If you're planning to go on a vacation, here are some of Bali's most breathtaking infinity pools to help you decide where you're going to spend quality time overlooking beautiful scenery while sipping on your drink.
1. Viceroy Bali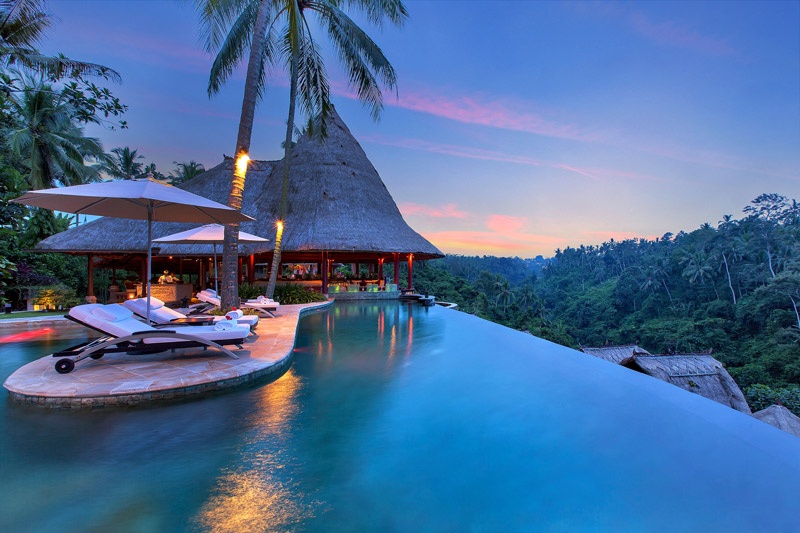 This five-star hotel boasts a large infinity edge pool with a fountain feature plus a swim-up bar that overlooks the picturesque Petanu Valley. A traditional Balinese balé (gazebo) by the poolside offers guests the ultimate place to relax with soft cushions and curtains as they enjoy the view and cocktails.
Location: Jln. Lanyahan, Br Nagi, Ubud, Bali 80571 Indonesia
Contact details: +62 361 971 777 | [email protected]
Rates: See here
2. Padma Resort Ubud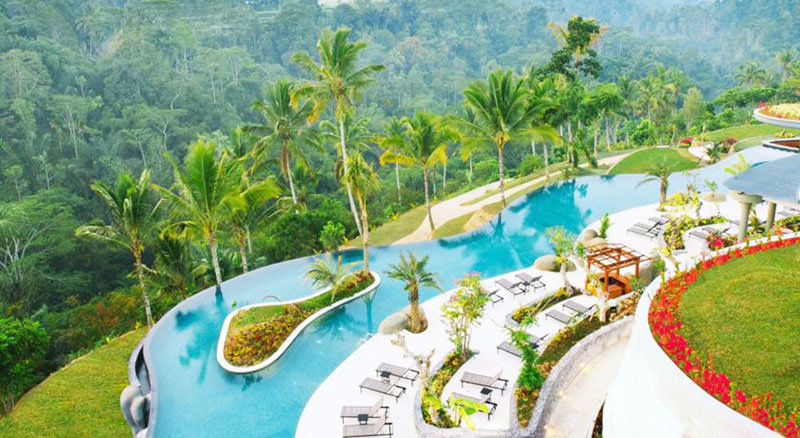 Padma Resort Ubud's infinity pool is connected to the resort via an enchanting glass top tunnel. What makes this pool unique is how it can change its temperature. They leave the water cool during the day to provide guests with an invigorating experience on a warm afternoon. Should the temperature drop, the pool is heated to allow a comfortable swim during the morning and evening. They also have a chic pool deck where you can lounge and unwind until your heart's content as well as a Sunken Pool Bar to serve your drink of choice.
Location: Banjar Carik, Desa Puhu Payangan, Ubud – Bali 80572 Indonesia
Contact details: +62 361 301 1111 | [email protected]
Rates: See here
3. Jimbaran Cliffs Private Hotel & Spa
What if you could have a swimming pool all to yourself where you can enjoy a refreshing dip any time of the day? At this resort they have suites, each with a private infinity pool overlooking a grand view of the surrounding valley and sea. Not only that, the place also offers two additional shared infinity pools that offer a panoramic sunset view and a relaxing spa facility.
Location: Jalan Gedong Sari 888, Mumbul, Kuta Selatan Bali 80363
Contact details: 61 468 346 509 | 0468 346 509 | [email protected]
Rates: See here
4. Hanging Gardens of Bali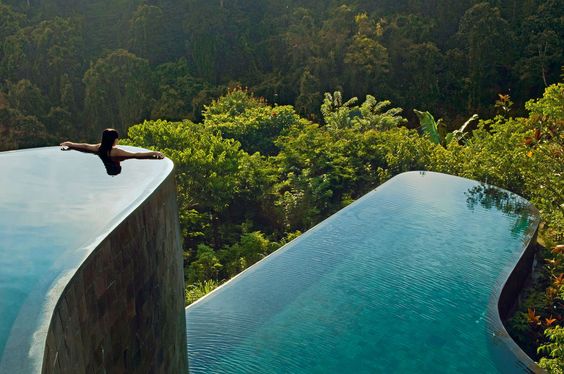 Voted by tourists on Trip Advisor as one of the "10 jaw-dropping hotel pools," Hanging Gardens is a sanctuary for nature lovers seeking solitude. Overlooking the Ayung River, this seven-star luxury hotel is every bit the unforgettable experience when you relax by their private infinity-edged pool. Set within a jungle, you can immerse yourself in the sounds of water cascading and the birds calling nearby. Choose from two levels and indulge in the sight of evergreens.
Location: Desa Buahan, Payangan, Bali 80571, Indonesia
Contact details: +62 361 982700 | [email protected]
Rates: See here
5. Samanvaya Villa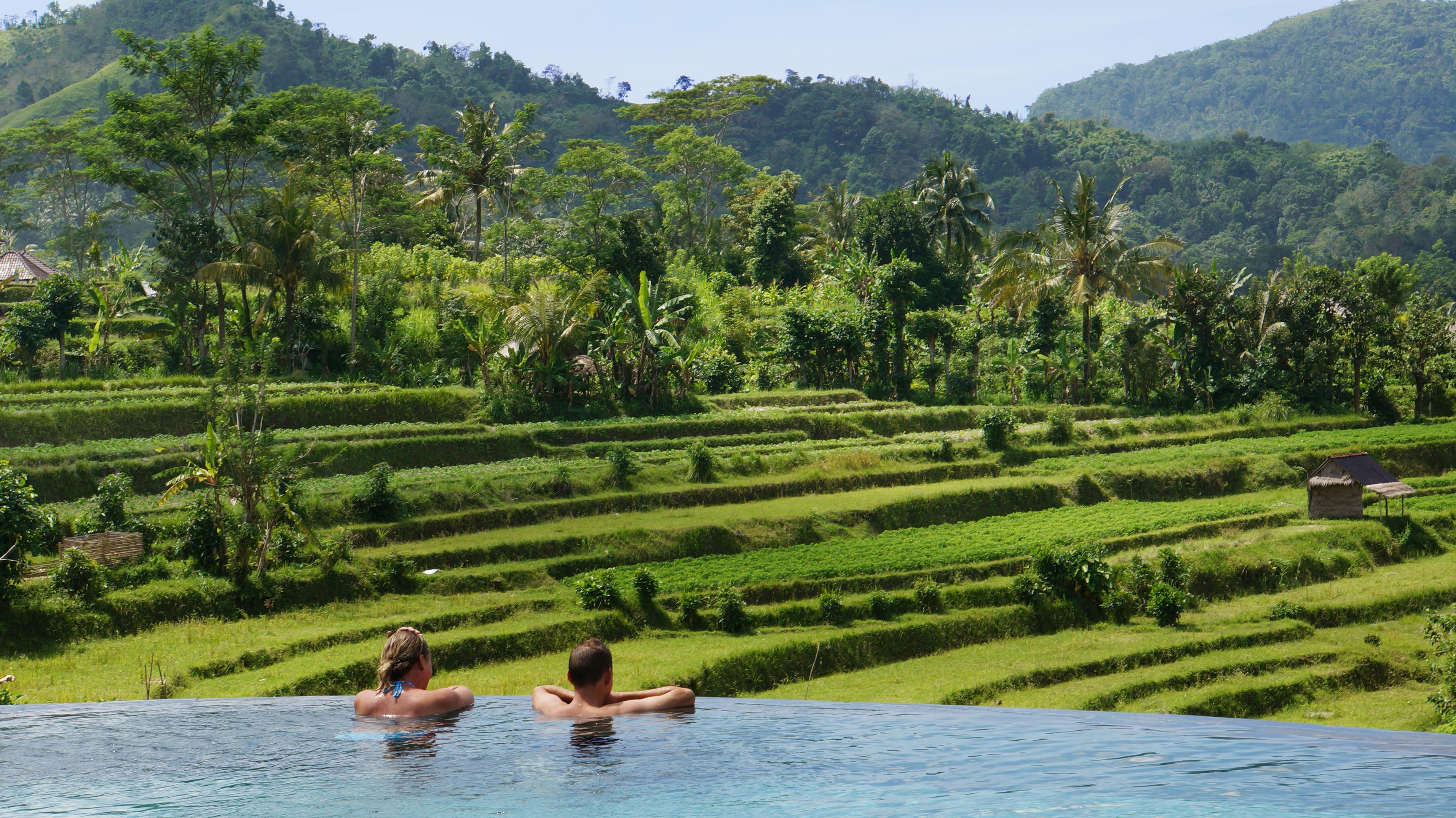 Majestically located on the upper slopes of the rice terraces in the Sidemen Valley, this infinity pool spoils guests with awe-inspiring scenery. Imagine whiling away time, drinking in the beauty of your surroundings during the day or equally appreciating the skies dotted with stars at night. This affordable place is also ideal for those who want to explore Bali, as it is only one hour away from Ubud, making it easy to access the tourist spots in the city.
Location: Samanvaya, Br. Tabola, Sidemen, 80864, Karangasem, Bali, Indonesia
Contact details: +62 (0) 82 147 103 884 | [email protected]
Rates: See here
6. Alila Villas Uluwatu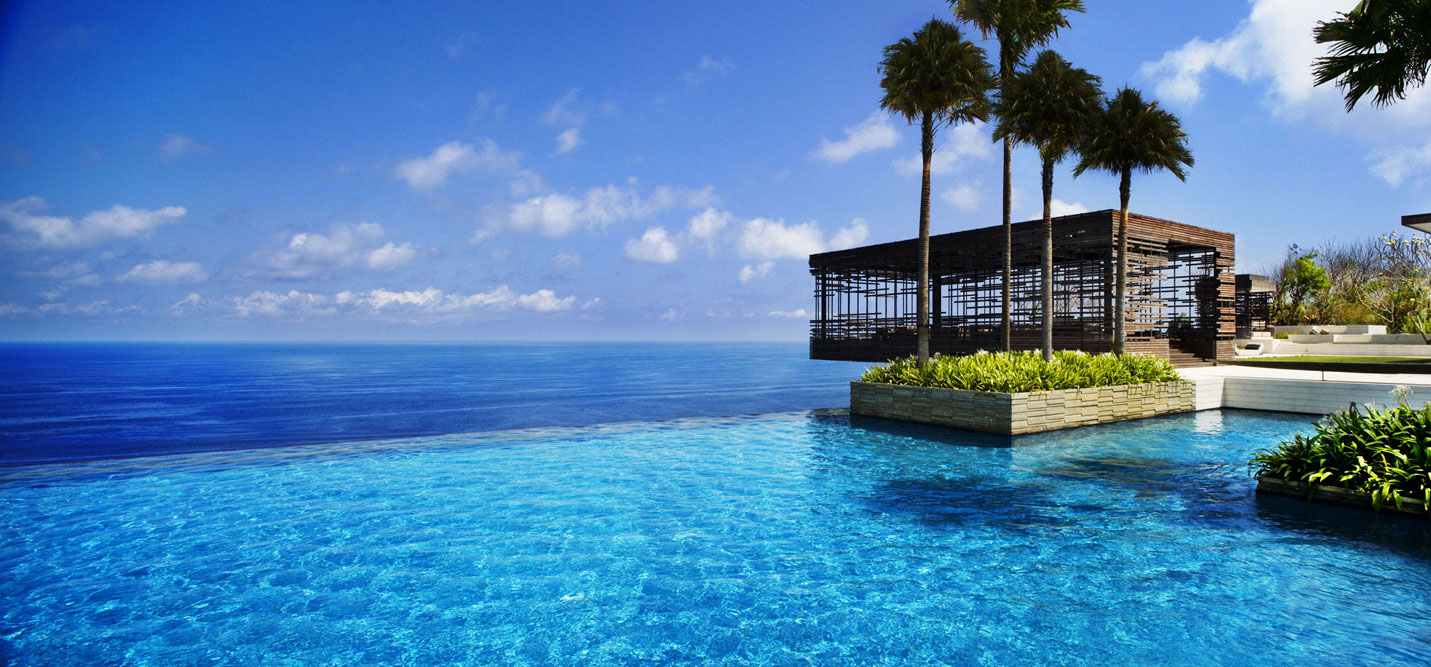 A cutting-edge modern hotel perched on limestone cliffs above the Indian Ocean, its cliff-edge 50-metre infinity pool allows one to appreciate the gorgeous sight of aquamarine waters and golden sunsets. When you're done swimming, head over to the sunset cabana next to the pool, where a dramatic view over the ocean awaits. Alila Villas was listed in Harper's Bazaar Indonesia in 2016 as one of Indonesia's "Top Eco-Friendly Hotels."
Location: Jl Belimbing Sari Banjar Tambiyak, Desa Pecatu, Bali 80364 Indonesia
Contact details: +62 361 848 2166 | [email protected]
Rates: See here
7. Sanglung Villa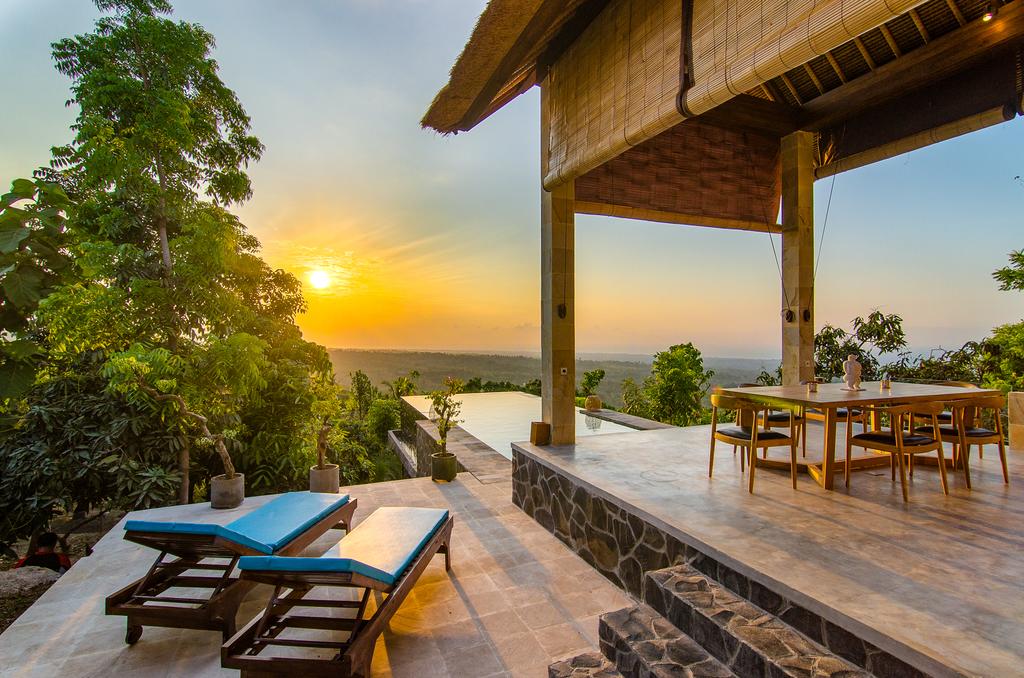 Imagine relaxing by a private infinity pool and gazing out into a panoramic view of the forest. This place gives guests the sanctuary they deserve with their open-concept villa located high up on a mountain. Get a spectacular 180-degree view of the surrounding mango trees, the sea and villages while enjoying the cool breeze. While swimming, the staff can also cook a delicious meal or BBQ from locally sourced ingredients accompanied by a bottle of wine.
Location: Depeha, Kubutambahan, Buleleng Regency, Bali 81172, Indonesia
Contact details: +62 813 38534204 | [email protected]
Rates: See here
8. Banyan Tree Ungasan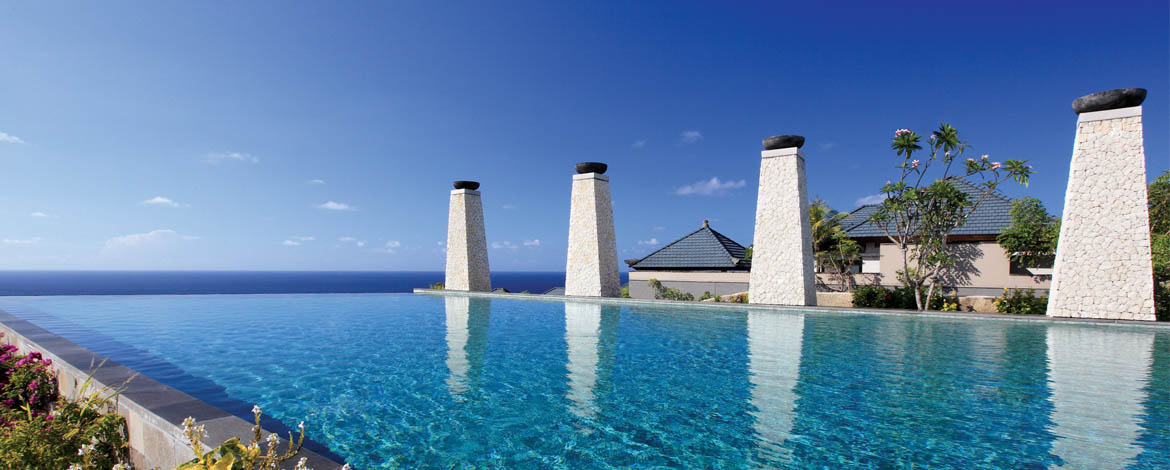 Plunge into this 10-metre infinity pool and swim to the very end where you can feast your eyes on the stunning scenery of the Indian Ocean. While enjoying the serenity of the pool, you can also sip on one of Banyan Tree's signature cocktails. Whether you are looking for business or pleasure, your stay here will surely be one for the books.
Location: Jl. Melasti, Banjar Kelod Ungasan, Bali 80364 Indonesia
Contact details: +62 361 300 7000 | [email protected]
Rates: See here
9. The Mulia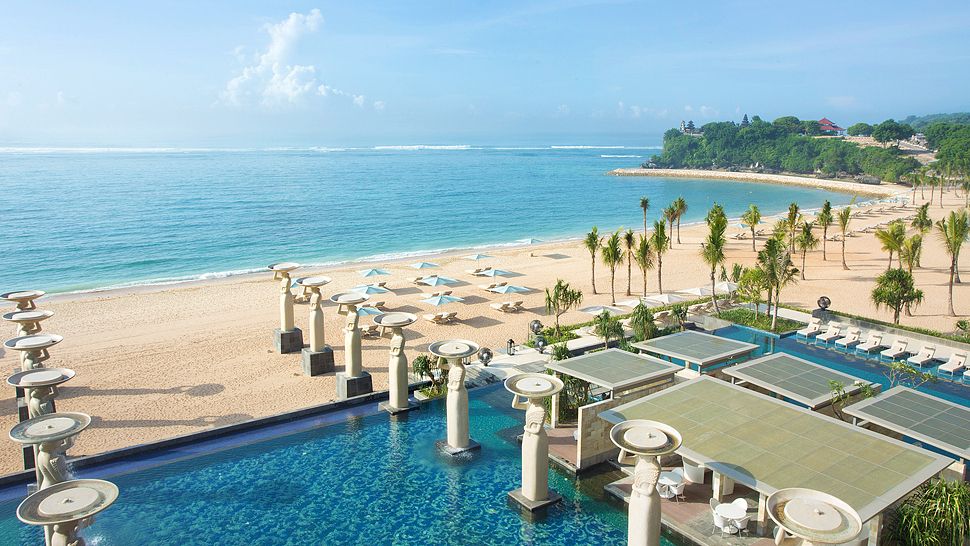 With a setting that's fit for the gods, The Mulia in Nusa Dua is nothing short of luxurious. In fact, its pools have been recognized the world over for their elegance. Their Oasis infinity pool is designed with surrounding statues of Balinese ladies carrying flowers that symbolize the daily prayers and rituals of the island.
Location: Jl. Raya Nusa Dua Selatan, Kawasan Sawangan Nusa Dua 80363 Bali, Indonesia
Contact details: (62-361) 3027777 | [email protected]
Rates: See here
10. Komaneka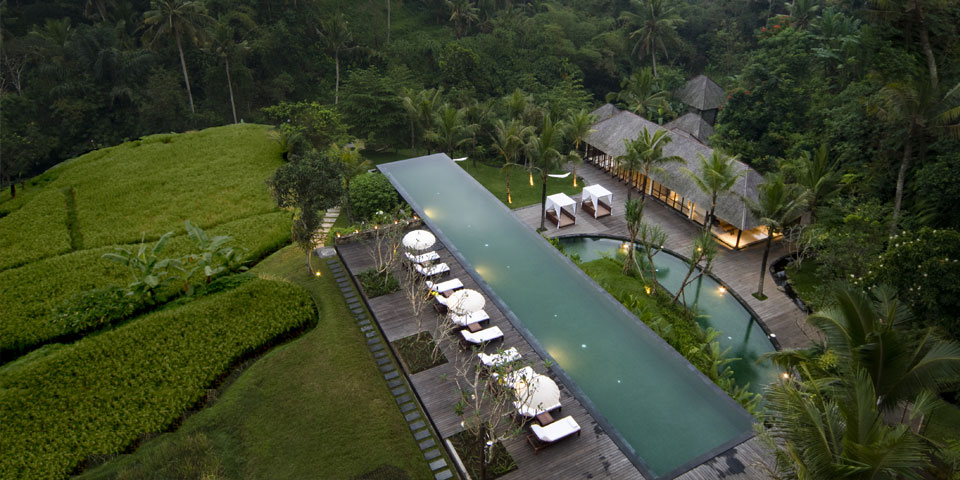 A collection of boutique hotels, Komaneka Resorts at Bisma, Ubud boasts an iconic 33-metre lap pool and is considered as the jewel of this beautiful five-hectare resort. Nestled in a tropical paradise, one can relax and lounge while appreciating nature. They also have an additional semi-circular pool below the infinity pool where guests can unwind in their sunbed huts.
Location: alan Bisma, Ubud, Gianyar, Bali, 80571, Indonesia
Contact details: +62 361 971933 | [email protected]
Rates: See here
Image credits: Signature Luxury Travel, Viceroy Bali, Trip Canvas, Jimbaran Cliffs, Bali Kids Guide Pinterest, Trip Advisor Pinterest, Reisetips, Booking, Banyan Tree, Kiwi Collections, Komaneka