Yoga is a widely practiced discipline all over the world known for boosting the health and its relaxing effects. Even celebrities such as David Beckham, Jennifer Aniston and Kate Hudson swear by yoga.
Bali, with its serene atmosphere and lush scenery, has become a top destination for yogis who travel all the way to meditate and experience the beauty of the island. In fact, the Bali Provincial Tourism Office has included yoga tourism as a part of its programme to attract foreign tourists.
It can be difficult taking your pick when you're spoiled for choice, so here's a list of some stunning yoga retreats where you can recharge and find the perfect escape from your hectic lifestyle. Imagine meditating on the "Island of the Gods." Sounds enticing, right?
1. Blooming Lotus Yoga
Located in the town of Ubud, which is considered as a spiritual and cultural centre in Bali, Blooming Lotus Yoga is one of several retreats in the area. If you are a beginner or an intermediate practitioner, then you'll enjoy your stay here. Aside from a breathtaking view to wake up to every morning, they offer both yoga and silent meditation retreats. Guests are also encouraged to join a Balinese cultural event during their stay.
Are you health conscious? No worries. They also serve healthy vegetarian meals as part of their retreat package. If you want to be a certified yoga instructor, they have yoga teacher training courses as well.
Location: Br Mawang Kaja, Desa Lodtunduh, Ubud
Contact details: +62 813-3956-0670 | [email protected]
Schedule and rates: See here
2. Naya Ubud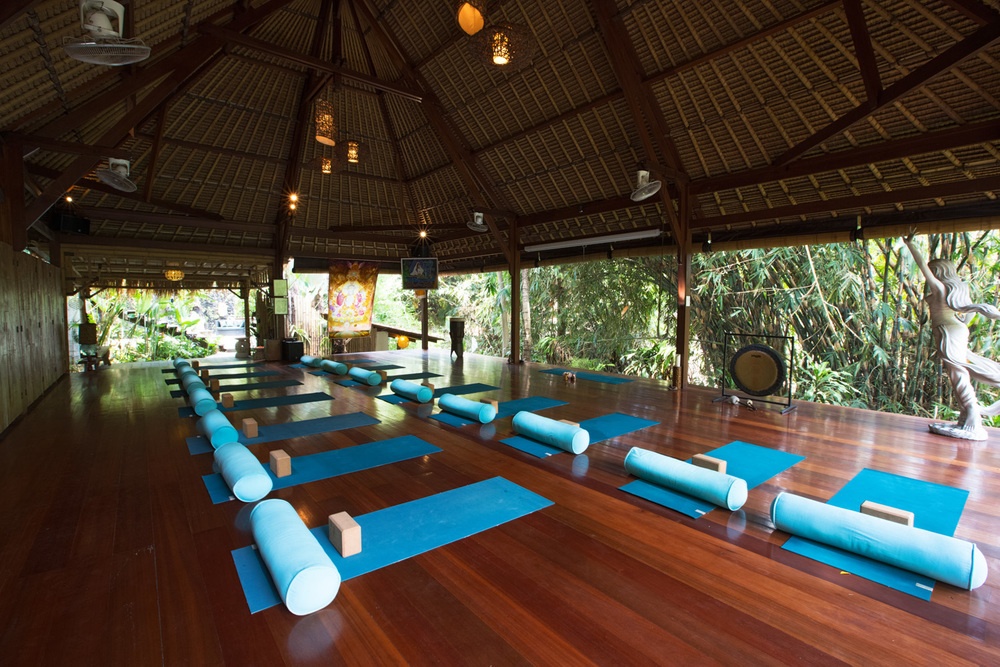 With a roster of retreats to choose from, you can surely find a programme that caters to your preferences best. The best part is, you can choose from group retreats or a private one.
Once you enter Naya, you can immediately feel a sense of calm wash over you as guests are welcomed into the heart of the retreat center, the "Pool Joglo," an intricately designed community lounge. The place also boasts of scrumptious Balinese food amidst beautiful surroundings, the Naya Spa, a hair studio, the Steam Grotto, and the Ozone infinity pool. They also have an open-air 1,300 sq.ft. yoga shala where they hold yoga classes, live music performances, dancing, Capoeira, meditation and much more.
Location: Jalan Raya Sayan Gang Puskesmas Ubud II Banjar Kutuh Ubud, Bali 80571
Contact details: 0361 975 755 | [email protected]
Schedule and rates: See here
3. Kura Kura Yoga Retreat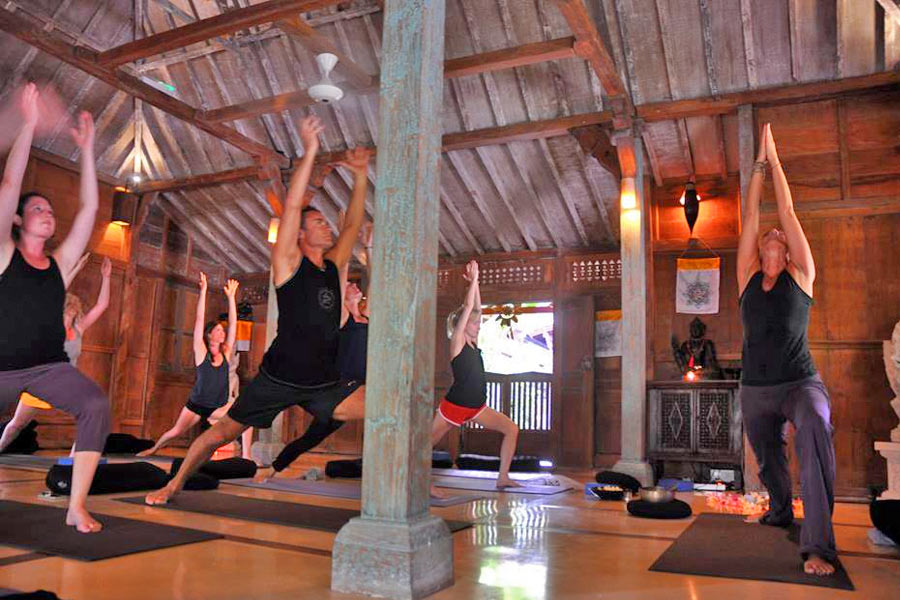 If you want a little piece of intimate yoga paradise, Kura Kura Yoga Retreat is the place to be. Originally built as a family house, this relaxing sanctuary is located along a small river and is only a few steps away from the sea where you can practice yoga from time to time.
Named after the Indonesian word for turtles, Kura Kura is an amazing retreat where people can come to relax and slow down time, just like how turtles move at their own pace without the need to rush. The place boasts of a yoga shala that overlooks a small pool. It also has a retreat calendar where you can choose from a roster of international yoga teachers, yoga retreats as well as a programme that suits you.
Location: Jalan Pantai Seseh Dessa Munggu 80361 Bali – Indonesia
Contact details: [email protected]
Schedule and rates: See here
4. ONEWORLD Retreats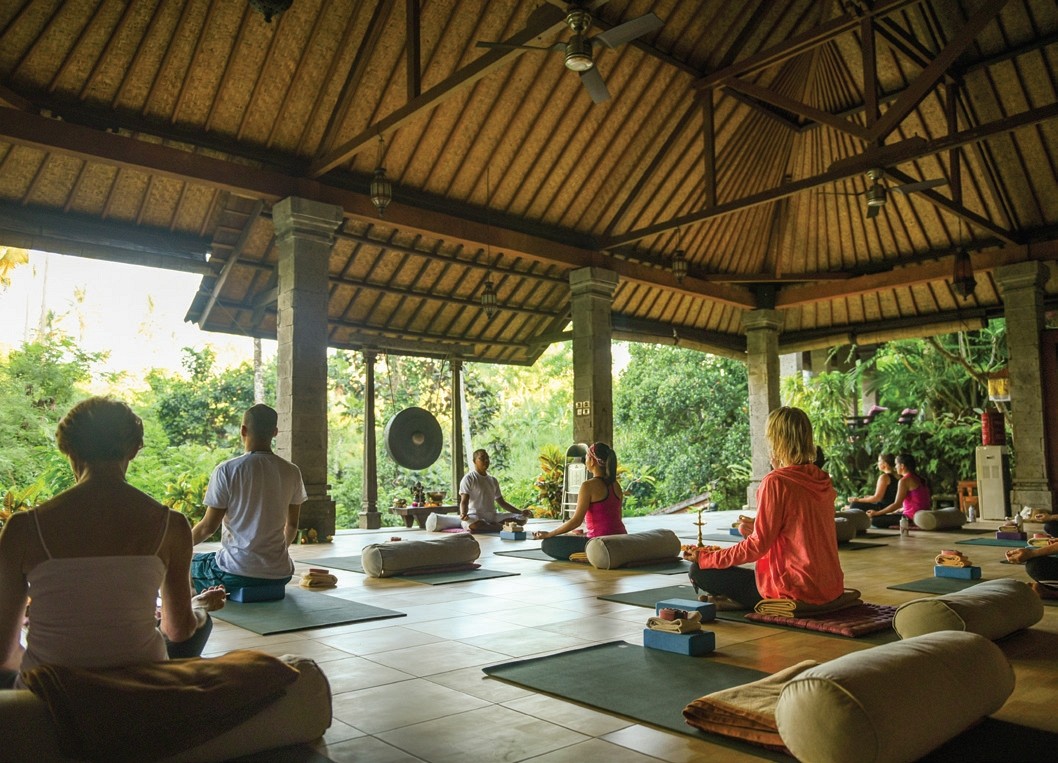 Prepare to be pampered and feel rejuvenated through individual and group journeys that include a combination of yoga, meditation, spa and other deeper experience retreats at ONEWORLD. Their yearly schedules are well-plotted with monthly offerings of a week-long retreat programme. They also have the "Discovery Journeys," a chance for you to connect with nature by going off the beaten track.
Other activities to look forward to are their village cycling excursions and an exotic purification ritual at the sacred spring pools of Tirta Empul Temple in the highland village of Tegallalang.
Location: Jl.Suweta, Banjar Sambahan Ubud, Bali – Indonesia
Contact details: +62 361 289752 | [email protected]
Schedule and rates: See here
5. Fivelements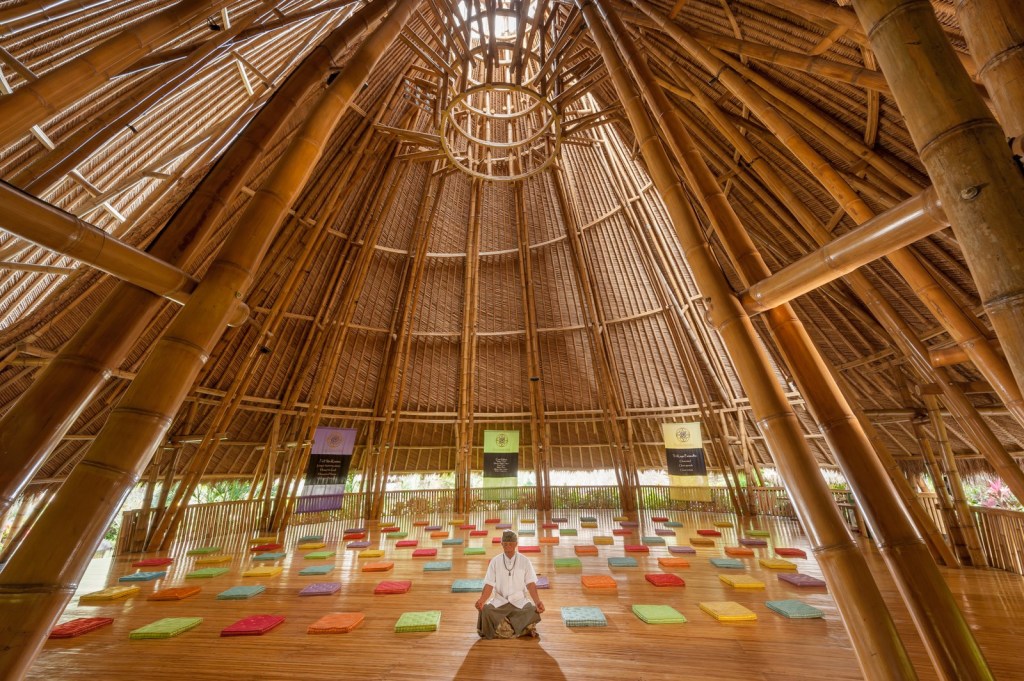 This famous five-star resort is every bit visually pleasing, decked out in impressive natural architecture with beautiful rice fields and lush hills as your surroundings. Fivelements is an award-winning, eco-conscious wellness retreat filled with various activities that include wellness rituals, luxurious special stays, culinary gatherings plus so much more.
Local and international yoga masters hold signature holistic Balinese-inspired retreats that offer a healing journey to its guests.
Location: Fivelements, Puri Ahimsa Banjar Baturning, Mambal, Bali, Indonesia 80352
Contact details: +62 361 469 260 | [email protected]
Schedule and rates: See here.
6. The Yoga Barn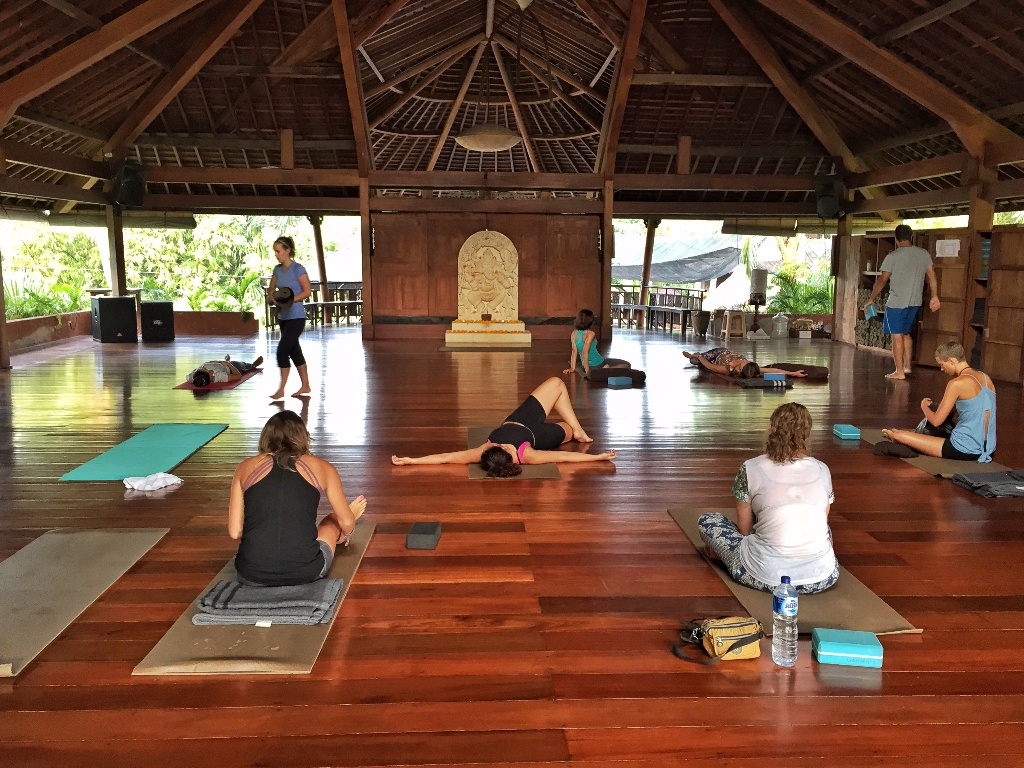 Another well-known destination for yogis is The Yoga Barn, also known as the main yoga centre in central Ubud and is one of the largest retreat centers in Southeast Asia. Whether you're novice or seasoned, they have classes available for all levels. The place boasts of five open-air studios, two of which hold daily classes while you can rent out the other three if you want to host a retreat.
It is open 360 days a year from 7am – 9pm with over 15 classes & workshops a day to choose from. The founders of Yoga Barn are the people behind the Bali Spirit Festival, an annual international event in Ubud filled with a week of yoga workshops, dance, and music.
Location: Jln. Raya Pengoseken Ubud, Gianyar 80571
Contact details: +62361 971 236 or +62361 971 407 | [email protected]
Schedule and rates: See here
7. Jungle Room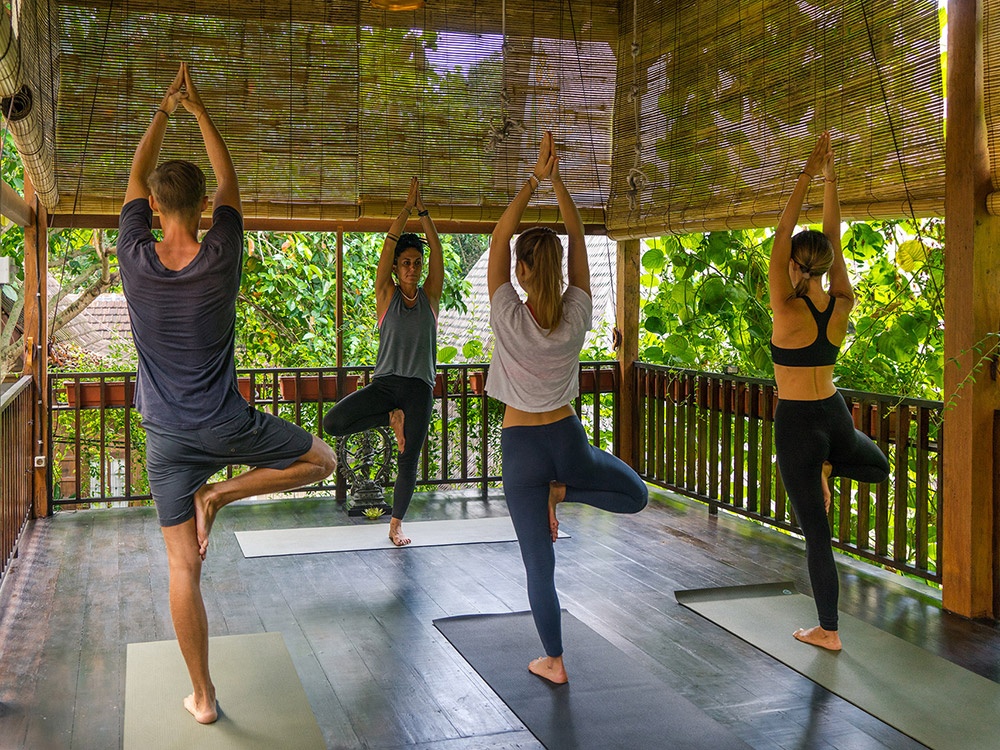 If you're the type who enjoys being amidst lush greenery, Jungle Room provides privacy via traditional wooden houses designed after the ones from different Indonesian islands. Its studio is a spacious outdoor room located in the middle of a forest where you can meditate and immerse yourself in nature.
Their JungleYoga is offered daily at 9am. They offer classes for every level, everyday such as Smiling Heart, Yoga for Surfers, Ashtanga, Happy Hips, Vinyasa Flow, and Sunday Slow Flow. For a more intimate experience, guests meditate in Jungle Room's very own jungle canopy yoga shala.
Location: Jl. Raya Uma Buluh 14
Contact details: [email protected]
Schedule and rates: See here
8. Soulshine Bali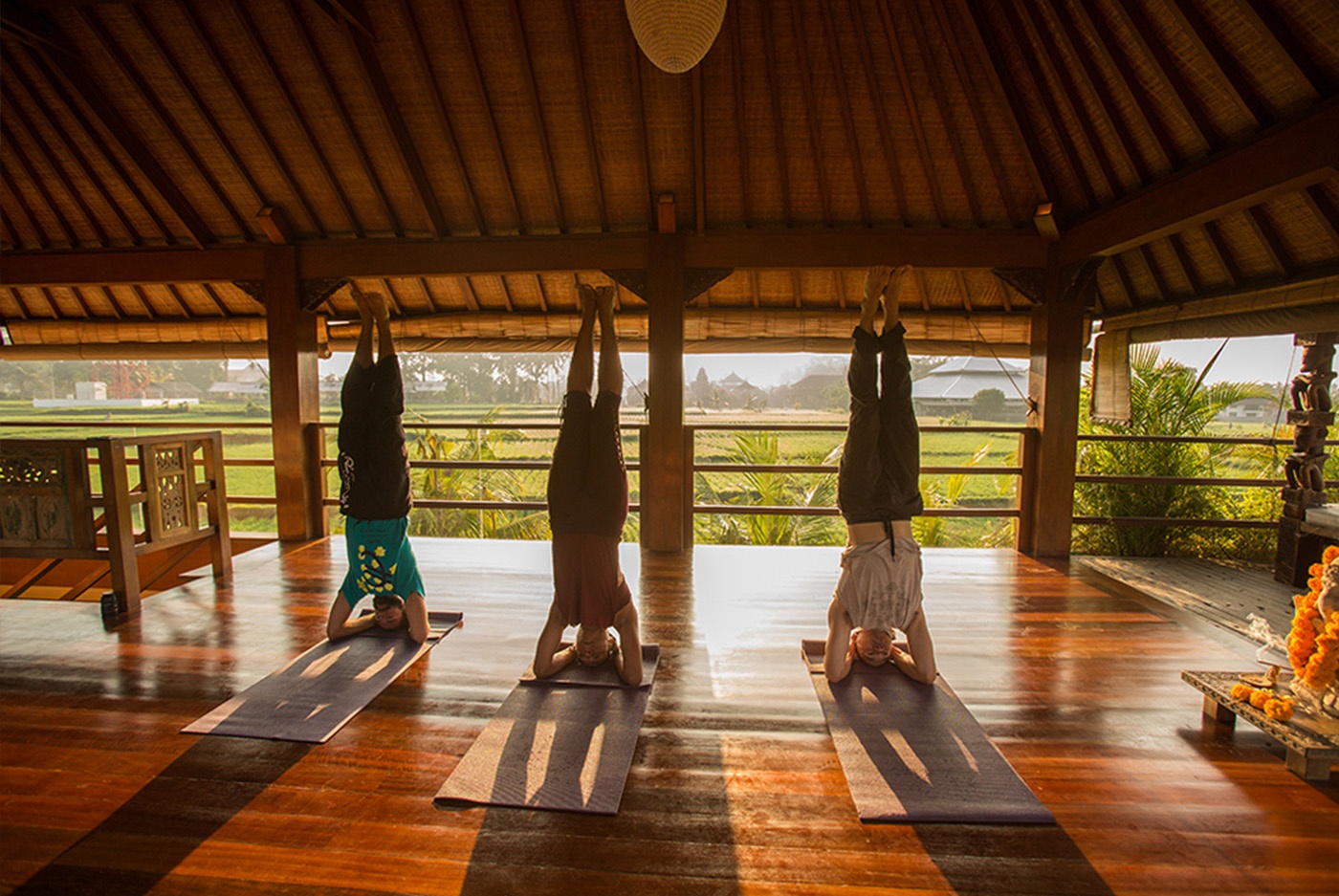 Michael Franti, a musician and co-founder of Soulshine Bali, said they created Soulshine Bali "to be a place of happiness where you can chill in a fun, friendly atmosphere, explore the beauty of Bali, enjoy delicious organic food and let your soul soar in the sun."
Indulge in various retreats and practice yoga on their rooftop studio. Or, have a quiet walk in their rice fields, enjoy a day trip at the beach or temple, and lose yourself in music. Whatever activity it is that suits you, the "chic and unpretentious" vibe of this oasis will definitely make you feel at home.
Location: Jalan Ambarwati, Ubud , Bali, Indonesia
Contact details: +62 (0) 85 333 499 49 | [email protected]
Schedule and rates: See here
9. Floating Leaf Eco-Luxury Retreat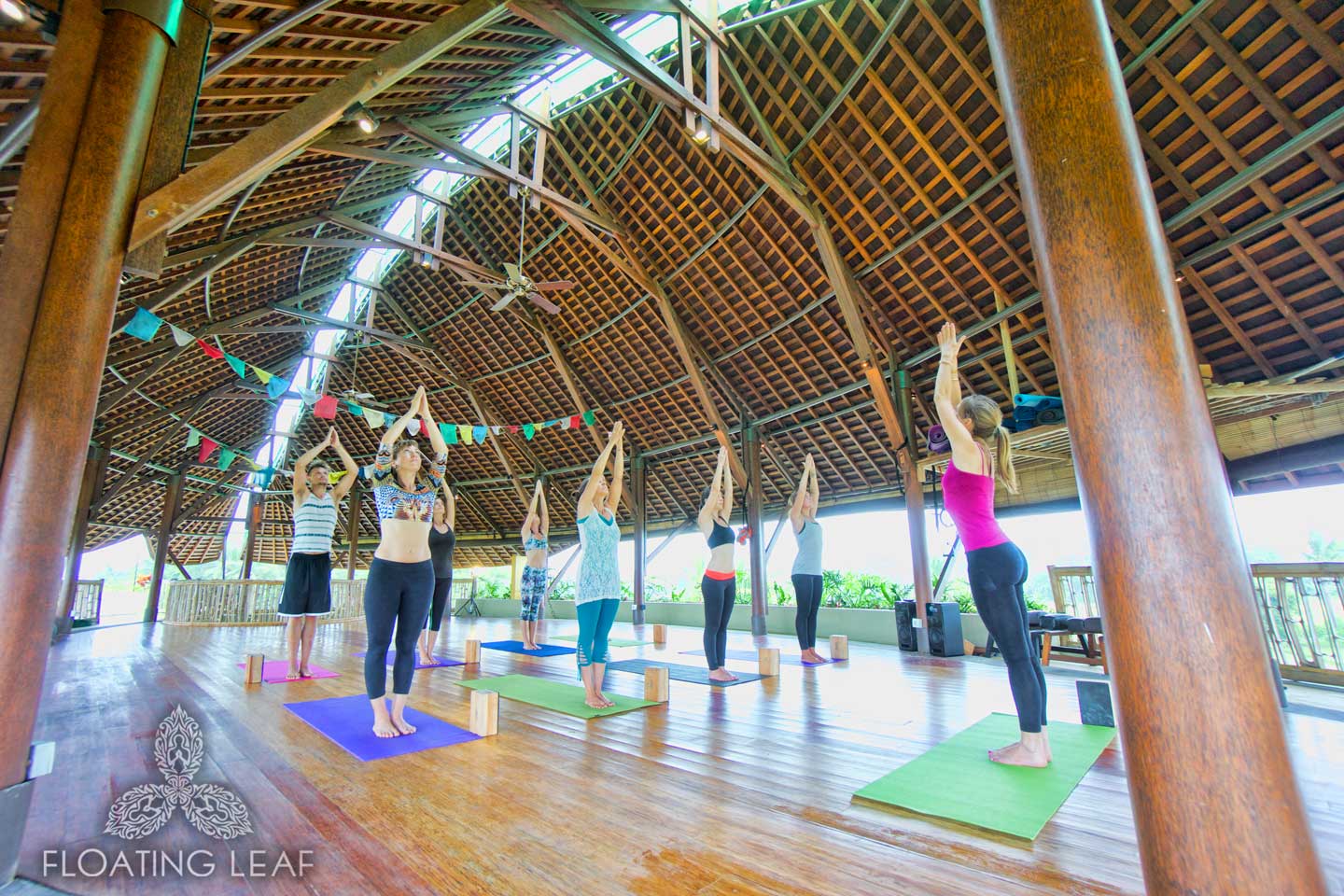 Promising a life-transforming Bali retreat, Floating Leaf combines authentic Balinese culture, traditional healing, spa treatments, philanthropic opportunities and holistic wellness with your yoga instruction.Their mission is to create the Buddhist concept of Sangha, which means community in order to facilitate profound and lasting wellness.
An open-air yoga sanctuary offers a majestic view of Mount Agung in the distance. Other activities that you can choose from are the charity trek, shopping tour, diving, snorkeling, photography tour, adventure tours, and even surfing. It also has its own organic garden where they get the freshest ingredients to serve their guests with.
Location: Jl. Pantai Purnama 42, Sukawati, Bali, Indonesia 80361
Contact details: +62 811 380 202 | [email protected]
Schedule and rates: See here.
10. COMO Shambhala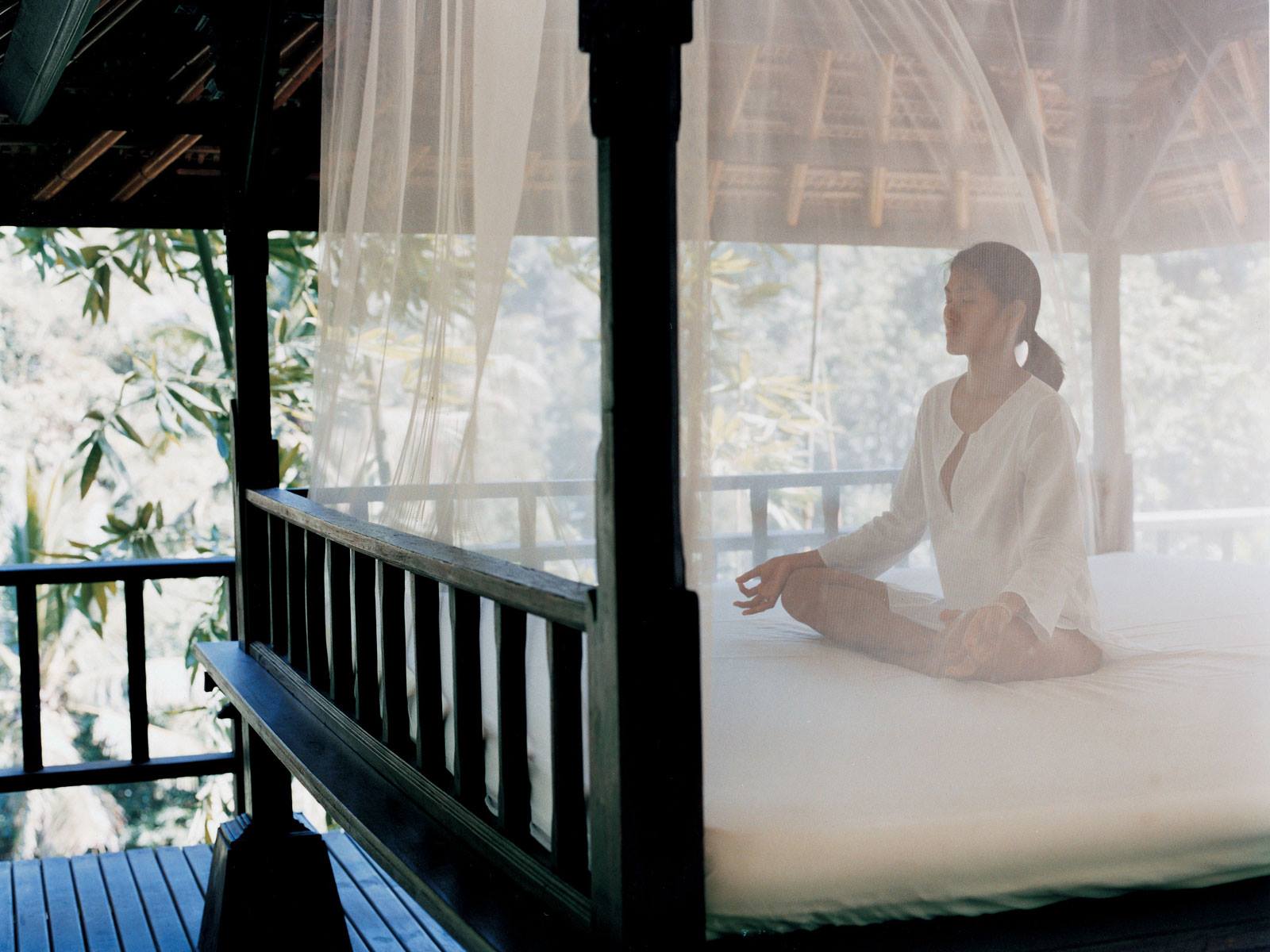 In the tranquil valley of the Payangan village lies the COMO Shambhala. It promotes proactive holistic wellness, combining modern science with ancient healing. Enjoy long stays and wellbeing programmes that include sessions with yoga teachers, dieticians, and Ayurvedic doctors.
They host residential wellness retreats, workshops, seminars and other holistic health-related events that focus on improving guests' yoga, pilates, and other wellbeing practices through a
results-driven agenda. Their specially developed COMO Shambhala Cuisine is one to look forward to as it is known to be both delectable and nutritious.
Location: Banjar Begawan, Desa Melinggih Kelod, Payangan
Contact details: +62 (0)361 978 888
Schedule: See here
Image credits: One World Retreats, Balance Boat, Martini Yoga, Bali-Indonesia, Pocket Mags, Retreat Place, Wanderlove, Jungle Room Bali, Healthy Holiday Hero, Bali Floating Leaf, Balance Boat