It's official. Batam City, the polluted playground for neighbouring Singaporeans seeking sex, is the best, most attractive and smartest city in the world. So says the mayor's office, after receiving an award from a UK-based corporation that sells meaningless accolades to egotistical officials, especially those from countries notorious for corruption.
Ahmad Dahlan, the corpulent mayor of Batam City, beams proudly as he is flanked by two balding, grey-haired Western men presenting him with an expensive vanity award in the Swiss resort town of Montreux. One of the old men is John W.A. Netting, director general of a spurious commercial organisation called the Europe Business Assembly (EBA). The other is Dr. Vincenzo Costigliola, president of the European Medical Association (EMA).
The EBA is a scam, albeit a legitimate one. It sends emails to institutions, businesses and politicians – often in developing countries – informing them they have been nominated for a prestigious-sounding international award.
Nominees who take the bait are then invited to a presentation ceremony, for which they are asked to pay thousands of Euros (or pounds sterling or dollars) to cover "accreditation fees".
It is grossly unethical to sell accolades to officials from countries known for embezzling public funds. Money that could be spent on infrastructure or healthcare instead goes to an unscrupulous corporation. The sham awards are then praised by fawning journalists in the recipients' countries.
Indonesia's Education Ministry has a blacklist of non-accredited foreign universities that sell phony degrees, while the National Education Law makes it illegal to use fake degrees. There does not seem to be any corresponding legislation from the Home Affairs Ministry to punish state officials who squander public funds on nonsense awards.
The EBA was founded in 2000 in "Oxford England" – which may impress those who associate the name with Oxford University. Anyone wishing to purchase an award can submit a request via EBA's website (www.ebaoxford.co.uk). The stupid garbage on offer includes the "Queen Victoria Commemorative Medal" and the "Socrates Award".
The appalling grammar in EBA's promotional materials looks like it came straight from a Nigerian Prince email scam. "Our dedicated, accessibly and highly qualified staff are an essential part of EBA experience and will help you achieve your networking goals in variety of ways," says one spiel attributed to Netting.
"As the event guest you will get a unique opportunity to have new contacts with representatives of European and world economy, science and cultural elite in relaxing aristocratic atmosphere," spouts another spiel.
A 2012 letter signed on behalf of Netting offered recipients an opportunity to purchase a laureate title "in the Name in Science for contribution to world science" for £5,400 ($8,397). The fee did not cover any travel expenses. Targets were instead advised: "Please, for opening visa, flight to and from London, hotel booking, and transfer to/from hotel we offer you to apply to the tourist agencies of your country."
The brochure for the June 30 – July 2 EBA event in Montreux contains a list of participants, including six officials from Batam. It's unclear how much Ahmad Dahlan and his entourage paid to attend and whether taxpayers footed the bill for their airfares and accommodation.
Among the entourage was Gustian Rau, head of the Batam Investment Board. He was questioned by police in April over allegations that his office issued permits for illegal slot machines. The mayor has insisted the devices were merely licensed "gaming" machines for children.
Also on the guest list was Yusfa Hendri, head of the Batam Tourism Board. He was investigated last year after allegedly issuing a massively inflated contract for a New Year's Eve fireworks display without a tender.
Another of the guests was Ardiwinata, chief spokesman of Batam administration. He was last year repeatedly summoned by state prosecutors over allegations of embezzlement and bribery.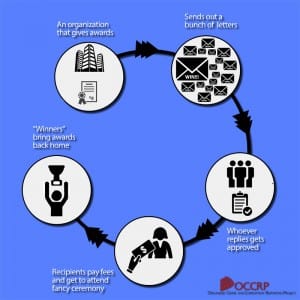 Ahmad Dahlan himself does not enjoy a clean reputation. Indonesia Corruption Watch (ICW) has demanded he be jailed for "unforgivable corruption". ICW in August 2014 reported the mayor to the Corruption Eradication Commission for allegedly embezzling social assistance funds dating back to 2009.
ICW further accused Batam City Administration of having a "phantom bank account" not recorded in official financial statements. Dahlan refused to suspend one of his employees, Niwen Khairani, after she was found to have a bank account worth Rp.1.2 trillion ($90 million) allegedly from an oil smuggling racket. Niwen was acquitted of money laundering charges in June and still works for the Batam Investment Board.
Batam is literally not clean. Last year, uncollected waste began piling up across parts of the island. Sanitation officials claimed they lacked resources to handle the garbage. Insufficient funds to clean up rubbish, but enough money to fly officials to Europe for a vanity award.
The EBA did not seem to care about the backgrounds of attendees at its meaningless ceremony, as long as they had money. As for the EMA, whose founder was also presenting awards at the event, it was founded in 1990, with the purported aim of studying European medical resources. Its website (www.emanet.org) is laughably bad. The EMA claims it "is not influenced by financial interests". It charges EUR5,000 a year to corporate members and EUR125 to full members, which buys them an EMA certificate and "electronic information".
Ahmad Dahlan was among three recipients of an "International Prize", which was officially described as "Best Cities for dynamic growth of the city with presenting the head of the municipality the title Manager of the Year". The other recipients were mayors from Colombia and Turkey. Their loyal media outlets dutifully produced glowing reports on the absurd award.
There was no prize money for the dozens of recipients of awards; just medals, certificates and trophies. By comparison, some genuine international awards, such as the Nobel Awards, provide prize money. This year's Nobel Prize winners will receive 8 million Swedish kroner (almost $1 million). Indonesia has never had a Nobel Prize recipient, unless we count Willem Einthoven, a Java-born Dutchman who in 1924 won the Nobel Prize in Medicine for inventing the electrocardiogram. And in 1996, the Nobel Peace Prize went to East Timorese independence activists Carlos Belo and Jose Ramos-Horta "for their work towards a just and peaceful solution to the conflict in East Timor" when the territory was still annexed by Indonesia.
The World Mayor Prize – in which Joko Widodo came third in 2012, back when he was widely viewed as a good person – offers no prize money, but neither does it sell any awards. Instead, it is run by a philanthropic organisation that firmly rejects sponsorships, advertising and all other forms of revenue.
Ahmad Dahlan is not the first Indonesian mayor to purchase an award from the EBA. The Mayor of the East Java capital of Surabaya, Tri Rismaharini, last year took an entourage of six officials to London after paying at least £3,900 for a certificate and trophy for leading an "innovative city of the future". She then triumphantly paraded the pathetic trophy upon returning to Surabaya.
Batam's media did not learn from that silliness. "Batam Wins World's Best City Award in Switzerland," crowed the Tribun Batam newspaper. The Batam Pos went one better, printing a photo of Dahlan captioned "The Best City and The Best Mayor". Batam's netizens were savvier, taking to social media to gleefully mock the mayor's award.
One person duped was local legislator Ricky Indrakari of the Islam-based Prosperous Justice Party. He called for an official parade of the award around Batam City to show respect and appreciation. What hope is there when officials are praised for wasting money on vanity? Judging by online ridicule, at least plenty of the public aren't fooled.