Weddings, an essential rite of passage in Indonesia, remain a source of scamming and discontent.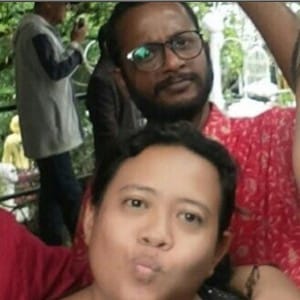 It was supposed to be one of the happiest days in the life of Karina Prilianti (34). She was to marry her sweetheart Mochammad Bayu (36) on March 6, a Sunday. They had planned a lavish ceremony and a reception for 300 guests at Balai Sarwono, a popular wedding venue in Pasar Minggu, South Jakarta.
The happy couple arrived early for bridal makeup and wedding photos.
They started to feel uneasy when the photographer and makeup artist cancelled the session, claiming they had not been paid.
Next, the management of Balai Sarwono informed them it had cancelled their wedding because the venue had only received a booking fee of Rp.5 million.
Karina was aghast. She had paid over Rp.109 million to a wedding planner named Nitria Danu Kusuma (35), who was an old friend from high school. The money had been paid in multiple transfers to a bank account held by Nitria's assistant, Filipus Defris (34), who also goes by the name Dave Freeze.
Desperate for an explanation about the venue payment, Karina phoned Nitria, but she had stopped taking her calls. The unhappy couple reported the cancellation to family members, who sent text messages to the guests, explaining the wedding had been postponed for two weeks.
That day, Karina reported Nitria to Pasar Minggu Police Office. The initial response from police was lacklustre, so she later made a report to Jakarta Police Headquarters. Then she began chatting with friends online and discovered at least two other couples had also been scammed by Nitira and Filipus.
The scammers ran a bogus company called Ghetar One Stop Event. They were also behind another wedding business scam called Zahred Management, which used the tagline, "All you need is love. We do the rest."
On March 7, police arrested Filipus in South Jakarta but could not find Nitria. Meanwhile, the victims had formed a WhatsApp group called 'Victims of Crazy WO' (WO standing for Wedding Organizer) and hatched a plan to capture the scammer. A member of the group called one of Nitria's friends and asked her to arrange a meeting with the wedding planner at a house in Tangerang in neighbouring Banten province. Several members of the group then went to the house on the afternoon of March 8 and held Nitira until police arrived later that night and detained her.
Nitria and Filipus are charged with fraud and could face up to four years in jail. If any of this sounds familiar, it's because Nitria has already been jailed for pulling exactly the same scam. South Jakarta District Court had in 2013 sentenced her to one year behind bars for embezzling Rp.114 million from a betrothed couple.
One of Nitria's more recent victims, a flight attendant named Vita, had been due to be married in April with a reception at Balai Sarwono. She wants her money back, but police said the scammers had spent nearly all of their ill-gotten gain. When police raided Nitria's house, they seized a bundle of wedding planning contracts and only Rp.1.475 million in cash.
Zaky Alkazar Nasution, chief of the Pasar Minggu Police, urged people using the services of wedding organizers to be more vigilant. "Don't be fooled by the cheap prices. Check the legality of the wedding organizer. Check with their previous clients."
Couples wishing to save money could simply dispense with wedding planners and book venues themselves. For example, a basic wedding party for 300 people costs about Rp.60 million at certain venues, but the price can go up to Rp.100 million if you hire a planner to make the booking.
No Dowry
Do you ever get the feeling you're in a bad relationship? Or that you've married the wrong person? In the West Java city of Bekasi, a woman named Siti Mukaromah last year married Heri Prasetyo, and one day later reported him to police for failing to pay for the wedding expenses.
Siti had first met Heri in August 2014 while waiting for a bus. He claimed to be a senior member of the police's anti-terror squad, Detachment 88. The two began a relationship and eventually decided to get married.
After their wedding, Siti was outraged that her family had to foot the entire bill, while none of Heri's family had showed up. She was also suspicious that she had never seen her husband wearing a police uniform. After she went to police, Heri was arrested for posing as a police commissioner.
Impersonating a policeman in order to seduce women is not an uncommon phenomenon in Indonesia. In the South Sulawesi capital of Makassar, police last month arrested an unemployed man, Semto (33), for posing as a chief brigadier.
Semto had promised to marry Dewi (26) in late January, but instead kept asking her for money, claiming his police work would provide future funds. She gave him a motorbike, as well as Rp.12 million to pay for wedding rings and a marriage certificate. Police said Semto had previously served nine months in jail for a similar scam.
Love Happy
In West Kalimantan, the chairman of the Bengkayang Regional Legislative Assembly, Martinus Kajot, was last week reported to an ethics commission and to Indonesian Democratic Party of Struggle (PDIP) leader Megawati Sukarnoputri, because he plans to get married for the 12th time.
Kajot got into hot water after posting a photo on Facebook of himself with a 26-year-old physics teacher, Putri Lasiando, in a hotel room. Putri's parents did not approve of the relationship and said Kajot's behaviour was not appropriate for a public official.
The portly official, who has ten children, said there was nothing inappropriate about the photo because he and Putri are planning to be wed in June. He claimed to have divorced all of his previous wives. He said his 11th wife recently left him without explanation and moved to Malaysia.
A lawyer for Putri's parents said Kajot had insulted the family by posting the intimate photo. He said Kajot had responded by reporting Putri and her sister to police for allegedly embezzling a Honda Jazz car from him. The lawyer said the car was a gift from Kajot.
As Norwegian playwright Henrik Ibsen once pessimistically put it, "There can be no freedom or beauty about a home life that depends on borrowing and debt." Couples could avoid debt by avoiding scammers, while single women should think twice before falling in love with presents from government officials.