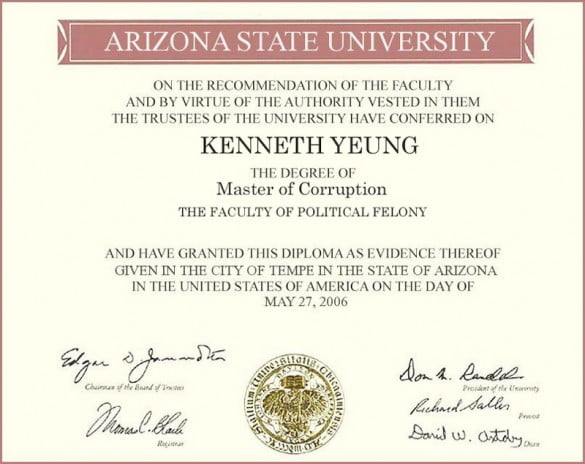 Regulations on qualifications for expatriate English instructors have been tightened over the past decade, so some teachers are resorting to buying fake university degrees – following in the footsteps of crooked local judges, police, legislators, civil servants and even a former vice president.
English is big business, with courses costing hundreds of dollars when native speakers are doing the teaching. For a long time, just about any Westerner could teach in Jakarta because their employer would either take care of or ignore the paperwork. That's still pretty much the case today, but some teachers feel safer with a bogus degree.
Such degrees can be bought online, with prices ranging from $100 to $1,300 depending on the qualification and whether it includes fake course work. Vendors claim to offer a 24-hour verification service, so that if an employer or inspector wants to check the validity, someone will be on hand to tell lies.
Unqualified teachers can save money by using Photoshop to make a fake degree and then finding a discreet printing shop. Or there is the long-standing method of simply putting a new name over a photocopy of an old degree, and then paying officials to accept the document as valid.
I have never taught English, but six years ago, a British friend begged me to cover one of his classes and gave me this advice: "When someone asks you a question about grammar, just tell them it's not important. When I don't know what to do, I always put on a DVD or get them to play monopoly." With such teachers, students could cut costs by watching Sesame Street videos or befriending Westerners online.
A few English language centres, such as the prestigious Wall Street Institute, have a reputation for scrupulous professionalism in their recruitment – which means no drunkards being enlisted from Jalan Jaksa and given a photocopied degree, and no under-the-table payments to get working visa applications endorsed. "You can imagine how this must annoy some of the officials who make a lot of money from the other popular language schools that pay the bribes," says one veteran teacher.
The government requires that foreigners employed as English teachers in Indonesia must be citizens of either Australia, Canada, Ireland, New Zealand, the UK or the US.
The 2005 Law on Teachers and Lecturers stipulates that teachers must have a relevant degree or four-year diploma. That means English teachers need a degree in English. Then there's a piece of legislation called: Minister of National Education Decree No.66 of 2009 on Granting Permission for Foreign Teachers and Education Personnel in Formal and Non-Formal Education Units in Indonesia.
The decree, which is designed "to protect the Indonesian people from influences … that could undermine national unity", mandates that foreign teachers must possess physical and spiritual health, and should be free from drugs and HIV/AIDS. And they must not be involved in religious propaganda, intelligence gathering, clandestine activities, fundraising or any other activities beyond the scope of their work permit.
What really bothers the English schools is the requirement that expat teachers must have a degree in English, yet not necessarily a teaching qualification. In other countries, such as China, South Korea and Japan, a bachelor's degree in any field is usually sufficient.
Philip (not his real name) from Canada has been teaching English in Indonesia for 18 years without a degree. "I've never needed one. I was once asked if I could produce a degree and I said it was destroyed in a flood. So then my boss had me sign something saying I had a degree."
David from the US recalls working for a school where "the director had a drawer full of copies of degrees from around the world, so whenever a new teacher started he could doctor a photocopied degree for them".
Buying degrees sets a terrible example to young Indonesians; that they need not bother with tertiary education but instead can buy their way into a good job, especially in the civil service and judiciary, if they have wealth and the right connections. Journalists have been threatened for writing about officials who use fake degrees.
Legitimate universities sometimes award honorary degrees to people of questionable academic and ethical backgrounds. There were protests this year after Diponegoro University in Central Java conferred an honorary doctorate on a former State Intelligence Agency official, who was allegedly linked to the 2004 murder of human rights activist Munir.