The Directorate General of Immigration of Indonesia has updated the list of countries of Electronic visa-on-arrival (e-VOA) holders for tourists, government officials, and business travellers.
The e-VOA can be used for various purposes, including tourism visits, government officials' visits, business meetings, purchasing goods, meetings, and transit. Travellers can enjoy a 30-day stay in Indonesia, which can be extended for an additional 30 days. However, it's essential to note that this stay permit cannot be converted into other types of visas. This new update aims to enhance the ease of travel to Indonesia and facilitate various activities.
To apply for the e-VOA, travellers must meet the following requirements:
Possess a legal and valid passport with a minimum validity of six months.

Hold a return ticket or an onward ticket for further travel to another country.

Hold the proof of non-tax revenue payment for VOA
The application process for the e-VOA is straightforward:
Visit the official application website at molina.imigrasi.go.id and complete the required form with accurate information.

Verify the information and proceed to make the payment using a Visa, MasterCard, or JCB debit or credit card.

After payment confirmation, the e-VOA will be sent to your registered email address.

Upon arrival in Indonesia, travellers are advised to follow these steps:

Download or print the e-VOA document before departure.

Visit the e-VOA counter upon arrival at one of the designated airports, seaports, or cross-border posts.

Immigration officers will scan the QR code on your e-VOA, verify your information, and affix a VOA sticker to your passport.
The e-VOA is available to citizens of several countries, governments of special administrative regions, and specific entities. The list of eligible countries includes South Africa, the United States of America, Australia, India, Japan, Canada, Germany, France, the United Kingdom, and many others.
The cost of the e-VOA is Rp500,000, and payments can be made using Visa, MasterCard, or JCB debit or credit cards.
This initiative is in line with Regulation Number 157/Pmk.02/2022 of the Minister of Finance of the Republic of Indonesia, which outlines the mechanism for payment of non-tax state revenue from abroad for immigration services in the form of a valid visa at the Ministry of Law and Human Rights.
The following is the updated list of countries of e-VOA holders: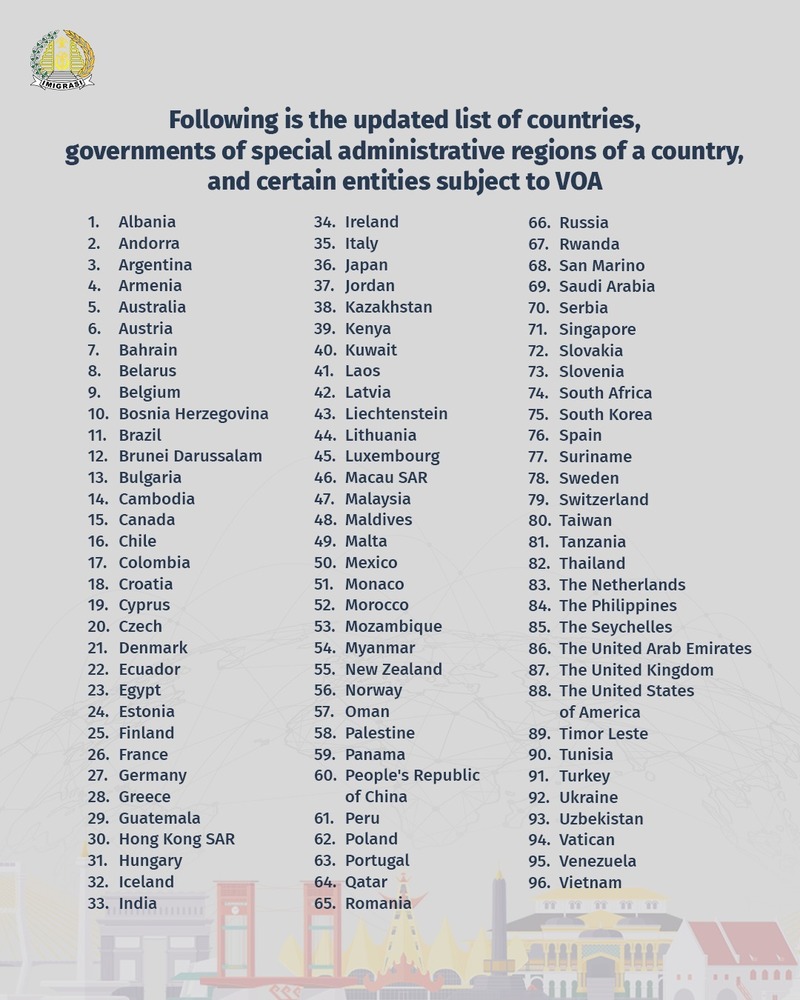 For more information and to apply for the e-VOA, please visit https://molina.imigrasi.go.id/.