Bumi Pemuda Rahayu (BPR) was established to explore ways of developing a sustainable living. Founder and Director Marco Kusumawijaya gives us an insight into how arts, architecture and urbanism collaborate to solve ecological issues and support local communities.
Knowledge and creativity both play a key role in our lives, although it may not be obvious how the two directly contribute towards building a better society. But for architect and urban planner Marco Kusumawijaya, they served as the main prescription in the establishment of BPR, which he calls "a sustainable learning centre".
"Knowledge is the main nutrition for our minds. It is the basis for creation and creativity, which precedes productivity economically, as well as culturally and socially," said Kusumawijaya.
Understanding the importance of sharing knowledge, both on theoretical and practical levels, Kusumawijaya turned to the creation of BPR, an organization which combines arts, architecture and urbanism in a bid to tackle ecological issues.
In the beginning, BPR was conceptualized by three organizations working to accomplish different purposes. They are: KUNCI Cultural Studies Center, which focuses on applying cultural study approaches to understand contemporary society; Arsitek Komunitas (ARKOM) Jogjakarta, which aims to develop community-centred development models and practices; and Rujak Center for Urban Studies (RCUS), which helps cities progress towards ecological sustainability.
Aiming to realize the visions of these organizations altogether, Kusumawijaya – along with his co-workers from KUNCI, ARKOM and RCUS – founded BPR in 2012, and set out to achieve ecological sustainability through developing innovative projects in the village of Muntuk, located in the sub-district of Bantul Regency, in Jogjakarta.
The village was considered an ideal place for BPR since it is not too far from Jogjakarta, a city that is known as Indonesia's hub of creativity and contemporary art. Aside from that, the founders' interests were piqued by the area's potential.
"The village is a 'difficult' place: a semi-urbanized rural area, not so fertile, with some crime and impacts of a consumptive economy (plastic waste, juvenile motorcycling)," said Kusumawijaya.
Hoping to foster the local community there, as well as to promote the message of sustainable living, BPR organized a variety of programmes, which include community development (workshops and trainings) that aims to fulfil the locals' needs; and organic farming, where they benefit from learning farming methods that are environmentally friendly.
In addition, BPR provides facilities like an open-air theatre, organic garden and accommodation for a maximum of 50 people. The facilities built by BPR are especially interesting because they are complemented with structures that support ecological functions. The multipurpose hall, for instance, is entirely made from bamboo, a sustainable wood that serves as a fundamental building material in this village.
In order to develop their skills in building this centre, members of the local community received training from architects, landscape designers, even a Japanese master who specializes in bamboo construction.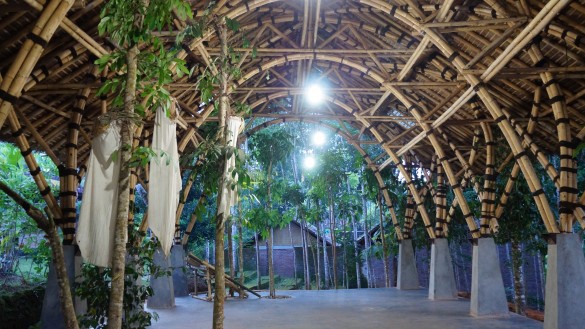 Aside from focusing on the architectural and environmental aspects, BPR also takes an interest in growing creativity in the village of Muntuk. Last year, BPR (initially hosted by RCUS) held an event called SAM Fund for Art and the Environment, where they invited artists and environmental activists like writer Ayu Utami and a Dutch artist residing in Indonesia, Mella Jaarsma, to select as many as 361 proposals from organizations fighting for artistic or environmental causes.
Currently, BPR is working on their annual programme, residency for creative workers, where they will be hosting two Indonesian artists for six months starting from August, and one Taiwanese artist for two months later in September. Through this residency, artists will have the opportunity to work with the local community on ecological issues.
Other interesting activities include bamboo making workshops, puppet making with the local children and video production classes with women from the village.
Acknowledging the role of arts for the environment, Kusumawijaya believes that it should not only inspire, but also adjust to the changes found in our surroundings. With this in mind, he stressed artists' abilities to challenge status quo. "Art itself also needs to change towards the environment, while we also take inspirations from it," said Kusumawijaya.
But running this rather multidimensional organization does come with the huge task of maintaining sustainability. Kusumawijaya himself reveals that financial resource does play a huge role in realizing the organization's programmes.
One of their programmes that has long been proposed, an ecological arts festival, has yet to materialize due to the lack of funding. And the fact that BPR has only been operating in their early stages explains why there is still work to be done:
"We have been operating only for three years with very limited budget and programmes, although we keep trying to develop and improve. But the way that we have been doing things, and we plan to intensify it, is to engage the surrounding communities in more and more of all the centre's activities and decision-making processes."
Regardless, BPR is delighted because the bamboo craft has proved to be successful in attracting buyers. In addition, they are focusing on improving plans in advanced marketing, as well as arranging more workshops and seminars.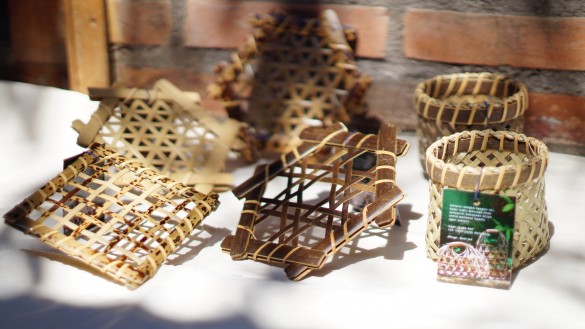 "We just hired a full-time manager for the place and its programming. There will be workshops and seminars in late August, October, December and February next year," Kusumawijaya revealed.
Asked what he considers to be the most important aspects of running BPR, Kusumawijaya mentioned "creativity, trust, communication and tenacity". At the end of the day, he admits that they are all required in managing an organization with such an unconventional means of bringing about change.
For more information please visit www.bumipemudarahayu.org