Healthy, nutritious, homemade pet food now available in Bali
The number one reason people look for homemade diets for their pets is because they are concerned about quality. This is because the vast majority of commercial pet foods on the market contain chemicals, preservatives, emulsifiers and artificial colours.
There are many advantages to feeding family pets a healthy, wholesome diet, prepared right in your own kitchen for a fraction of the cost of high end commercial pet food – but here's the thing; if you're going the homemade route, you must do it right. And by right, I mean the diet must be balanced.
The good news is a passionate man has already made the commitment to prepare homemade dog and cat food to satisfy our beloved pets.
Soon after arriving in Bali eleven years ago, Patrick Barton came across a dog with an acute case of demodectic mange. The dog's skin was thick, dark brown and leathery and it would crack and bleed with every step the dog took. Unaware of any dog rescue organisations back in the day, Patrick could not end the animals suffering and he was left with a lingering, unsettling emotion for many years to come. We have all been there!
However, at the end of September 2014 Patrick had an opportunity to rescue a Bali street dog just south of Ubud. Patrick was stuck on the road behind a procession when he spotted the dog crawling in the gutter with both hind legs paralysed. It was extremely skinny and looked to be in agony. It was an adult dog, starving and unable to control its bodily functions. It looked at Patrick in despair and was visibly relieved when it was rescued. After a month at the Lestari Vet Clinic, Patrick could finally take the dog, which he named Nino, home.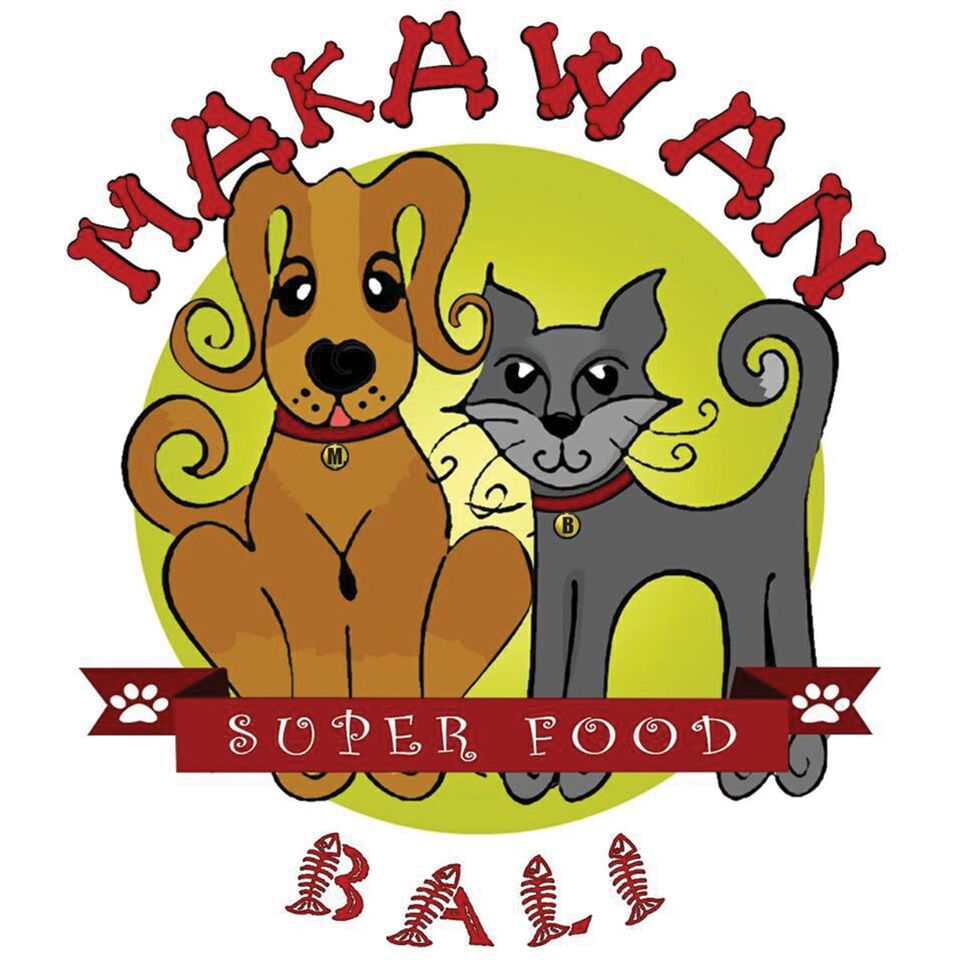 Makawan is Born
In that moment, when Patrick decided to care for Nino, he developed a deep empathy for the suffering of animals. Before he arrived in Bali he had rescued ten cats in France and he rescued his first dog, a three-month old puppy in 2011. After rescuing Nino in 2014, Patrick slowly but steadily continued taking in more strays. Today he is surrounded by a total of 33 happy dogs and eight cats. So what are these fortunate creatures eating each day?
Patrick originally fed his pets regular dry foods which worked pretty well at first, but eventually they got bored with it. This situation made Patrick curious about learning to cook food for them himself, and this is when he started Makawan Bali. He researched all the ingredients, checked their health benefits and experimented with a variety of spices.
Dry Food Problems
So what's really in that giant bag of dry food that your dog seems to like so much? Well, Prophylene Glycol and BHA (butylated hydroxyanisole) are two common examples of chemically synthesized ingredients found in some pet foods. You may not be aware that unlike the food humans eat, there is very little government regulation of pet food.
The problem with dry food is that dogs' bodies are made up of about 70% moisture, and they "need" that moisture for the proper functioning of the heart, kidneys, bladder, joints, hair and skin, etc. Dry food has been overly processed and extruded by machine under pressure and high temperature during manufacture (which results in low quality proteins). Adding water to it will not 'reconstitute' the meat back to its natural moist form, and drinking water alone does not provide the necessary levels of moisture to maintain a balanced system.
So wet food is a must! Although rice is a staple diet for Bali dogs, carnivorous animals should not be fed carbohydrates like rice. Canines have no biological grain requirement and they can have problems digesting grains. Now, thanks to Patrick, you have complete control over what your pets eat, and you can ensure you're feeding them high quality, human-grade superfood ingredients at a reasonable price – from Rp30,000 to Rp60,000 per kilo, depending on the meat (ten choices for meat and seven for fish).
The Breakthrough
In the kitchen – armed with a blender – Patrick's first creations were creamy. His dogs refused to eat it so he changed the template. Realising their desire to chew food, he bought a grinder and mixed some meat, black rice, turmeric, ginger and black seed with virgin coconut oil, sea salt, mineral water and some vegetables. He now prepares both cooked and raw food using both the spice blends. As we know, raw foods are rich sources of vitamins and minerals, strengthening the immune system, so these ingredients make your pet's body highly resistant to disease. Most of the ingredients are sourced from Bali (apart from baking soda and gelatin) and the cooked food can be kept in the fridge for up to three weeks. The raw food is delivered frozen and can be kept for a maximum of three to five days in the fridge.
In February 2016, after much trial and error, Patrick settled on the final formula. With the confidence he gained from his successful experimentation process, Patrick dared himself to take to the streets, going door to door so he could introduce his new dog food. Makawan Bali was born. Word on the street is: dogs and cats absolutely love it!
Free Tasting
So there you have it, lovingly prepared, nutritionally sound, homemade meals for your dog. Currently Patrick has 38 loyal customers whose pets enjoy his food. His dream is to make dogs in Bali even happier and healthier.
If you're interested in a free tasting, please contact Makawan Bali on Whatsapp +6281934338214