Frank Amado is the one and only US citizen who has been sentenced to death in Indonesia for being a drug trafficker. He was arrested on October 19, 2009 in Jakarta. His friend Peyman bin Azizallah was also detained at the same time and place. Both were convicted of trafficking over 5.6 kg of methamphetamine.
Amado met Azizallah, who was involved with Thailand's narcotic syndicate, in Bangkok in 2009. Azizallah is a repeat offender in the region. But, Amado still joined him to carry out drug trafficking in Jakarta with a reward of US$6 per gram of shabu, the Indonesian word for crystal methamphetamine. Due to his poor financial state caused by personal business bankruptcy, Amado took the deal.
In 2010, Amado smuggled meth via Bangkok-Jakarta flights. He was living nomadically in Jakarta, claiming to be a web designer and a teacher in computer-related fields.
Both he and Azizallah took transported drugs and routinely sent drug packages to various hotels in Jakarta (mainly Central, South and West Jakarta) based on the orders. He always dressed like a tourist to avoid suspicion.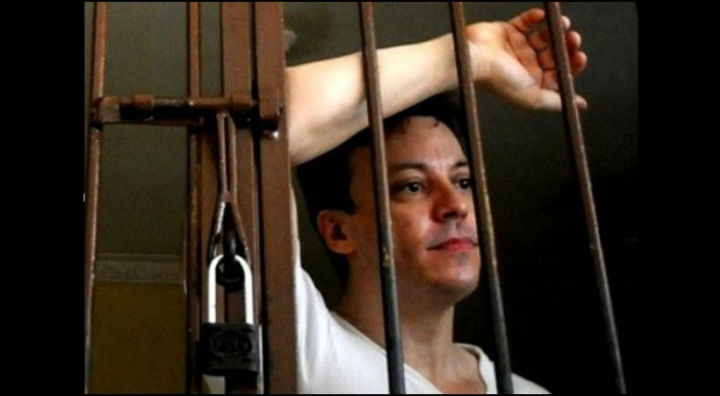 With proof that he distributed narcotics, Amado was put on trial and sentenced to death by the Central Jakarta District Court on August 4, 2010. He's the first US citizen to be sentenced to death in Indonesia.
According to Detik, Amado filed for clemency and asked to be pardoned by the president, but was rejected. He was then transferred to a correctional institution in Cipinang.
On March 9, 2017, Amado and several other foreign drug dealers on death row were transferred to Nusa Kambangan, the national "execution island" near Central Java. The move is prompting concern from human rights organizations due to the possibility that the government may be preparing another round of executions.
Ricky Gunawan, director of the Community Legal Aid Institute, which has been cooperating with Human Rights Watch to monitor Amado's case, expressed his concern over this development, as no US citizen has ever been executed by the Indonesian government.
"This is a worrying development. But we can't be entirely certain if these transfers are part of preparations for new executions due to the lack of transparency," he explained as quoted by SindoNews. He then explained further that new executions were most often initiated by transfers to Nusa Kambangan, but that there were also cases when the government did it for other reasons.
To date, Indonesia has carried out three rounds of executions of convicted drug traffickers. The most recent one was on July 16, 2016. There were 14 death row prisoners but only four were executed. Legal experts are still unsure why the other ten had their deaths postponed.
Additionally, Amado testified that the Indonesian trial system is tainted by abuse and corruption. Human Rights Watch and Gunawan believe that Amado still has one more appeal available to him, but in the past, the Indonesian government carried out death sentences in similar situations regardless of this circumstance.
In 2011, US government representatives said they would not intervene in the case. Neither the US embassy in Jakarta nor the Indonesian Attorney General's office have commented on the case.
Image credits: Inovasee, Aneka Info Unik