The Ministry of State Owned Enterprises plans to make transfers between state-owned banks free of charge via Link automatic teller machines (ATM) through a programme of gradually eliminating the fee.
Integrated ATM services, like Link, are easing money transfers between banks and increasing efficiency, particularly for consumers who cannot access ATMs belonging to their bank.
Digital Banking and Technology Director of Bank Mandiri Rico Usthavia Frans said that as a state owned enterprise, Bank Mandiri has a responsibility to assist government initiatives to encourage prosperity across the country.
"This is the kind of efficiency we offer to our customers, we offer low charges and even make (transactions) free," Frans said, as reported by Detik.
To date, money transfers between non-state owned banks and state owned banks via Link ATMs are still charged with the Rp.6,500 (US$0.50) fee. Cash withdrawals from non-state owned banks attract a Rp.7,500 (US$0.56) charge and checking your own balance will cost you Rp.4,000 (US$0.30).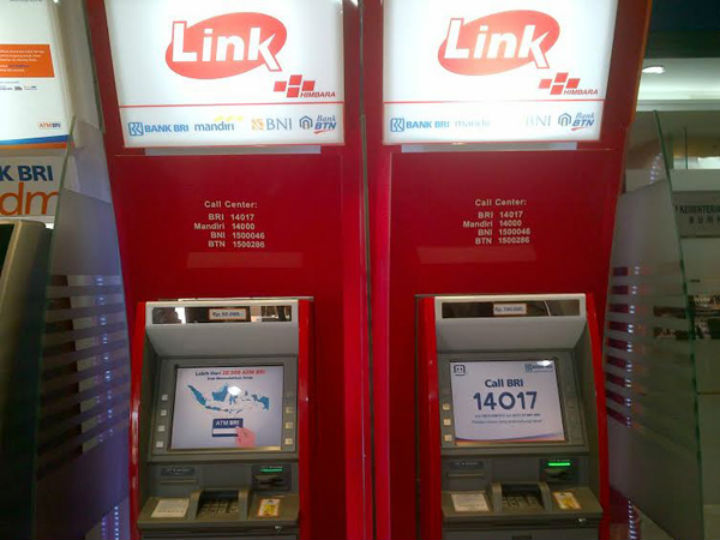 On the other hand, transfers between different state-owned banks through Link ATMs still attract a Rp.4,000 (US$0.30) fee per transfer. But, the tariff for bank transfers between the same state-owned have already been dropped.
Cash withdrawals from Link ATMs, which previously attracted a Rp.500 (US$0.04) charge, will soon be free for users.
"In the future, cash withdrawal via Link ATMs will not be charged," Consumer Director of Bank Rakyat Indonesia Sis Apik Wijayanto said, as quoted by Kompas.
Bank Negara Indonesia President Director Achmad Baiquni said state-owned banks have agreed to eliminate the cash withdrawal fee for Link ATM users.
Though the State Banks Association (Himbara) is still conducting the feasibility study, member banks and the ministry hope the plan will encourage customers to do more banking transactions through the user-friendly ATM.
The association hopes the move will attract new customers to open accounts with state-owned banks, including BRI, BNI, Mandiri and BTN, due to the lower ATM transaction costs.

Image credits: IBM, michaelkorsoutletsonlinesale