Indonesia is a natural resource powerhouse that attracts local and foreign investors alike. Despite a slump in commodity prices, exports of minerals and energy remain the country's most valuable.
It's perhaps unsurprising, then, that this bounty also attracts numerous businessmen or miners who are involved in illegal investments.
Last Friday, local police officers detained 40, suspected on illegal mining in Manokwari, West Papua. On Tuesday three of the men were named suspects.
One of the suspects, Anjang, said the miners were located in Warmumi and Pasirawi. Police are following up on the claims.
The suspect said the mines were allowed to operate thanks to permission from one of the village chiefs in Manokwari. The cost was 25 grams of gold per month, the report says. At current market rates his take would translate into Rp.13.4 million (US$1,012) a month.
The case follows a similar incident, in December 2016, when 33 men were caught by the police in Sekatak, North Kalimantan. The gold mine in Sekatak had been operating since 2012 and the authorities had given 13 warnings for this operation to shut down before the miners were arrested.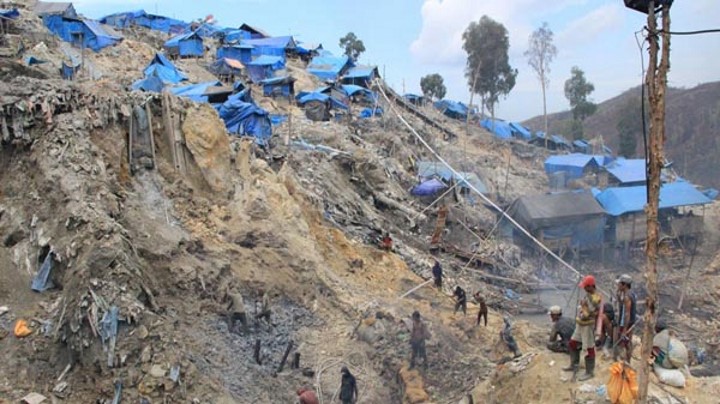 To make matters worse, the suspects are thought to have used mercury to illegally mine the gold, which takes a toll on the environment. The use of this chemical in mine fields is common, it is amalgamated with gold ore to help the extract the precious metal. President Joko Widodo, who is better known as Jokowi, has said he plans to outlaw the practice.
Several new areas have also emerged as potential hot spots for illegal mining, including Sungai Mas in West Aceh, Buru Island in Maluku, and Palangka Raya in Central Kalimantan.
Illegal gold mining does not only involve local citizens and businesses. In mid March, two Chinese citizens were deported after local police officers in Solok, West Sumatra, found that the pair, who had overstayed their visa, had been illegally mining gold.
But apart from the plunder, the cost to local habitats has been high. According to Baranews.com several illegal gold mines in Maluku have destroyed the environment. Extensive deforestation has left the area prone to landslides. A 300-metre long crack running up a 500-metre hill in the area suggests another serious slip is in the offing.
Still, illegal mining has brought some benefits. Some 2000 braved hazardous work conditions to take up jobs in illegal mines in Gunung Botak, Maluku alone, presumably because they had few alternatives for work. Perhaps because of this as well as payoffs to local officials, government has been slow to shut the mines down.
Image credits: Berita Borneo, Kilasmaluku