Bali is an internationally acclaimed tourist destination that fills both the world and the Indonesian people with pride.
It will be the host of the International food and beverage exhibition known as Bali Interfood 2023, for the fifth time, taking place at the Bali Nusa Dua Convention Center (BNDCC) in Nusa Dua from September 7th to 9th, 2023. Bali Interfood 2023 is an International Exhibition focused on Food & Beverages, Baking Ingredients, Hospitality & Baking Equipment, Technology, and Services.
This exhibition will also run concurrently with the 3rd Indonesia Licensing Expo (ILE) 2023, featuring displays related to Licensing, Franchises, Partnerships, and Business Opportunities in Indonesia, as well as the Bali Hotel & Tourism Exhibition, Bali Coffee Expo, Bali Wine & Spirits Exhibition, and Bakery Indonesia Expo 2023. Within this grand International exhibition, the spotlight will be on technology within the realms of food, beverages, coffee, tea, wine, bakery, HORECA, culinary services, raw materials, equipment, provisioning and processing technology, packaging, and business opportunities in licensing and franchises.
The CEO of Krista Exhibitions, Daud D Salim, stated in his address during the press conference at the Bali Tourism Board in Denpasar, Bali, "After being postponed for more than 3 years due to the Covid-19 pandemic, Bali Interfood is finally being held again, with 110 participants, including 40 SMEs, and a target of 13,000 visitors. This aims to provide various business opportunities for all exhibition participants to promote their products, engage in business activities, and for exhibition visitors who are seeking to discover new innovations in the food and beverage industry.
The return of Bali Interfood 2023 marks a series of food and beverage exhibitions organised by Krista Exhibitions in 3 major cities in Indonesia: Surabaya (Eastfood Indonesia), Bali (Bali Interfood), and culminating on November 8-11, 2023, at JiExpo Kemayoran Jakarta with the theme SIAL (Salon International de l'alimentation) Interfood. This event will be attended by more than 900 exhibition participants from various countries. This exhibition series is a contribution by Krista Exhibitions to help accelerate the national economic recovery, especially within the food and beverage industry in Indonesia," as expressed by Daud D Salim.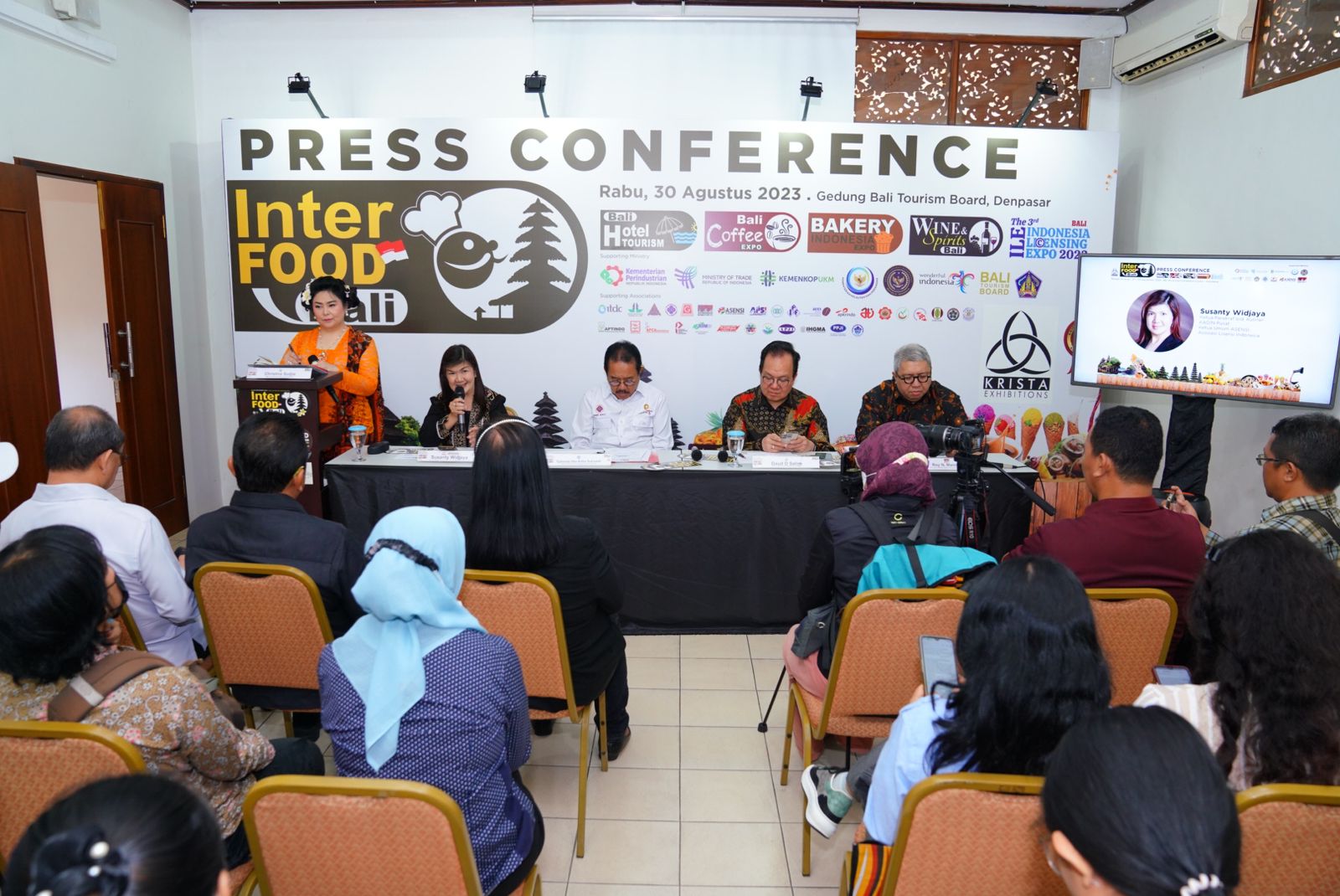 Susanty Widjaya, as the Chairman of the Indonesian Licensing Association (ASENSI) and the Culinary Chairman of the Indonesian Chamber of Commerce and Industry for Tourism and Creative Economy (Kadin Pariwisata dan Ekonomi Kreatif Indonesia), stated that "The 3rd Indonesia Licensing Expo (ILE 2023) is being held in three major cities: Surabaya, Bali, and Jakarta. With pride, we are introducing the Indonesia Licensing Expo for the first time on the island of Bali.
This is our second exhibition roadshow in 2023, following the successful event held in Surabaya last June, and the grand finale that will take place in Jakarta in October. It is our hope that The 3rd ILE 2023, as an exhibition of licences, franchises, and business opportunities, can serve as a moment of revival for all of us. It provides a valuable platform for entrepreneurs to develop, expand, and connect with partners, buyers, licensees, and franchisees from both Indonesia and internationally" as expressed by the Chairman of ASENSI, Susanty Widjaya.
Additionally, the latest beneficial technologies in the food and beverage processing industry will also be showcased. High-quality and competitive products such as Food & Beverage, Agri Food, Agricultural Products, Bakery & Confectionery, Food & Hospitality, Food Ingredients, Herbal & Health Food, Hotel and Retail Technology, Design & In-Store Marketing will be presented. What sets Bali Interfood 2023 apart is the increased involvement of SMEs showcasing their products, as well as the presence of fishery product suppliers and opportunities in licensing and franchising.
The success of Bali Interfood 2023's execution is attributed to the support of various entities, including the Ministry of Tourism of the Republic of Indonesia, the Ministry of Industry of the Republic of Indonesia, the Ministry of Trade of the Republic of Indonesia, the Ministry of Maritime Affairs and Fisheries of the Republic of Indonesia, the Provincial Government of Bali, Bali Tourism Board (BTB)/ Indonesian Tourism Industry Association (GIPI) Bali, Indonesian Hotel and Restaurant Association Bali, Indonesian Licensing Association (ASENSI), Indonesian Food and Beverage Entrepreneurs Association (GAPMMI), Indonesian Retail Entrepreneurs Association (APRINDO), Indonesian Fishery Processing and Marketing Entrepreneurs Association (AP5I), Indonesian Tea Association (ATI), and other relevant stakeholders.
This exhibition, open to business professionals and the general public, aims to attract 13,000 visitors. Visitors are expected to bring the invitations that have been sent to them, along with 2 business cards. Alternatively, they can register online at the website https://register.kristaonline.com/visitor/baliinterfood. For those who do not have invitations or choose to register on-site, there will be an entrance fee of Rp 100,000 for a three-day pass.