Brazilian expat Vera Ribeiro and her partner Rhett Hutchence are the creators of the world's largest skull memorabilia shop, where works of art and fashion are all connected with the age-old theme of human skulls and skeletons. Vera reveals her fascination with the bones and the story behind her very successful store SKULL Bali.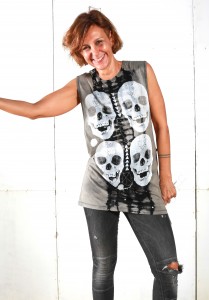 Vera, tell me about your career in fashion.
At 18 years of age I was a fashion photographer's assistant and stylist. I soon became the youngest editor of a leading fashion publication in Brazil at 23 years old. I went to fashion shows all over Europe; Milan, London, Paris and learned a lot about the industry. When the economic crisis hit Brazil the magazine closed. I opened a public relations firm specializing in the fashion industry with 16 clients. Then I fell in love, gave up everything and got married.
And how did your Bali chapter begin?
I moved to Hawaii and that is when I started coming to Bali, 20 years ago. My husband was a surfer and for five years we lived on North Shore, Oahu, and travelled here a lot. I started buying things for a little shop I had in Hawaii. After five years living there I moved to LA where I started a very successful wholesale business named Purple Seven (Purp7e). We manufactured tops in knitwear in Bali because I loved Bali. I did five collections a year and sold to 750 stores internationally for five years. Eventually the constant travel back and forth became too much despite the success. So I closed the business and I stayed on in Bali.
How did the SKULL Shop concept come about?
Three years after moving to Bali I met my partner in life and business, Rhett Hutchence. We wanted to do a shop together but didn't want to do just clothing and accessories. Rhett had been representing artists, so we wanted to combine fashion and art with a strong theme to promote both. I said why don't we do a skull shop? People thought it was a crazy idea. In August 2013 we opened our first store in Petitenget; a small shop which quickly filled with skull art and immediately did well, winning the Yak Award for Best Retail Shop, and getting a write-up in Vanity Fair as one of the Top Ten Locations to visit in Bali.
I knew we needed to expand but wasn't sure how to do this and thought a lot about what to do next. I literally had a vivid dream where I saw a huge skull covered in green leaves on a friend's storefront! It was our friend who had the Italian shop, SKS (Simple Concept Store) on Jalan Oberoi. I'd never even mentioned this to him, and no one thought this was a possibility because it was a beautiful, successful shop. Six months later my girlfriend mentioned my dream to him, just for a laugh, and he said he was ready to move on and would love to meet with us. After a month we closed the deal and here we are, two years later! It was good for everybody.
This shop is a landmark on Oberoi road now.
Yes, it took off right away! The huge leafy skull draws a lot of attention, as do all the skulls and skeletons. It really is a visual feast.
At 200 square metres we are the biggest skull shop in the world. We sell everything at a full range of prices starting at Rp.30,000 for our skull shoelaces to Rp.26 million for some artwork, but most things are kept at a reasonable price.
Skulls, being iconic, have a worldwide timeless appeal. Under all the colours of our skin and hair; we all share the same framework of skull and bones. Every culture has used these images.
And because we have such a broad range of skull art, fashion and décor, there really is something for everybody. Nothing is scary or gnarly, more homely and appealing. A third of the store is our SKULL brand, so we put a lot of thought into everything. I think the shop reflects us, as well as it does just skulls. It's different to Petitenget, which was our first, our baby, cuddly and cute. Oberoi is more modern and contemporary in style, but just as fascinating.
The works of art are amazing. Tell me how you get such fine craftsmanship but with unusual, creative themes?
My partner Rhett does all of that. We display works by local and international artists and he curates them. But he is also an artist and he searches out artisans and directs a lot of these pieces. For instance this piece was a carved teak ball which Rhett took and had a skull carved so it appears to be emerging from a world of detailed carving. He had these skeletons carved; some holding flowers, others with cell phones or in yoga positions. He goes directly to villages of carvers and has them do his amazing designs. Rhett also brings different woods and materials from around the world and inspires artists to be more creative and expand from the traditional images they have mastered.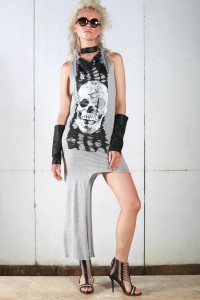 What most inspires your fashion designs?
I approach the fashion from different aspects but I design what I like and what I would wear. Sometimes I will buy clothing and modify it. I love vintage but mostly I buy new and add to it, cut it, reshape it. If I design what I will wear, I am a perfectionist about it – it must fit well! My fashion is a reflection of myself and what I have come to love over the many years in this business. There are styles here I have been selling for three years now because they are classics. After years in an industry which promotes change, I have come to appreciate that which surpasses seasons and trends. I am also influenced by Bali and our way of life here.
What are your future plans?
I love being in Bali because the entire world comes here! I do get requests to open more shops, especially in other countries or in Jakarta. For now I want to focus on what we are doing here. We will keep it all positive! We are the SKULL shop, but you can see that our skulls and skeletons are all positive, happy and spiritual. They connect us all as one and the same.
We have so many creative visions between the two of us that I see us just getting better at what we are already immersed in; expanding, bringing our creativity to an international market by wholesaling. Our website will be up soon so our plans are evolving in good time. We will be right here in Bali promoting what we love and what all humanity shares – skulls and bones!
Thank you, Vera. Email [email protected] for more information.