Meet Sacha Stevenson. Her gloriously funny 'How to Act Indonesian' YouTube videos are making headlines. Sacha loves Indonesia and has a soft spot for its social issues.
When did you move to Indonesia?
I moved in 2001. I took a course in teaching English back home, and the first people who wanted to hire me were from Jakarta. So I came and stayed. I guess I just wanted to get out of Canada that badly.
Your YouTube videos have gone viral in Indonesia. Tell us how the videos start!
I tried making a couple of web series but it's all about stuff I don't know very well, and it's not that interesting. My bule friends started introducing me as 'Sasa'; "She's half Indonesian", they'd say. They joke about how Indonesian I am. We would hang out at someone's house, sitting on chairs around the coffee table; give me an hour and I'll sit on the floor. They would tease me and say, "You have to be more like a bule, Sacha. You should hang out with us more". Then I thought, "Wait a minute, I shouldn't be learning from them, they should be learning from me. I should make a series on 'How to Act Indonesian' because this is what I know".
Viewers post some negative comments on your videos, how do you respond to them?
I made the videos in English, so the people I was trying to reach are Indonesians who understand foreign language and cultures. But still, there are some people who aren't very accepting of it. These comments started coming in about a week after I uploaded it. Then other people read them and commented back to those who called me names and said, "Oh grow up, it's just a joke". I like it because it kind of becomes a platform for people to discuss these things. I got this one hate message, though, that was physically threatening me. I don't erase comments like these; everyone's entitled to their own opinions.
Are we going to see 'annoying YouTube comments by Indonesians' being a subject on your video?
If you request it, I'll do it!
You Tweeted something about a ban on your YouTube. What's that about?
I had a community guideline strike on YouTube. This is usually because someone has flagged your videos as inappropriate. A message from YouTube said 'we've reviewed your videos and found inappropriate content'. So they took down the video, and I lost some of my rights as a YouTube partner. I filed some paperwork and the ban was lifted the next day, I guess I met the right person to straighten it out.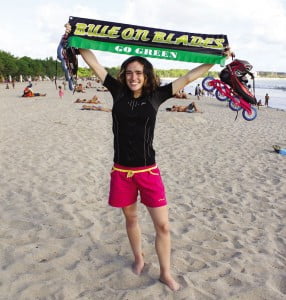 How did you start observing these stereotypes of Indonesians?
When I first came, I lived in a house the school I was teaching at provided me with. I was trying to learn Indonesian, but I didn't really meet and talk with anybody there. So I moved out of the house and to the pembantu quarter. So my neighbours were a tukang bakso, and a pak Haji. I learned Indonesian by hanging out and observing them.
It obviously worked, you speak Indonesian very well.
Oh, there are also two things that helped; every Friday I would go home with a copy of Bobo magazine (kids' magazine) and try to understand all the comic strips and learn simple words, write them down, and memorise 20 words a day. I thought the first words I should learn are those that were appropriate for kids. The other thing is Iwan Fals' songs. I would buy his cassette tapes, translate some lyrics, and that's how I learned bigger words.
You sang some original songs on YouTube. How did that start?
I don't write too often, usually only if I have a particular thing in my mind and getting it out would make me feel better. It's a way of expressing myself. But I like writing lyrics more than the music itself.
Your song "Budaya" was the first original I heard from you on Youtube. Why did you write that song?
I'd just come back from Egypt and a guy there told me about female genital mutilation and how they were defending the act because it was their 'budaya' (culture). I thought that was a good theme for a song, to talk about how culture isn't an excuse for these acts.
What kind of genre are you into?
I like folk music best. For about 15 years, I only listened to Ani DiFranco. I don't really listen to popular music.
What about documentary work you wanted to do?
I like social issues, so I tried to make a documentary about street children. I slept for three days in Jalan Jaksa with street kids to make this documentary, but while I was editing it, I felt that it was so depressing, and stopped doing it. I'm waiting for something that really inspires me, then I'll try again. Part of the YouTube thing is for me to practice to do my own production.
You starred in a sinetron. Any plans on doing it again?
No. It's a horrible industry. A standard sinetron contract will sign you up for 600 episodes and you'll be excited, but the contract is only to protect the production house. So if they want to cut you out of the sinetron after five episodes, they're free to do so. Then, you'll be stuck with this contract, unable to work at other programs, and you'll be out of work for eight months. It's not the lifestyle that I want, either. I prefer to do travel shows.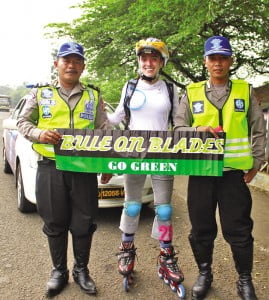 What are you focusing on in Jakarta now?
I'm building up a community around my YouTube channel; my dream job is to be a YouTuber. It's hard to explain to my mum, but she understands now.
Tell us a little about Bule on Blades!
I rollerbladed from Jakarta to Bali. It started because I was frustrated with working in television, feeling like I have no control over anything, traffic pissing me off; it was a number of factors. So I just wanted to do something good. And it was sort of like a green campaign; if I can rollerblade from Jakarta to Bali then you can bike to work, or change one or two habits to better the city. It didn't really have a big impact; I could've marketed it better. But you live and learn.
If you do leave Indonesia, what will you miss most?
I'd probably miss the sound of pengamen, because that's very distinctive of Jakarta. I think in whatever I do in the future it'll have something to do with Indonesia.