Meet Pastors John and Judi Harwin of Kuta International Christian Church, Legian, Bali
John 15:11 "These things I have spoken to you, that My Joy may remain in you, and that your Joy may be full."
What are the visions and the missions of KICC?
Our key focuses are: international, interdenominational, intimate with God and involved with people.
We are a friendly, accepting and joyful family church without walls, open to all people regardless of age, race, denomination or cultural background. It affirms that we are all truly one in Jesus Christ, using our different strengths, supporting and serving our Bali community together.
Our purpose is to create a contemporary, cross-cultural and caring Christian community, which provides opportunities for sharing resources, praying together, worship, teaching and service to the needy. Our focus of ministry is mainly directed towards the English- speaking people living in Bali, with a special outreach to Indonesian nationals, expats and overseas tourists. On any given Sunday there are up to 15 different nationalities represented. It's so exciting and interesting, and we love it!
What is Joy?
Joy is so much more than simply happiness, just as happiness is more than just pleasure. Pleasure is in the body, happiness is in the mind and feelings. Joy is deep within the heart, soul and spirit. Joy is always found in giving to others in so many ways. Our way of joy is to love God with all our heart, and loving those around us as ourselves.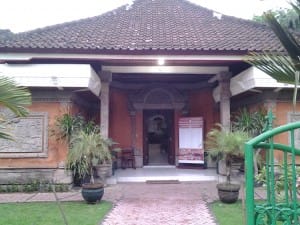 Christmas is coming and I know your church has some very special services planned. What is the true meaning of Christmas?
For us, it is a time of such love, deep feeling and joy, being with family and friends and showing generosity to all. The coming of Jesus Christ more than 2,000 years ago made the Kingdom of God very accessible to all mankind. The true meaning of Christmas is unconditional love.
Christmas is the celebration of this incredible act of love, with God humbly stepping out of eternity to reach down to us. We remember this meaningful birth of Jesus in a lowly stable, which had been foretold by prophets 700 years before. Through Him we can receive the gift of eternal life, forgiveness and love, as well as being free from condemnation. This truly frees us from our own natural selfishness to reach out to others, and creates peace and joy, especially during this wonderful Christmas season.
Tell me about your Christmas services and activities this year.
We really look forward to warmly welcoming people from all over, to come and celebrate Christmas Eve (9pm) and Christmas Day (11am), with us here at KICC. This is our first Christmas here as pastors, and we know that KICC have fantastic services with lots of enthusiastic preparation and rehearsals happening even now.
What other outreach programs does KICC have?
They are numerous. We assist with English-speaking church services and inmate support at Kerobokan prison, village water projects, Red Frogs 'Schoolies' program, as well as financially supporting children with special needs, families with unexpected medical expenses, hospital visitations  and orphanages. Regular dedications and weddings are held, connect and social groups meet on a regular weekly basis in homes and on the beach. So, life is certainly busy and fulfilling in so many ways.
What is your background and what inspired you to become pastors in ministry in Kuta?
We were called into full-time ministry about five years ago. Our long association with Indonesia is of over 15 years and in particular Bali. We often brought mission teams of teens and adults across from Australia to assist the poorer areas of Bali.
We also worked in Jakarta from 2004 to 2009. Our day jobs back then were in education, including teacher training of Indonesian nationals, as well as working in the prisons, refugee assistance, slums, leprosy communities and with the Indonesian people who struggle carving out their lives living under the toll ways in Kali Jodoh. In 2004, after the Boxing Day Tsunami in Banda Aceh, John was involved in immediate on the ground relief projects in Aceh and extensive teacher training of Acehnese for several years.
Now that we live in Bali, we notice that many people come here searching for happiness and fulfilment, and later become disappointed, depressed and even suicidal. Many times they end up in trouble, and we receive many distress calls. As church pastors, we are often the first ones these people reach out to, and it is such a privilege to help.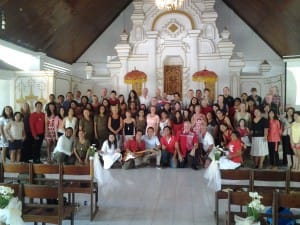 KICC is known for its diverse congregation. How many nationalities attend your church?
We can have up to 15 different nationalities attending KICC on any Sunday; around fifty percent Indonesian, the rest being expats and tourists from all around the world.
How long have you been coming to Indonesia and how did you get into ministry?
We first came to Indonesia in 1999. We have been involved in church life since our thirties, and have been in various areas of leadership and ministry roles over the years. We were first asked to lead an Australian church as pastors in 2010. We were both ordained with Australian Christian Churches in 2011. In 2013 we were invited by KICC to become their first permanent full-time pastors and commenced here in April 2014.
Describe a typical Sunday service at KICC.
In keeping with our surrounding culture, we start services with the striking of the beautiful gong. Newcomers and visitors are introduced and welcomed to the church, followed by around 30 minutes of joyful contemporary worship singing. We then 'pass the peace', which simply means 'meet and greet'. We share in regular prayer and a scripture-based message that has practical life applications. Services are usually finished by 12 noon followed by refreshments and friendly chats. Once a month we 'celebrate' communion.
Do you have advice to all people of all races and creeds around the world on how we may create a world of peace and love?
We would encourage anyone to keep searching, seeking and asking God to reveal Himself to them personally. Just stay open to the ways He speaks truth to us. It's awesome.
Thank you pastors John and Judi Harwin!  Merry Christmas! May we have peace on earth and goodwill to all!
Kuta International Christian Church
Church secretary: Merriyes 08179765673
Email: [email protected]