Meet Sheila Burch, an American yoga teacher and founder of the Ubud Yoga House, Bali.
Sheila Burch was born in Atlanta, Georgia and grew up in Seattle. In 1984, she embarked on a two-year backpacking trip around the world. In 1987, Sheila moved to Paris where she lived for eight years and became a French resident. She left France in 1995 and started working in international schools in Indonesia, Ecuador, Nepal, China and Azerbaijan. Sheila took her first yoga class in 1981. She subsequently studied yoga in Nepal, China, France and Bali, while being posted abroad as an educator. In 2013, Sheila travelled to India to study with the Iyengar family at the Iyengar Institute in Pune for a month. She holds a Yoga Alliance teaching certificate. Inspired with the idea of helping others by sharing the joy and benefits of yoga, in 2014 Sheila opened the Ubud Yoga House where she now serves as director and instructor.
Sheila, what are your interests?
I love travelling, writing, reading and meeting interesting people. I am especially intrigued with Buddhism, mindfulness and positive psychology.
When was your first visit to Bali?
I first visited in 1985. I spent three months in Ubud and have been attached to it ever since. I stayed in Mawar Homestay on Jl. Raya and have been friends with the family since the 1980s.
How did you first become interested in Yoga?
I did my first yoga class in Santa Barbara, California in the early 1980s when I was going through a divorce. At that time yoga was only found in recreation centres and was considered a 'fringe' activity. I was instinctively drawn to it during a time of crisis, which I find very interesting. I did not continue with yoga for many years until I moved to Nepal in 1997.
What particular style of yoga do you practice?
I have primarily studied Iyengar Yoga started by BKS Iyengar who is now 95 and still practicing yoga in Pune, India. I also practice Vinyasa and Yin yoga.
What are the benefits of yoga?
The benefits are both physical and mental. Yoga postures develop flexibility, balance and strength and help to calm the mind.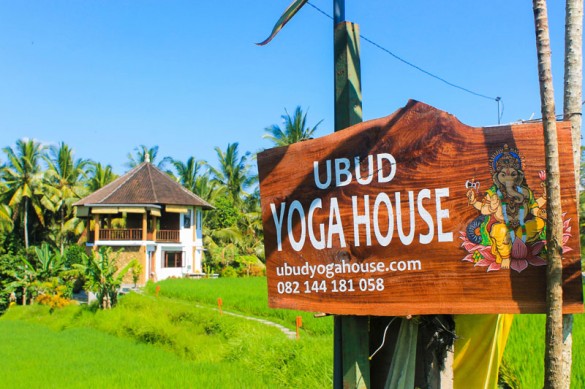 How did the Ubud Yoga House get its start?
I had been teaching in international schools for over 20 years and decided to 'settle down' and utilize my teaching skills and share my passion for yoga with others by opening a yoga studio in Ubud. With the help of the family that I met in 1985, I found a beautiful location and built my house with the intention of having an open-air yoga studio.
What is special about Ubud Yoga House?
The stunning location of the Ubud Yoga House is its most unique feature. It is an open-air studio overlooking the rice fields with panoramic views. It's only a 15-minute walk from the Ubud Palace, yet it feels like it's in the middle of nowhere. Another special feature is that it is a boutique yoga studio, which means that the classes are small, allowing for personalized individual instruction and attention. I am especially welcoming for beginners or people who have little experience with yoga. The Ubud Yoga House also provides an opportunity for more advanced yoga students to receive individual instruction.
Why did you decide to locate your business in Ubud?
I've been attached to Ubud since the mid-1980s and love the alternative community of vegetarians, vegans, yogis and spiritual seekers who call this town home. Ubud is still small and has a sense of community. I also like the Balinese culture and religion and the Balinese emphasis on community living and the influence of spirituality upon daily life.
How did Ubud become such a world-renowned hub for yoga and meditation?
Yoga has a spiritual/healing aspect to it and Ubud has always been a healing place, going back to the original meaning of Ubud as medicine or healing. Balinese Hinduism has similar roots as yoga, which comes from India and the Hindu tradition. Ubud just 'fits' with yoga because of this Hindu connection. Ubud is also unique because it offers many styles of yoga in a small community.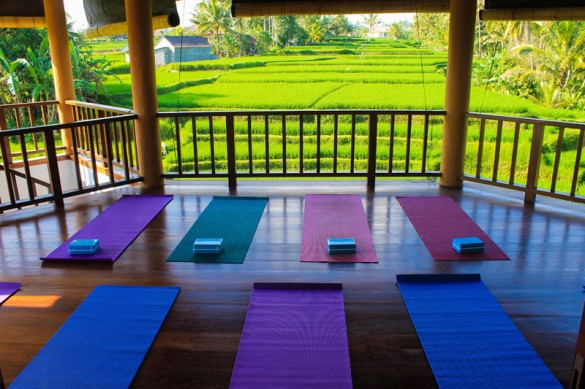 What do you mean by "student-centred" classes?
This means that the focus is on the student and how best to meet their needs in a class with various student levels. I teach according to the capability of each student and adapt my classes to meet the needs of all students.
Who is the typical person who takes part in your yoga classes?
A tourist visiting Bali for either a few days or a few months.
Who is your youngest and oldest student?
I had a family from Bulgaria that did the class with their four-year-old and six-year-old! I have a regular student who lives in Ubud and comes in twice a week. She just celebrated her 70th birthday.
Are your students different in motivation, manner and character from the students you've taught in, say, India, Thailand, France and Azerbaijan?
Same but different! Except for cultural differences such as how they dress for yoga class, I've found students to be the same around the world.
Do you use any equipment in your classes?
I use blocks, straps and blankets to help meet the needs of all students.
Where do you find your yoga teachers?
I am the only teacher. I teach three classes a day.
Are there any other issues you'd like to talk about?
I would love to know how to let people know about my classes. My reviews on Trip Advisor from people who have attended are excellent, but most people don't know the Ubud Yoga House exists! Our website is www.ubudyogahouse.com, and we also have the Ubud Yoga House Facebook page and Trip Advisor.