Top international jewellery designer Luke Stockley of Jemme Jewellery and Jemme Restaurant in Bali speaks about creating The Bali Ball and how he gives back to the island he loves.
Where in the UK are you from?
I'm from Devon and lived there until I was 16, at which time I moved to Clapton, Mayfair. When I was 22 years old we opened a shop in Mayfair, which we have had for 20 years now. I fell in love with Bali when I came here 25 years ago and I moved here eight years ago. Bali is my home now.
I still have my European wholesale company and I spend three or four months a year over there, so I have the best of both worlds! Bali is an environment which inspires me to create and design.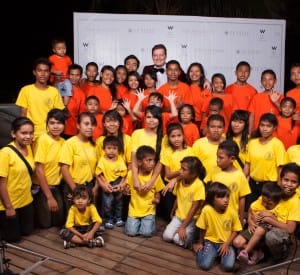 How did you get into jewellery design?
My uncle is an antiques dealer. I have been looking at jewellery for as long as I can remember — I was destined to design. It was either going to be clothes or jewellery. My uncle pointed out to me the benefits of working with precious gems. I always was taken with the sparkly shining jewels. He gave me a catalogue of beautifully crafted jewellery from Thailand and my first venture in the business was to bring marcasite from there to my uncle's shop in Brighton, which I wholesaled to other venues as well. Then we started doing some of the designs ourselves.
The company started in 1991 with help from The Prince's Trust (for young entrepreneurs). I was doing a lot of marcasite in the Art Deco tradition at the time. We were very lucky to find and purchase original deco moulds for marcasite in Switzerland. I started shopping the market to see what was selling and thought I could do even better designs. I have always loved the classic designs; so popular 100 years ago and still selling well today. I will look at an old tiara, take a section of it and turn it into an earring.
Colour is my passion when it comes to jewellery.
Many of my adaptations of classics become infused with a contemporary mix of many colours.
I'll take a coloured stone over a diamond any day! I do multi-coloured pieces which go back to Cartier when they did the Tutti Frutti jewellery line, mostly in rubies and emeralds. I work in many more colours as I add in high quality semi-precious stones as well.
I love your line of jewellery, which mixes pearls and stones in an ancient but elegant way.
Thank you. That line is actually based on jewels of the old royals; the lords and ladies who wore the heavily encrusted crosses and tiaras.
What inspired you to open Jemme Restaurant?
I love good food! We started out by doing consignments with the old Warisan. They had a restaurant and a gallery, which is a successful combination. It works really well together, especially with fine jewellery here in Bali. If a couple is dining, they may take the time to see the jewellery and purchase it as a memento of their holiday. I missed some of the foods from the UK, so we make a lot of the foods I liked at home. The huge success for us was when we started doing the roasts, which we do on Wednesdays and on the weekends. That has brought us such a fabulous, loyal expat following! It is home-cooked comfort food.
Tell me about The Bali Ball.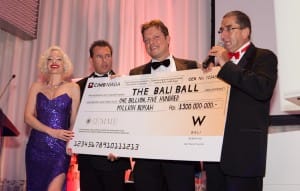 The Bali Ball was my idea. Bali is a place we all live and love and I felt I needed to give back. Also Bali is a very casual place. There are not many functions where one may dress elegantly, so we decided to do a formal affair. We did a partnership with the W Hotel for the first four years, as it was exactly what they were looking for as well. We formed the Ball and of 170 attendees, 160 people turned out in evening wear. It has been a very popular event, which has raised a lot of money for the charities we sponsor.
This year we are actually taking a break as we are no longer doing the event in partnership with the W. I am meeting soon with an interested partner and we are doing our next Bali Ball in 2016. We are focused on creating a fantastic event for next year. I remain proactive with the charities, visiting areas our fundraising has made an impact upon. We go to the villages with charities such as Bali Children's Foundation at least once a month. It is easy to raise money but not so easy to do the proper thing with it in giving back. I know the kids at Bali Kids as well and we try to give them special days out.
Last year we raised US$174,000! I am told we are the biggest fundraiser in Bali, raising a total of more than half a million dollars to date. We are always looking for new sponsors. Every penny raised goes directly to the charities themselves. No costs are taken out; that is where the sponsors come in. We welcome any organizations or individuals interested in helping out.
Are you getting requests for the Bali Ball this year?
Yes, we have had a number of requests already. 2015 is a bit of a strange year in Bali, with all the construction going on, as well as the global economic situation. But our mission, to give back to Bali by helping the most disadvantaged children and families, continues as does our love of Bali.
Thank you, Luke! To get in touch, email: [email protected]