Meet Andrew Keating, General Manager and Owners Representative for The Villas Bali Hotel & Spa, Prana Spa Seminyak and Chill Reflexology. Andrew takes us on a journey through Prana Spa's sacred Eastern traditions of Health and Beauty.
What brought you to live in Bali?
I first visited Bali some 30 years ago and loved it – the people, culture, lifestyle and even then the variety of warung and restaurants. I saw it when it was an island with fewer amenities yet so rich in natural beauty, culture and traditions. From afar I have watched Bali rapidly progress and change throughout the years. Previous to this position, I was the General Manager of Daydream Island Resort and Spa, The Whitsundays in Queensland Australia – a 296-room resort with four restaurants, six bars, five function rooms and one of Australia's leading Day Spas. When I left that position in the Whitsundays, I had planned on continuing to work in Australia but as fate would have it, I was offered a job in Bali to work for The Villas Bali Hotel and Spa, a multi-level business, and have been here since July 2010.
Prana Spa has a unique architecture and ambience. Can you describe how this eclectic elegance was achieved?
Prana Spa, Chill Reflexology and The Villas Bali Hotel & Spa was conceived and built by the owner; the Australian artist and painter Jim Elliot many years ago. Prana Spa, inspired by the legendary Moguls of Rajastan, is a blend of Indian palatial complexity with Moroccan rustic simplicity. Balinese culture is similarly influenced by Indian culture, and has since ancient times been introduced to Middle Eastern and Moorish knowledge and design through trade. The aesthetical designed treatment rooms provide the perfect atmosphere to relax and take the time to achieve total bliss and wellbeing.
What facilities does Prana Spa offer its guests?
Prana Spa has 32 unique, relaxing and memorable spa experiences to choose from. Treatment rooms consists of fifteen single massage rooms, five double massage rooms, four Thai massage rooms, hot and cold plunge pools, two saunas, three steam rooms, four Vichy shower/rain showers, and a salon for hair cream bath. The newest addition to the Spa is the Private Suite.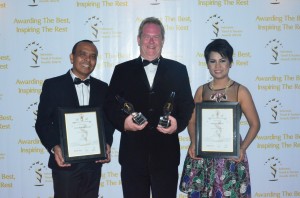 What are the challenges you face here after managing a large resort in Australia?
Hotels, resorts and spas all around the world have many similarities, the main one is that they are international businesses and must assimilate into the local environment and culture, that's what makes them individual to that region. As a manager here it is important to conceptualise, implement and put the procedures into place and closely monitor them year round. Our team is effective and efficient in ensuring our guests feel safe and secure at all times and are over-serviced with professionalism and friendliness. This involves understanding how and where the business fits into Balinese life and all managers must learn to work with the beauty of the culture and all that it entails, especially ceremonies.
Our guests come here to enjoy Bali, the culture and the people. I enjoy working with our team – they are a wonderful award-winning group – many have been here at The Villas for a long time and we all hope to be together for many more years to come. We have many aims within our businesses and two of them are to always focus on increasing revenue and not cutting manpower or levels of service; it is a fine balance. We also focus on increasing the team's skill set and opening opportunities for future growth and promotion opportunities.
How does the increasing number of spas affect you?
As we are an iconic spa within Bali and have been operating for the past 15 years, we are well established with a fully trained international team, so we can and do hold our own.  There are many spas opening at all different levels of the market, but if guests are looking for an experience and not just a spa treatment, then the award winning Prana Spa, Seminyak is the place to go. Any establishment that deals with the public has to recognise that a happy team makes for happy clientele. Experience and affordability are important factors. We have received awards for all three businesses; these awards are acknowledgement of how good the team and the business is, not just one or the other.
What is beauty?
Beauty is natural. Beauty is simple. Beauty is uncomplicated and pure.
How do you see Bali and Indonesia moving forward?
The future for Bali and Indonesia is bright. Some people want to focus on the negative when discussing growth, but growth is about positively addressing the negative issues as well as implementing new ideas. Bali will always be a major destination because of its unique culture and limited size. We need to appreciate and hone in on the cultural aspects of Bali, as tourists will always continue to look for the exotic Bali experience. We must embrace and help nourish the great beauty and the innocent purity that is Bali.
Thank you, Andrew. To get in touch, please email: [email protected]