Traveller, musician, educator and author of two books on Borneo talks about life in Indonesia, his epic journey across the island and other past and future adventures.
Australian Mark Heyward is an unlikely travel writer and a jumble of contradictions. Generally reserved in nature, he becomes passionate when talking about Indonesia. Though he has lived over 20 years in the country and holds a doctorate based on research in Indonesia, he can be sharply critical of what he sees as flaws in the national psyche. The man is almost Indonesian, yet remains proud of his Tasmanian roots. He works as an international education consultant but is also a rogue musician and songwriter. Not exactly bookish, he is an avid reader and an accomplished author of two books on Indonesia.
Crazy Little Heaven (Transit Lounge Publishing 2013) is a lyrical record of Mark's journey across Kalimantan, the lower Indonesian three quarters portion of the island of Borneo. But the book is much more than just a travel book. The story of his expedition coalesces with the author's longer journey into the complex heart of Indonesia. His coffee table book Looking for Borneo (Creatavision Publishing 2014) is a remarkable collaboration, combining Mark's previously published writings, the stunning photographs of David Metcalf and quirky artwork of fellow Tasmanian, Khan Wilson.
In prose and pictures, Looking For Borneo is a celebration of the island of Borneo, its forests and its people. At the same time it is a plea to preserve this very special place. Tucked inside the back cover is a copy of Mark's CD, titled Crazy Little Heaven, with 14 songs about life and love in Indonesia. Wearing a t-shirt and jeans, a shock of out-of-control grey hair, heavy rimmed glasses and a wry smile, Mark spoke with me recently about writing, music, life and travel in Indonesia.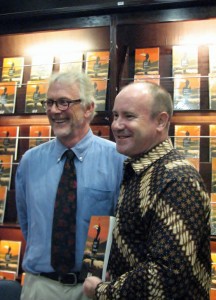 Let's start at the beginning. What brought you to Kalimantan?
Well, luck I suppose. I was a school principal in Tasmania when a chance came up to work in a small school in a mining town in East Kalimantan in 1992. I came to Indonesia that first time looking for adventure. Like many others, I was smitten by what I saw and felt. I never really went home again.
What was your field of study in Kalimantan?
I studied the way people learn about culture in a cross-cultural mining town. I noticed that some people seem to move easily between cultures, while others struggle. Some seem to understand the differences and know intuitively how to deal with them. Others complain about the apparent lack of reason and the incompetence of the 'other.'
My question was how is it that some children and adults can learn to be successful in a cross-cultural context?
What are the skills, the values, the attitudes and identities that make the difference? And how can an international school help kids to learn those skills, to become what I like to call 'interculturally literate'? This was the basis for my doctoral research.
What is it that keeps you in Indonesia?
It began as an adventure, but over time the things that were exotic become normal. I learned the language. I learned about the cultures and the way things are done here. And before I realised what had happened, I was in love. A marriage, a new religion, a new career and eventually a home and a family.
Why do you write?
Much of my professional life, my research, involves writing. But I also like to write for pleasure. I write for myself. It is by writing about life and writing about the Indonesian culture, history, politics and about my own spiritual and physical journeys in this country that I begin to understand it all. Writing is a way of ordering experience. Like painting or dance or architecture, writing is about making some meaning out of the chaos. This act of creation – making something from nothing – is intoxicating. When I sit down to write I never know what will ultimately appear on the page. I don't know what I am thinking until I have written it down.
You are essentially a travel writer, are you not?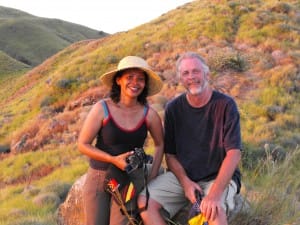 My published writing is travel writing of a sort. My first book, Crazy Little Heaven takes the tale of a trek across Kalimantan as a kind of framework on which to spin a much richer yarn. The travel story becomes a bigger story; a story about the environment, religion, and social change. And it becomes a personal story. A story of love and loss.
A story of growth in understanding. Of friendship, mateship, marriage and family. These are the things that motivate me. These are things that matter. Travel is a way to tell that story.
And the music, where does that come from?
I grew up singing in a church choir and listening to the Beach Boys. My brother and I had a folk band. I wrote songs when I was a kid. I still do. It's just another way of entertaining myself, of ordering things and of communicating something. My songs are ballads, little stories, snapshots of life. I try to create an image with each song, something recognisable. There must be some emotional content. And I hope the songs are entertaining. I was lucky to fall in with a bunch of very talented musicians from Lombok and Bandung. Together we made the CD. It may not be commercial but it's authentic. The style? It's been referred to as 'kampung rock'.
What's the next project for Mark Heyward?
Well, I just keep putting one foot in front of the other. My wife and I are forever making plans. They never quite work out. I plan to continue consulting for some years. It is important work – and it pays the bills. My two boys are in high school and that's a project, too. Eventually I'd like to have more time to spend in Tasmania and in Lombok. My wife has a beautiful eco-friendly resort called The Studio in the hills above Senggigi. A perfect place for a writer.
So, can we expect another book?
I am working on a book on travelling through the islands of Eastern Indonesia. Nusa Tenggara is such a fascinating area. I lived in Makassar for a few years. I've also lived in Flores. Lombok is now my base in Indonesia. And I have done a number of trips on wooden schooners in the East. I am writing about all this. It's tentatively titled 'The Glass Islands'. But my first book took 10 years to write, so don't hold your breath!
Crazy Little Heaven and Looking for Borneo are available at Periplus (www.periplus.com) and Ganesha bookstores (www.ganeshabooksbali.com).