A conscious painter from Spain, Living in the Big Durian
Where are you originally from and how many years have you been in Jakarta?
I'm originally from Pamplona in Spain and I've been in Jakarta just one year.
What brought you here in the first place?
Love. My partner got a job here and I came with her to Jakarta. I was before in Indonesia and I really liked the feeling of the country, the people especially, and that's why when she proposed to come here, I said yes. I didn't want to be in a really big city, which was my only condition, and here we are in Jakarta!
Where were you before Jakarta?
We were living in Spain for a year and I was ready to leave to discover more things. What I like about living here compared to Europe is that I feel more freedom. There are fewer rules than in Europe for everything.
What did you do in Spain and what do you do here?
I was an agricultural engineer back in Spain and now I'm a painter. I tried to find a normal job, but meanwhile I paint, otherwise I'd go crazy in a big city the whole day alone. I have been painting my whole life, but not professionally. Here I started to paint and I really feel the creativity and I am enjoying it a lot.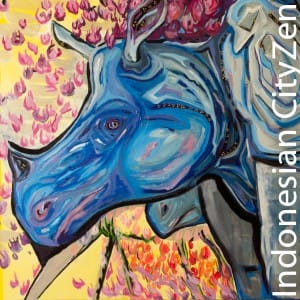 Tell us about your project 'Indonesian CityZens'.
This project came about when we decided we wanted to give something back to Indonesia. I realized that Indonesia has so many animals, but many Indonesians are still not aware of how important they are. So I decided to paint these animals and show these people, this is what you have here and if you destroy the forests, you're going to kill one of the most valuable things in your country.
So you're painting to raise awareness of environmental issues in Indonesia?
I'm painting because I enjoy it, and I hope through my joy that someone else can enjoy that. The animals came to me; I started to paint and I painted animals. I hope that if someone enjoys them, they will link the painting with the real animal and they will feel a kind of connection to them. The name that we chose, for me is very beautiful, Indonesian CityZen, which means that they are Indonesian too. They are not human, but they all live in Indonesia and are part of the community. I think the Indonesian citizens are the animals.
What about your project 13Rivers?
This was born with Sarah Grey me over a coffee. There are 13 canals in Jakarta and we would like to work with locals in projects that are always related to a meaning.
What's the ideal situation for you in the next year or so with your art?
With Indonesian CityZens, I would like to find people who would like to show our paintings and move them around as much as possible to show the animals. I'm not looking to place the paintings in galleries that are aiming to sell only. For me, this project has to be in the streets. Of course the gallery wants to make a profit, but I don't want to show the animals to sell them. I just want to show them. I hope someone can sponsor, maybe a big company, to move the paintings around to show the animals.
Do you paint other things?
Yes, I make other paintings that I sell, however the Indonesian CityZens were created not for the aim of profit.
What animals have you painted in your Indonesian CityZens collection?
The Javan Rhinoceros, of which there are just 40 left in a small corner of Java, the Borneo pygmy elephant, Komodo dragon, orangutan, dugong, Sumatran tiger (there used to be three types of tigers in Indonesia and there is only one left) and my favourite, the least endangered animal in the world, which is the ayam (chicken). There's a reason for this. In Spain, we have cockfighting and there is a species called Bangkiba, which supposedly originally came from Bangka. It's not endangered, but it's so meaningful. If it's true, Indonesia gave to the world one of the most important animals.
What other projects are you involved with at the moment?
I'm doing a mural project on Clean Up Jakarta Day (October 19th), where volunteers and passersby will be able to take part in painting a clean Jakarta with a beautiful blue sky. By way of this action, which is like poetry, we're hoping to instil this clean image of Jakarta in its citizen's minds. There are 13 main canals in Jakarta and would like all of Jakarta's people to be able to walk along the rivers. My hometown used to have a problem like Jakarta, but now it's perfect, so this can be the same here in the future, if everyone plays their part.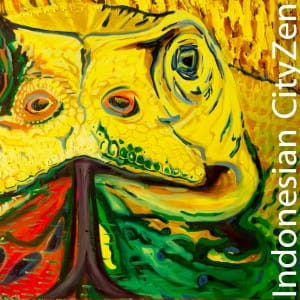 How have you adapted to living in Jakarta?
I'm very lucky because I don't have to experience the traffic, as I work at home. I realized that the best way of moving in Jakarta is public transportation. TransJakarta is good and although the Kopaja is really not comfortable at all, if you're only travelling for 10 minutes, it's the quickest way. Even an ojek, but that costs the same as a taxi.
What do you think is the biggest problem that Jakarta faces?
People! There are too many people. People can be the problem or they can be the solution. We have more people in Jakarta than the whole of Australia. You have to start to deal with people's minds to change habits or behaviours. There is one thing I'd like to focus on in my art and that is the children. If they become more aware of the environment and public transportation, this generation are the ones that can make a change. If they want it, nobody can stop their missions like caring about the environment. The people have so much power for the bad things and for the good things.
Thank you, Inyigo! To get in touch, e-mail: [email protected]