Mimi has grown up living in Bali. Now 25, she is involved in several successful restaurants and clubs including Sushimi, which Tripadvisor calls "The best sushi in Bali", Ling-Ling's and Track 9. She's also just recently launched her own jewellery collection with a close friend.
Mimi, tell me your background and when you first started living here in Bali.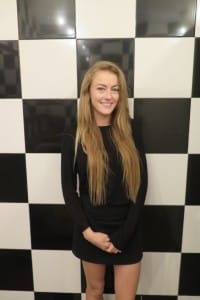 Both my parents are Australian. My mother moved here over 23 years ago, with me as a baby, to write for the first tourist magazine on the island, The Bali Echo.
Things were a lot different back then, I grew up within a small community of expats, most of us went to the same kindergarten then onto a home-school based programme. With a handful of other kids we collectively made up a class, called the Kerobokan Study Group (KSG), which was founded by one of the parents, Miss Maree (I still call her Miss Maree to this day, so do a lot of my former classmates).
I went to the Sunrise School when it first launched, then did some years back in Australia and came back to graduate at The Australian International School in Bali. Most of the Bali kids have spread out internationally now, but we keep in touch and we have a special bond.
What do the friends you grew up with and still live in Bali do?
One of the great things is seeing my generation of friends who grew up here doing well. Some of them really are doing great things especially in food, fashion and events – Peloton, Straw Hut, Sea Circus, Track 9, PNNY, The Seed, Just For The Money, Single Fin, to name just a few. We support each other and still to this day there is a great sense of community.
What is one of your fondest memories as a child growing up in Bali?
When I was kid I remember knowing every single person on the street I grew up on, riding through the back of Jalan Dhyana Pura on my bicycle on the tiny pathways through the rice fields to friends' houses. Life was a lot simpler on the island back then.
Did you ever leave Bali after schooling?
I moved abroad to Sydney to study at university. I spent a total of two years there before we got offered a business opportunity in Bali whilst on holidays. I went back to Sydney, packed up my apartment and came home – to me, Bali feels like home.
What are some of the venues you have created or been a part of?
My partner and I opened our restaurant, Sushimi, in 2013.
We saw a niche in the market that hadn't been filled, and that's where the idea of our little sushi train stemmed from. Everything fell into place and three years later it's still going strong.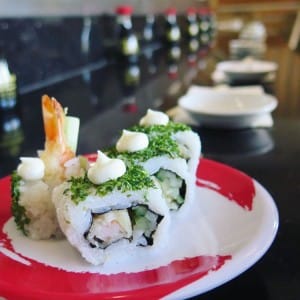 Tell me about your latest ventures.
My main focus at the moment is Ling-Ling's, an Asian fusion restaurant and bar. James, my business partner, came up with the concept of creating something completely different. A fun, affordable place for people who love to head out, eat delicious food and have a cocktail or two before heading out on the town.
We've collaborated with some of my good friends who created the PNNY collective and hopefully we'll be able to throw some good parties in the not-too-distant future (they're the experts at throwing good parties on the island). We're keeping the music fresh, light and fun and the décor is based on anime themes. It's a fun place to hang out and the reception has been great so far.
I've also started working on a creative collaboration with one of my closest friends Tina, called Allora. You can find our collection in Single Fin retail shops in Seminyak and Pecatu.
What are some of the challenges people face when creating new businesses in Bali?
Opening a new business is always tricky anywhere in the world. In Bali one could say it's more difficult because there is so much great competition. Bali has so many fantastic places to dine out. It's hard to work your way into the market in the first place; it also involves a lot of paperwork, then you have to keep adding new elements to keep it fresh and exciting.
I feel as if Bali's F&B industry has taken the island by storm, which is great for us! It inspires me to work harder, learn more, to keep on top of it and, of course, we have some amazing instruments like social media, which plays a huge role in keeping the story out there. We try to have fun with it and I think that's what people enjoy.
What clientele do you focus on?
Our target market consists of a mix of tourists, expats and the local market. We have a lot of expats that are regulars at both our venues. I feel as if tourists are always a given in Bali as everyone who's holidaying here is always looking to visit the latest upcoming bars and restaurants.
How do you see tourism evolving in Bali? What is your vision for a better Bali?
Tourism is definitely not slowing down, if anything Bali is getting more popular on the list of destinations people want to travel to. Unfortunately, this influx of the mass tourism industry over the last decade has set the road for extreme development on the island. In my opinion, the amount of people entering and leaving Bali has had a detrimental effect on our beautiful island home. Development of this once paradise-like island has had a harmful effect on the Balinese people, the culture and the environment. Not all of it is good, but with the negatives come positives and I feel as if each individual on this island has a part to play.
What are your future plans?
As of right now, I'm just taking each day as it comes!