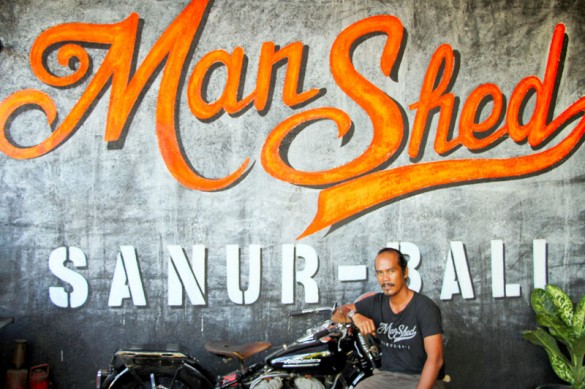 Late last year I was invited to attend a 'motor show' in Sanur, which I was told would be spectacular, that is of course, if you have a passion for classic cars or bikes. Well actually, I'm not that fond of either but it was a request from a friend so I felt compelled to go. For me, I merely like the thought of getting from A to B in air-conditioned comfort rather than having a love affair with the vehicle I am travelling in or on.
The day was unusually hot and I reluctantly dragged myself away from the pool and arrived at what was a huge affair spread over several acres on a field next to the beach. It was a little like attending a country fair except this time the main attraction was an astonishing array of restored vintage motorcycles and classic cars.
My friend Igor Blas, one of the organizers of the event was more than keen to show me around the exhibits provided we could actually weave our way through the thousands of attendees. A festive air prevailed with families escaping the heat sitting on picnic blankets eating ice creams while the kids raced madly through the throngs of arriving and departing visitors.
I will admit that even I was impressed with the lines of lovingly restored Harley Davidsons, Indians, BSAs and Nortons on display, not to mention the vast array of classic cars from every decade of the last century. Apart from the European and American motorcycles, a vast collection of Japanese machines strutted their stuff next to their more exotic cousins. Restored Suzukis, Hondas and Yamahas perfectly brought back to their pristine original condition and presented as they were in the 50s and 60s.
I have not exactly become a convert to what is obviously a serious hobby on the island, but I have to say I was intrigued by a whole industry that exists in putting these relics back on the road in absolute mint condition.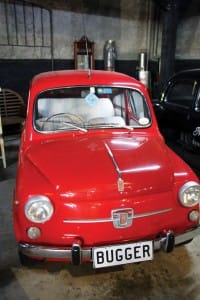 There was a story to be told here.
I therefore decided to hunt down the clever types that actually take the time to scour the landscape for obscure parts and then spend months, and sometimes years rebuilding a bike from scratch. With the help of the trusty Igor I set off into the back lanes of Denpasar, Sanur and Kuta in search of the artists with greasy hands and grubby overalls. Seems that there are a few hundred on Bali and they do some of the finest restoration work in the world.
In these backstreet garages there is genius at work, but where on earth does one find a carburetor for a 1942 BSA that is lying in pieces on the floor? "Sometimes we make them," I was told by one enthusiast who looked no older than twelve, and make them they do. Pistons, cam-shafts and other bits and pieces that make up the bike's engine are often manufactured from scratch or adapted from other machines whose parts are similar.
There are no manuals here, rather it's ingenious invention on the spot. These guys work from drawings downloaded from the Internet or passed on to them from other bike enthusiasts. I watched fascinated as a young 'mechanic' painstakingly recreated a speedometer for a Harley Davidson using bits of metal and pieces of tin, faithfully copying a photograph that he had taken on his phone of a bike he had seen on a rally.
There is a thriving market for these restored beasts on Bali and now, having taken an interest, I see them whizzing around the country roads in convoy, which would make any enthusiast weep with the sheer pleasure of witnessing some of the finest bikes on the road anywhere in the world. Motorcycle clubs are in fact rather prolific and on weekends these bitumen warriors take to the highways and byways on all-day rides that sometimes take in a full circumference of Bali in a day.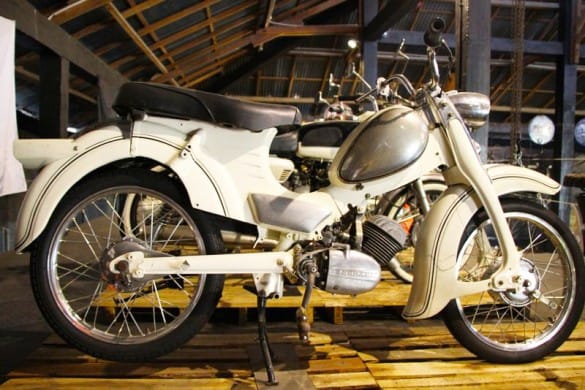 My trails eventually lead me to the appropriately named MANSHED in Sanur, which truly is an eye-opener. Basically, it is a huge shed, but a shed with a difference. Genius has been at work here, for basically this giant space is actually a restaurant/bar, which is dedicated to the motorcycle and all things mechanical.
The décor would make any man worth his salt feel right at home. Tables and chairs have been welded together from scooters to form an eclectic collection of cosy pods where diners can sit in comfort and admire the bikes on show. For anyone who loves motorcycles this place would be akin to dying and going to heaven!
An upstairs gallery sports rows of Japanese motorcycles from the 50s and 60s, each one rescued, cleaned and rebuilt so that they look as if they never left their original showroom. The whole place feels as if it is after hours in a cavernous garage and the mechanics have packed their tools, slipped out of their overalls and retired to the bar for a cold beer. The clientele is as eclectic as the place itself and on the night I visited the place was packed with families, guys and girls in leathers proudly displaying their club colours and a host of business types propping up the bar.
Igor tells me that on most Sundays at 12pm the place fills up with patrons who have come for an early lunch. At 2pm everybody rises, dons their helmets and the entire place "goes for a ride", whether you ride a lowly scooter or a thundering Harley Davidson.
The convoy sets off for a fun ride to Denpasar and beyond then heads back and tales are told while sitting on cushioned oil drums lit from overhead lamps cleverly fashioned from old helmets. The bar often is five or six deep, the conversation is rowdy, the camaraderie is palpable and, more importantly, the beer is ice cold.
Once again this is Bali at its best, where innovation flourishes and genius abounds. What's not to love?
The MANSHED is open 7 days a week from 10am till late
Jl. Tirtanadi No 9
Sanur
Bali