Asians are always delighted to make great finds at public markets. Whether it's fruits and vegetables, street food, artsy items, household necessities or clothes, they are always happy to find something unique, interesting and useful, regardless of whether they have to endure the heat, the noise and the crowd that comes with the markets.
Street markets are definitely less comfortable compared to air-conditioned malls, but nothing beats the experience of being able to immerse yourself in a country's culture by shopping at stalls in their streets. After all, markets are known to be the soul of any city. Plus, you get to haggle and buy items at a cheaper price.
Beneath its urban facade, Jakarta is rich in traditional markets and shopping districts teeming with various goods. Here's a quick guide to the capital's most popular street markets where you can browse to your heart's content.
1. Pasar Baru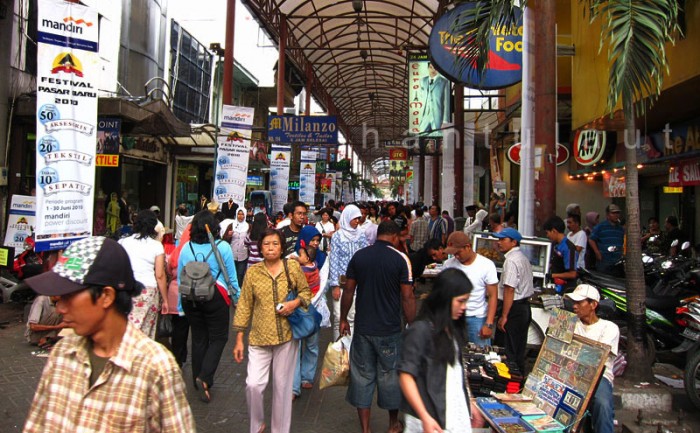 A traditional market or pasar is a staple in the daily lives of Indonesians.This is where they often buy food and other household items. Pasar Baru is run by a public company controlled by the provincial government called Pasar Jaya. In Jakarta alone, there are about 150 traditional markets with more than 100,000 stalls, and Pasar Baru is considered as one of the oldest markets in the city since it was built in 1820.
This one-stop shop, also known as Jakarta's 'Little India,' is a place where you can find a huge selection of affordable-yet-quality textile and fabric as well as antiques, art paintings, clothes, footwear, bags, watches, musical instruments and Indian spices to name a few. There are electronic repair shops, stalls selling refreshments, and a number of small restaurants to satisfy. It may be a narrow shopping street, but Pasar Baru is jampacked with items that you will find worth bargaining for.
Address: Jl. KH. Samanhudi, Central Jakarta
How to get here: Its area is centered in car-free street called Jalan Pasar Baru. You can find a gate that marks the southern edge of the street.
Open hours: 8 am–10 pm
Contact details: (021) 3106675
2. Glodok
If you are looking for Jakarta's Chinatown, then head over to Glodok. Located in the district of Taman Sari in West Jakarta, Glodok has been known as Chinatown or Pecinan since the Dutch colonial era. You'll find in these places affordable: Chinese food, fruits, vegetables, meat, souvenirs, herbs, medicines, clothing and so much more.
Not for the fainthearted, there are just endless alleys that lead to more shops and stalls. You also get to test your haggling skills when you haggle to get great deals. Glodok is one of the few areas in Jakarta where you can find a becak (cycle rickshaw) and sepeda ojek (bicycle taxi).
Address: Glodok, Tamansari, West Jakarta City, Jakarta, Indonesia
How to get here: (1) Via commuter train: stop at Stasiun Jakarta Kota (Jakarta Kota station). Glodok is within walking distance. (2) Transjakarta (3) Taxi (4) Ojek or motorbike taxi (5) Metromini (6) Bajaj
Open hours: 9 am–6 pm
3. Petak Sembilan
Found at the heart of Glodok, Petak Sembilan has several stalls and makeshift stores lined on the streets as well as an indoor market that sells Chinese goods and ingredients. Since this is also in Chinatown, one can find a wide assortment of items that range from household needs to random knick-knacks. There are food stalls nearby where you can buy refreshments and grab a bite. Its marketplace is known for the best food stalls.
Address: Petak Sembilan, Glodok, Tamansari, Kota Jakarta Barat, DKI Jakarta 11220
How to get here: (1) Via commuter train: stop at Stasiun Jakarta Kota (Jakarta Kota station). Glodok is within walking distance. (2) Transjakarta (3) Taxi (4) Ojek or motorbike taxi (5)Metromini (6) Bajaj
Open hours: Some Chinese merchants are open 24 hours a day
4. Pasar Santa
Located in a rich neighborhood, Pasar Santa is a traditional-turned-trendy place as it recently became a hip hangout for the younger generation. Various assortments of fruits and vegetables as well as household goods can be purchased here. On the upper floor, you can find local batik shops, barber shops, footwear and jewelry stores. Any foodie would also love to come here since this place is known for several shops and stalls that sell food such as DOG, a popular hotdog stand, and Papricano, a Mexican food stall.
In fact, its second floor is packed with shops run by young entrepreneurs that offer appetizers to desserts. Some of them even run businesses such as coffee shops, record stores and vintage clothing stores. If you're looking for a hot spot in Jakarta, then Pasar Santa is definitely the place to be.
Address: Jalan Cisanggiri 2, RT.5/RW.4 Petogogan, Kebayoran Baru, Jakarta Selatan 15810
How to get here: You can take a cab. A Blue Bird taxi shouldn't cost more than IDR 50,000 to 70, 000
Open hours: 2 pm–9 pm
Contact details: For more information about Pasar Santa, check out more details here.
5. Jalan Surabaya
Are you into artifacts, antiques, souvenirs and arts? Then head down to the Jalan Surabaya Flea Market in Menteng, the most elite area in Central Jakarta. Lined with several art kiosks and antique shops among many others, Jalan Surabaya will guarantee you enjoy browsing various ornaments and trinkets or searching for replicas of your favorite branded items. Bookworms would also enjoy hunting for rare literary finds here. Prices here aren't fixed so you'll be able to haggle for the best bargains.
Though you don't have any plan to purchase anything, strolling around this open-air flea market is a joy in itself. Even famous people like Mick Jagger, Sharon Stone and former US president Bill Clinton were reported to have visited the place.
Address: Jalan Surabaya, Menteng, Central Jakarta
How to get here: For first-timers, getting to Jalan Surabaya can be tricky, so it's better to ride a taxi or bajaj.
Open hours: 9 am–5 pm
6. Jalan Pintu Besar Selatan
Located at the end of Jalan Gajah Mada, this place is known for its street artists and caricaturists. It is the 'Art Street' that connects Glodok to Fatahillah Square. Sometimes one can stumble upon art events with social causes organized by a group of artists in the area. Enjoy browsing through various works of art and appreciating local talent through their magnificent displays. If you want your visit to be memorable, you can opt to have your portrait painted on the spot.
Address: Jl. Pintu Besar Selatan, Pinangsia, Tamansari, Kota Jakarta Barat, DKI Jakarta,
How to get here: It is a 10-minute walk from Jakarta Kota Station.
Open hours: 6 am–7 pm
7. Art Market (Pasar Seni Ancol)
Whenever you're in the vicinity of Ancol Dreamland in North Jakarta, don't forget to drop by this place if you want to see a variety of Indonesian arts and crafts. Stroll around and you can find sculptors, puppet craftsmen, woodcarvers and painters showcasing their masterpieces. If you're lucky, you'll probably even meet and see some of these artists at work.
Both traditional and modern artworks are on display as well as gemstone jewelry and other artistic creations. Art performances and exhibitions are regularly held in the market's open arena.
Address: Jl. Gerbang Ancol No.93, Pademangan, North Jakarta
How to get here: Easiest to get here by taxi
Open hours: 9 am–6 pm
Contact details: +62 (0)21 292 222 22
8. Fatahillah Square
A popular destination among tourists, many come here if they want to immerse themselves in the history and culture of Jakarta. Fatahillah Square or Taman Fatahillah was the town square of the Dutch settlement of Batavia, and one can enjoy the sights of the preserved European architecture. Be sure to visit the Jakarta History Museum, Museum Bank Indonesia, Museum of Fine Art and Ceramics and the Museum Wayang (shadow puppet).
After taking a trip down memory lane, you'll find all sorts of street vendors and peddlers in the area selling goods such as toys, souvenirs and accessories. You can even have your portrait drawn on the spot. There are also food stalls in the area if you fancy something to drink or eat. If you get tired from walking, you can rent a colorful vintage bike around the square. Look forward to being entertained by street buskers, performers and a regular Wayang performance on Sunday mornings.
Address: Jl. Taman Fatahillah No. 1 Jakarta Barat 11110
How to get here: Easiest to get here by taxi
Open hours: 9 am–2 pm
Contact details: +62 21 8197064
9. Car Free Day Market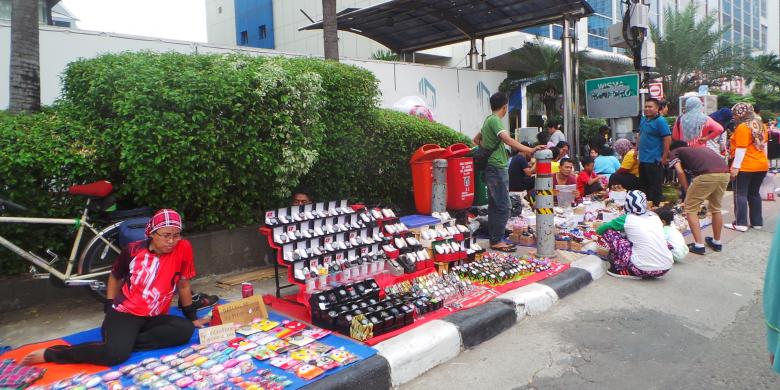 On Sundays from 6 am to 11 am, Jalan Sudirman and Jalan Thamrin are closed to all private cars. Car-Free Day was originally started by the government as an initiative to help reduce pollution, but it soon turned out to be a favorite Jakarta tradition. People enjoy strolling leisurely outdoors while eating street food and observing occasional public events. Near Plaza Indonesia, a market can be seen with vendors selling a variety of clothes and fashion accessories.
Address: Jl. M.H. Thamrin Kav. 28-30, Menteng, Jakarta Pusat, DKI Jakarta 10350
Open hours: 6 am–11 am
10. Hype Festival Market
The Hype Project Festival is a one-of-a-kind weekend pop-up market at Pantai Indah Kapuk that showcases over 200 vendors from food, lifestyle, fashion and so much more. It may not be a regular marketplace to visit, but whenever such event takes place, be sure to come and enjoy the displays at the booths. Other bazaars and pop-up markets in Jakarta to look forward to are Brightspot, Market and Museum and the Euphoria Project.
Address: Locations may vary
Contact details: Be updated with their schedule of events here.
Image credits: Mapio, IndoIndians, The Honeycombers, Kabar Kampus, inclover, Awesome Asia, Jakarta 100 Bars, What's New Jakarta, TAC Travel and Food, Megapolitan, Anakasik