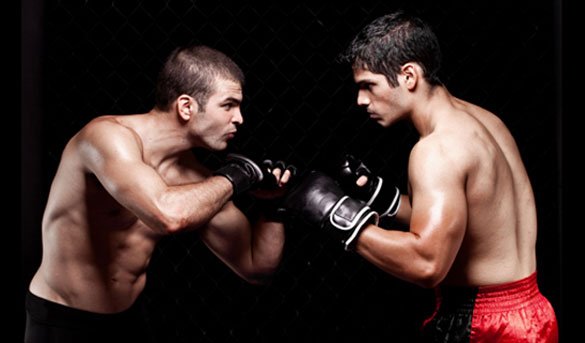 Getting your kicks from martial arts has never been easier as a wave of specialized gyms woo members seeking something a little different.
At Arena Mixed Martial Arts Indonesia on Jalan Bumi, in south Jakarta manager Deddy Wigraha has to shout to be heard over the sound of workmen putting the finishing touches on the centre ahead of its official opening this month.
"People want something different from ordinary gyms. They want fitness, and they want self-defence and maybe they also want a way to relieve stress," says the 38-year-old Jakarta native, who's been studying Brazilian Jiu Jitsu since he was living in the US in the mid 1990s.
"You can do that with a punching bag."
With its glass front, 500 square metres of padded flooring, and lots of punching bags, AMMA is the latest martial arts centre scrambling to meet a surge in demand for bespoke physical training and exotic alternatives to cramped spin classes at the big all-purpose gyms.
So far, Wigraha has about 30 members signed up ahead of the gym's official opening next week (Feb 11) and he's expecting many more. The centre is offering classes headed by overseas champions of boxing, Muay Thai, and Brazillian Jiu Jitsu from 7:30 am until at least 9pm. And membership won't be cheap. After a one-month promotional period, from April, the cheapest unlimited fee for anyone committing to a one-year membership is 1.5 million rupiah.
"We're targeting middle to upper income clientele and executives but there are junior high school students from across the street who are coming, too," Wigraha says.
An emerging middle class, and Indonesia's own mix of local martial arts is helping drive demand. So, too, is the rise in popularity of new brands of mixed martial arts tournaments such as Ultimate Fighting Championship — a form of no-holds barred mixed martial arts combat. In late January, MNC Media inked a deal with UFC to broadcast the tournaments in Indonesia and set up training camps for prospective candidates. Wigraha says his gym is setting aside about an hour and a half everyday for anyone keen to give UFC a try.
"There are a lot of competitions around the world now and people see them and think that it's good for self-defence and health," says Arthur Prajogo, who heads up the Jakarta branch of Alliance Jiu Jitsu, which he has a network of 120 gyms around the world. The Jakarta branch opened in July 2011 and is aiming for about 200 members from its current 30 as the club readies members for international competition.
Even so, not everyone wants their very own version of Fight Club. At the Jakarta Martial Arts Academy in Kemang, Michael Sahertian helps offer classes in Aikido as well as a new hybrid fighting system he helped develop called Kapista, which is mainly aimed at women.
A native of Maluku, Sahertian says kapista is a local term describing women who are "soft but straightforward and confident," he says. The martial art weaves in elements of boxing, and jiu jitsu – a weapon less Japanese martial art that focuses on wristlocks and paralyzing blows that disable an opponent. But the highest priority in kapista? "Avoiding confrontation in the first place," says Sahertian.
"The priority is to defend yourself," says Sahertian who started studying jiu jitsu about eight years ago.
"You must pay attention to your surroundings. Where are the exits? What are the alternatives? If there aren't any then you can use a wristlock."
Sahertian says anyone choosing a martial art should know first what they want to get out of it. He recommends choosing one discipline rather than mixing them up. Knowing your trainer's background and the schools he's affiliated with is also a good indication of what the training will be like. "And don't be shy about asking for a free trial," he says.
Wigraha says novices should never feel pressured to spar – going one-on-one with an opponent.
"If you have no background in martial arts it's too dangerous. Don't get pushed into it. Ask the instructor what their philosophy is on that."
The number of new members at the Jakarta Martial Arts Academy jumped by about 50 per cent last year. At Baan Muay Thai, also in Kemang, and the first Muay Thai training centre in Jakarta when it opened five years ago, membership soared last year to more than 2,000, says Topan, a trainer and attendant at the gym.
But it may pay to shop around this year as new martial arts centres and combat cardio training classes at the all-purposes gyms start soaking up demand. Baan Muay Thai says new enrolments are slowing.
Even so, new members like Zy Kumano say they won't be going back to the fitness franchises anytime soon. The 22-year-old university student, who was on her way into one of Baan Muay Thai's cardio classes, says she gave up her other gym membership last month because now she's getting a better workout.
"Everyone's doing Muay Thai now," Kumano says. "Those other gyms are all just treadmills. I'm a girl. I like the cardio classes but the trainers here really push you. You feel like you're doing something different and you're getting a good workout."
Arena Mixed Martial Arts
Jl. Bumi No. 18
Jakarta Selatan – 12120
Phone: +62217222186
Jakarta Martial Arts Academy
Gedung Laser Game 2nd Floor
Jl. Kemang Raya No.16A
Jakarta Selatan
Phone: 021 949 11111
www.jamac.in
[email protected]
Baan Muay Thai Club
Wisma Semeru, Ground Floor
Jl. Taman Kemang No 18 Kebayoran Baru
Jakarta – 12730
Phone: 021 7196502