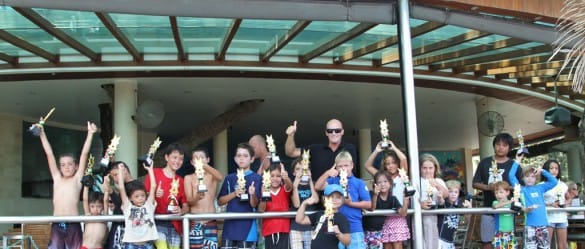 A surfing and wrestling camp for kids is not the most likely combination. Sort of like the similarities between speaking German and Japanese. Still, yet over 20 kids aged from five to 12 years from around Bali and abroad came together for the Thumbs UP! Bali Surfing and Wrestling intensive day camp in early April and had a memorable week off from school. Standing apart from the masses these days is no easy task especially when talking about learning how to surf, but Thumbs UP! is onto something different that gives it an upper hand over the competition.
There are literally dozens of surf schools and camps on Bali already and even more springing up like mushrooms by the week. Some are for girls only, some are taught in Russian. Most are traditional surf schools teaching private and group lessons to all levels of surfers. What makes the Thumbs UP! Bali surf school stand out from the pack is that it focuses its classes and instruction on kids, and parents are really beginning to take notice. Taking it to another level that others don't, Thumbs UP! holds a day camp that offers intensive surfing and wrestling training in the same day.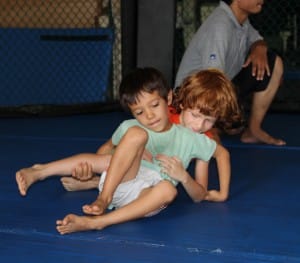 Safety is the first priority at all Thumbs UP! activities. By hiring trained wrestling coaches and practicing at a proper MMA training gym with a padded floor, the wrestling was held without a problem. The coach brought 10 years of competitive wrestling to the class and showed techniques like takedowns, defensive wrestling and pinning combinations. Not one child got hurt during the five-day course and more often than not, losing a match was followed by laughter and learning how to defend and win the next one.
At Legian Beach, just outside of Kuta, the surfing lessons were taught by trained local lifeguards with a small ratio of three students to one teacher. Not only did the kids learn how to ride waves, they also were taught about ocean safety such as how to avoid rip currents and the dangers of too much sun. Keeping the beach clean is another important topic emphasized in class.
Beginner foam surfboards and boogieboards were provided to all the kids, although the more advanced students already had their own boards. Of course if they weren't in the mood to surf they could also bodysurf without a board or even build sandcastles on the beach.
With safety taken care of, the main focus of the day camp is fun. When the kids are already excited to get to the camp the night before, it is definitely a good sign. One mum who lives in Bali said, "It was hard all week to motivate our son to wake up during the holiday, but now that he is in the camp he is waking us up to get him well fed and on time to the surfing and wrestling camp."
Another mother on holiday in Bali, now residing in Australia, who still gets Thumbs UP! newsletters said, "Brody was crying all night because he will miss the camp this week in Bali."
Another happy parent reported, "My girl loves going to Thumbs UP! So whatever you're doing, KEEP IT UP!"
And every day there are more and more positive comments made by the Thumbs UP! Bali kids, which reflects the mission of Thumbs UP!, which is to motivate positive attitudes through the activities. And why wouldn't you love it and feel positive? After working up a sweat in the morning, wrestling then eating a snack and then hitting the beach for a surf and being all done by 12 noon, that's more in one morning than some people do all week. Many parents commented that it was much more active and productive than playing video games all day and that they were so happy that their children enrolled in the camp.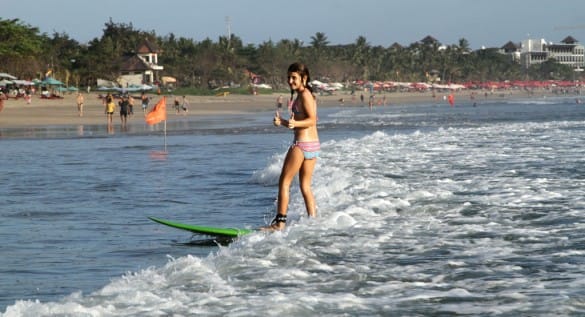 Besides fun and games Thumbs UP! also has a giving back to the community program. Every kid who signed up for the camp can invite another local Indonesian friend that cannot afford the class. And if you sign up a friend, then you can also get a discount on the class.
Today with all the new technology and video games it seems that a lot of kids are having more fun. But still nothing beats physical activities, being outdoors playing sports and meeting new friends. What Thumbs UP! wants to bring back to the kids is all the above, old-fashioned fun being outdoors and playing sports.
For more info email: [email protected]
Check out the website at: http://thumbsupbali.com
Or visit their Facebook page at: http://www.facebook.com/Thumbs.UP.Bali