Impressive is what immediately springs to mind as the first finishers cross the line after a gruelling 60 kilometre endurance run across four of East Java's highest peaks – Mt. Merbabu, Mt. Andong, Mt. Telomoyo and Mt. Gilipetung. The preparation of mind, body and equipment to complete such an event claims respect enough – add an impressive first place finishing time of 12:58:07 and even non-sports fans should respect the achievement.
The MesaStila Endurance+ 2014 was a new introduction to the Rails-to-Trails programme. A field of 79, from as far as the USA and Belgium, signed up to tackle the 60-kilometre mountain course. Starting at 22:00, participants strap on headlamps for the first eight hours of the endurance run, adding another degree of difficulty. The night and day ahead challenges athletes with more than 3,100 accumulative metres of mountain trek and trail running, rivalling fellow Indonesian endurance runs across Mt. Bromo and Mt. Rinjani in Lombok. Of the MesaStila Endurance+ 2014 starters, just 11 finished, the final finisher crossing the line in 16:35:00 – respect! The event also doubles as a point qualifier towards The North Face® Ultra-Trail du Mont-Blanc®.
The MesaStila Endurance+ 2014 Rails-to-Trails caters for all. 262 participants joined all three events in 2014 with ages ranging from just five to 64 years young. Although tough, a generous cut-off time makes completing the 13k doable for all levels of fitness. Participating in the half-marathon for the second time, I can confirm the run to be one of Indonesia's toughest. But nothing worth doing was ever easy and the challenge is more than rewarding enough. It's by no means an overstatement to call the event one of, if not the most, picturesque runs in Indonesia.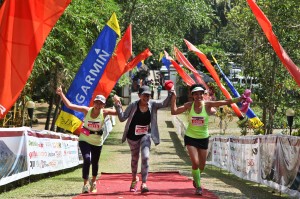 Getting to the MesaStila is easy, with flights to Semarang or Jogjakarta from all over the archipelago. International flights to Jogjakarta also make this run possible for the weekend travel warrior arriving from Singapore or Malaysia. Both Semarang and Jogjakarta are approximately 1.5 hour's drive, Jogjakarta being the slightly longer option. The folks at the MesaStila will sort this for you, no sweat.
Accommodation is available at the MesaStila in beautiful colonial style, or during the event you can bunk down with other runners in the dorm-style accommodations, specially set up to house the overflow of runners and spectators for Rp.500.000/night including breakfast.
On a final note, the MesaStila offers one of Indonesia's finest spa experiences, so be sure to book in. The unique on-site hamam also offers a weary leg remedy not to be missed.