The Hard Rock Cafe Jakarta rolls out a new collection of boozy and refreshing beverages throughout the month of December.
What happens when a couple of American lads living in London in the early 1970's can't find a decent burger? They open up their own American-style diner, call it "Hard Rock Cafe," ask their friend (who, coincidentally, is a celebrity artist known for his designs for the Beatles) to come up with a good logo, and the rest is history.
Although the Hard Rock Cafe is best known for burgers – there's even the aptly named "Original Legendary Burger" that consists of a half-pound of premium beef topped high with smoked bacon, cheddar cheese, a golden fried onion ring, crisp lettuce and vine ripened tomato slice – their foray into hand-crafted cocktails and BBQ is also noteworthy. The Hickory Smoked Pork Ribs are fall-off-the-bone tender, and marinated in a tangy-sweet BBQ sauce. In-house smokers provide the ultimate flavour punch as the meat and ribs slowly cook in hickory smoke. The cowboy beans with smoky bacon bites are a nice addition alongside the crispy, seasoned, French fries.
The Classic Nachos are also a great example of Americana done right in Jakarta with a huge platter of thin and extra crisp tortilla chips piled high with a three-bean mix, Monterey Jack and cheddar cheeses, pico de gallo, jalapeños, fresh green onions and garnished with sour cream. There is just enough cheese to dot most of the chips without making it gloppy or soggy and the toppings are spread evenly so that each bite is perfectly balanced with each ingredient. As any nacho aficionado can tell you – a warm, balanced bite is extremely important for full enjoyment of this dish.
However, what I like most about this Hard Rock location is the creative and refreshing choice of fresh fruit-enhanced alcoholic beverages.
In a city like Jakarta, one is on a constant hunt for a good cocktail and the Hard Rock Cafe delivers with its Limited Edition Cocktail Collection for December.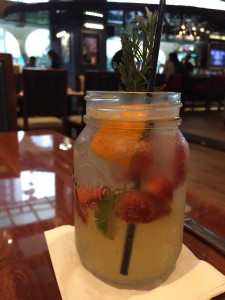 The Maria Sangria and Angelo's Passion are delightful, fruity spritzers; the kind you imagine drinking on a warm and lazy afternoon by the pool or on a patio chatting the hours away with good friends. Easily imbibe-able and packed with a rum punch, the Maria Sangria also consists of sauvignon blanc, a pineapple-mango juice base with fresh strawberries, lime and orange slices. It's the zestiest drink from the collection. Angelo's Passion is a fruitier option for those who enjoy the headier flavours of rum, Midori liqueur and passion fruit syrup. Lime juice and a good dose of ginger ale elevate the drink and prevent it from being too cloying.
My favourite of the four is the Velvet Rain, a pinot noir based cocktail with a hit of Southern Comfort and Chambord. Unique, full-bodied and balanced, this glass of yum is a masterful interpretation of the red wine sangria and has the added touch of fresh strawberries and raspberries stirred within. The berries, in this instance, do kick the cocktail up a notch adding the spritely fore note that is needed in such a blend.
Finally, for mocktail lovers there is the Pomegranate Cooler, a throwback to childhood summertime ales with sweet and sour profiles, and a gorgeous bright red body to whet the appetite.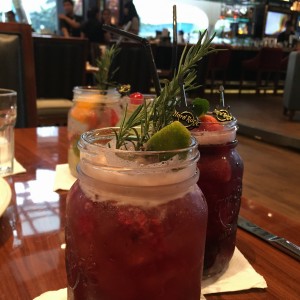 The December drinks are the perfect foils for a long and leisurely afternoon on the patio with hearty American-diner style cuisine. Also consistently reliable is the fun and vibrant atmosphere at Hard Rock Cafe. Classic music videos play on television screens throughout the restaurant during the day and early evenings, and the staff are attentive and helpful. There's something for everyone: from vegetarians to children to party-loving adults.
For every night of December, live music will be performed on the Hard Rock stage. Local bands Nu Seven, Red Balloons, Java Beat, The Good Friends and Abe Project will rock the nights away in fun, Hard Rock fashion. Don't forget to stop by the Rock Shop for souvenirs and that ever-so-famous t-shirt, and have a stroll along the walls to see the exhibit of guitars, posters and rock memorabilia that has made the Hard Rock Cafe so incredibly ubiquitous.