In response to the recent increase in street crimes, road accidents, home burglaries, and murder in Bali, expats have created forums and events to bring local communities, expatriates and Indonesian authorities together in solidarity to make Bali a safer place to live. A ceremony was held on 26 May at Pantai Batu Bolong (Tugu Beach) in memory of Kim Eun Sol, the 17-year-old who recently lost her life due to a motorbike theft, and to pay homage to all the victims of crime and road accidents. Everybody wore white tops and sarongs, bringing flowers, candles and sky lanterns. The event was attended by expats, local communities, local Banjar, police, and the military.
People arrived before sunset to the beautiful beach of Tugu and quietly greeted each other to the drums and music of the local Banjar. The first speaker was Gonzalo of La Favela. He said, "We have tried this week to get everyone together; westerners, local communities and police. Here we are today all together in solidarity. Trust me when I say that all the authorities and Banjars are doing the best they can now to fight these crimes. They love us and will show us the Balinese way, the elegant way to find solutions in the streets. The police are working hard to fight these crimes. I have learned how it is possible if we do this together. Westerners will work with Banjars and police. The positive way is to support authorities any way we can in their efforts."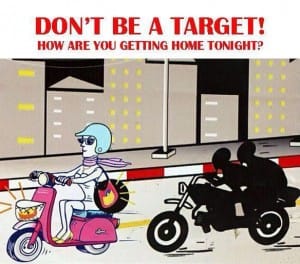 As the sun set, surfers paddled out with leis in a Hawaiian style paddle-out homage to Kimmy and all the other victims. Balinese and western women threw marigold petals in the surf as the leis were placed in the water by the surfers. As dusk fell, candles and sky lanterns were lit all along the beach; the lanterns disappearing like free spirits. At the podium, prayers were said in affirmation of peace and harmony, "Om Swastyastu". On the 25 May in Ubud, a loving, unifying tribute was held for the murder of 48-year-old Anne-Marie Drozdz, as well as for all the many women attacked while on their motorbikes in this area known as an art and spiritual centre. The expat community was joined by many Balinese community members. A statement issued stated, "May this be the beginning of a unified effort to bring this unprecedented violence against women to an end."
Road accidents involving two foreigners in Bali on the weekend of 18 May, leading to the death of one of them, shocked the expatriate communities of South Bali after months of repeated motorcycle muggings involving violence against women. The death of 17-year-old Kim Eun Sol, a Korean student, triggered community action. Kim was on a motorcycle in the early hours of Saturday with her friend Amy Fitria Sidharta, 18, from Germany, when they were attacked by three muggers on two bikes who tried to steal her bag. As she tried to ward off the assailants, Kim fell off her bike to the right and died instantly when her skull was crushed by a Yamaha Byson travelling from the other direction driven by Gede Bagia, aged 37. Amy sustained minor physical injuries.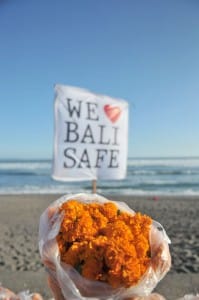 Another accident involved Australian Nicho White, who grew up in Bali and was loved by so many long time expats here. He is in a coma after sustaining a massive head injury after a car hit him while riding his motorcycle on Friday night of the same weekend. The Save Nicho White campaign on Facebook worked diligently to get Nicho airlifted to Australia and to pay his exorbitant hospital fees of AUD6,000 a day. Nicho sustained injuries to his head, chest, and legs.
On Thursday 22 May, the body of Anne-Marie Catherine Drozdz was found by Gery William, the American husband of the villa's owner at 4pm. The door was open. He rushed in to find Drozdz lying on the floor with a black cloth covering her face. Injuries consistent with the result of ligature strangulation found on her neck, bruises were found on her body and a gash on her lips. Local police chief, Komang Sandy Arsana told reporters, "The door was damaged and there were dried up pools of blood on the floor." Mobile phone, cash, and motorcycle were missing from the villa. Gianyar and Jakarta police have arrested 32-year-old construction worker identified only as 'Hambali'. Inspector Gen. Mahalu, speaking from the crime scene said, "We will establish the motive behind the murder."
That same Thursday in the morning a chicken vendor, 44-year-old Abuyasit, at Bualu traditional market in Nusa Dua, was hacked to death by an assailant in front of the market. Earlier last month a young local woman was attacked, her bag robbed containing all her ID and money. She was taken to hospital where she died. She worked at a well-known company. Her identity has been requested to be kept private.
These accidents and the murder followed the horrible accident of Valeria Avallone, aged 54, an Italian woman who, like Nicho White, has made Bali her home for decades. She is the loving mother of Marlon and wife of Luca who were at her bedside for a month at two hospitals in Bali after suffering three traumatic head wounds, a broken collarbone, severe damage to one eye and multiple injuries all over her body. Valeria arrived in Rome, Italy, with an open head wound after surgery here and a serious blood infection. She recently emerged from coma but is in critical condition. This is a woman with a huge heart who brings love and laughter to all. The Italian Embassy has released an official travel warning about crime in Bali and have communicated with the authorities. Mrs. Avallone was found unconscious on the main road past Petitenget, and taken to Bali Medical Centre.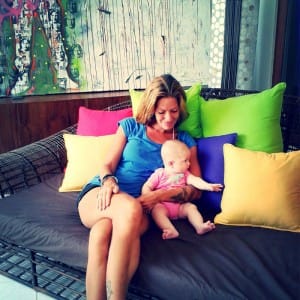 Karin Karner, a survivor of an attack tells her story. "When I was nine months pregnant I got mugged on the bike at 9pm in Umalas driving home after having dinner with a friend. Two young Indonesian boys attacked me and robbed my bag. The accident caused me three broken ribs, twelve stitches on my head, and I could not walk for a month. I was totally in shock and scared for my unborn child. I was screaming for help. A few locals passed me but didn't stop. Then my angel Melanie Johns came along and drove me to the hospital. Ten days later I gave birth to my little girl Allegra. Thanks to God she didn't get hurt!"
Police Chief Gen. Albertus Julius Benny Mokalu in response to the community-based action said, "We have optimized all efforts to prevent crimes. We conduct routine checks; we have priority targets by, for example, monitoring recidivists. Perpetrators tend to repeat crimes." He added, "In any area or province, crime can never reach zero. It is impossible. Because of population growth, economic growth, social circumstances, and many other things, of course, crimes will occur." Police have been working hard to fight crime but need the public to assist them.
Stay positive. Create solutions. It is important we have a united front. We do not care where assailants are from. We seek justice!
Report all crimes to your Banjar. Report and file all crimes with police.
Police: 0361-110
Fire: 0361-118
Ambulance: 0361-113
Tourist Police: 0361-224 11124