A simple Facebook page lured hundreds of Indonesians, mostly housewives, into investing their savings in a scheme offering unfeasibly high returns. It was a classic pyramid scheme, dressed up as an online arisan.
What's an Arisan?
A few months after I started work in Indonesia in 1996, some female colleagues invited me to join the office's arisan. "What's an arisan?" I asked. One lady attempted an explanation: "We make a group, and every month we each contribute Rp50,000 and someone in the group will win all the money; then the next month it's someone else's turn to win. So if 10 of us join, each person will get Rp500,000 when they win."
"Is it a sort of lottery?" I asked. "Yes," she replied, "but we take turns to win, drawing names at random, and once your name is drawn, you're out of the pool, but you still have to contribute, so everyone gets their money back."
I declined to join. Partly because Rp50,000 back then was equivalent to US$20, sufficient to purchase ten large bottles of beer. Mainly though, I didn't understand the concept of a rotating fixed lottery where everyone "wins" their money back sooner or later. I didn't like the idea of potentially winning in the first month, and then having to put all my winnings back into the group over the next nine months. There was no apparent reward, only the risk of people quitting after winning or refusing to make their monthly contribution.
I had grown up in a country where joining a lottery meant throwing away US$2 or more on the one in 30 million chance of winning a million dollars, while the state lottery company reaped the profits. Gambling has long been illegal in Indonesia, and for good reason, as plenty of low-income earners view it as a means to get rich quick, squandering cash that ought to be spent on health and education.
Arisan became popular in Indonesia in the 1960s. The concept was reportedly introduced by Chinese merchants as a means to obtain start-up capital for small businesses, as banks were reluctant to give loans to low-income earners. Former President Suharto's regime endorsed arisan as a form of microfinance to help the poor start a business.
By the 1980s, arisan had become synonymous with gatherings of housewives. Some women claim the arisan is essential, as they cannot trust themselves to keep money in the bank. "Each year, I like to have a holiday in December," says Dewi, who belongs to an arisan with ten members in Jakarta. "If I have money in my purse or in the bank, I might spend it. So every month, I contribute Rp.1 million to the arisan; then when it's my turn to win in December, I get Rp10 million for my holiday."
In some arisan involving socialites, the prize is almost irrelevant, even if it's in the form of US dollars or luxury goods. Instead, the gatherings are an excuse to gossip and show off stupidly overpriced handbags, phones and fashions. In 2003, such socialites were gently satirised in a film called Arisan!, which was notable for having the first gay kiss in Indonesian cinema. Although the film was popular with urban audiences, the presence of gay and adulterous characters inadvertently helped to usher in anti-pornography legislation.
Mama Yona
The advent of social media sparked the development of online arisan (abbreviated to "arisol") and arisan apps. Such groups are always going to be ripe for fraud if not regulated. Dozens of arisol can be found on Facebook. Most are closed (private) groups with anywhere from eight to 3,000 members, and some have administrators taking commissions.
Desy Chrisna Yulyani Sitanggang, who ran a small electrical goods store in Bekasi, southeast of Jakarta, decided to jump on the bandwagon. In August 2017, she started a Facebook group called Arisol Mama Yona. Members were promised returns of 30 percent to 50 percent on their investments in her arisan.
Communication between members and administrators usually took place via WhatsApp text messaging service. Some members were put into groups of three and encouraged to make deposits of Rp.1 million and upward. The first member would receive the deposits made by members two and three. After ten days, the first member would transfer the total to an administrator, who subsequently transferred the initial investments plus a bonus back to members two and three. They could then reinvest their money and see it continue to grow.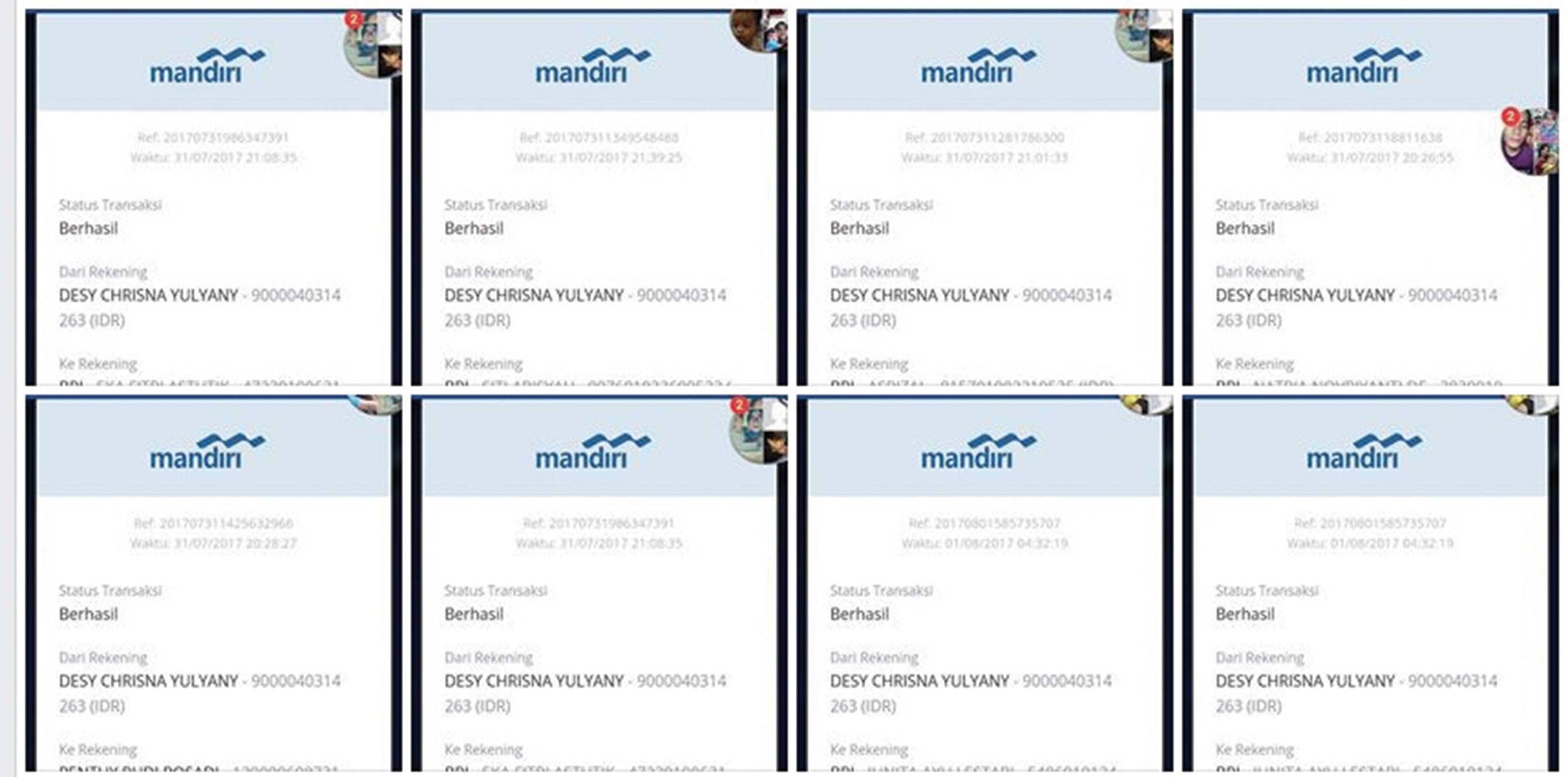 For the first few months, the scheme delivered profits to members, but in January, the payments stopped coming. Members were told their money was being re-invested for a higher return or that someone in their group had refused to repay the required money. By this time, the group had over 2,000 members, although police later said only 300 to 600 of them were making transactions.
Fourteen victims came together and reported the fraud to police. Desy was detained on February 13 and declared a suspect the following day. Her husband was held as a witness. Police said they were looking for at least four administrators of the group, who were tasked with inviting new members, handling transfers and posting online content. This content included screenshots of online bank transfers to members ranging from Rp300,000 to Rp4.15 million.
The initial complainants reported total losses of Rp800 million, but lawyers for the victims estimated the amount would rise to Rp15 billion (US$1.1 million) as more people came forward. Among the victims were Indonesian women working as maids in Singapore, Malaysia and Taiwan. There were also at least six wives of police officers and the wife of a military officer. Individual losses ranged from Rp1 million to Rp200 million.
Some victims said they had been invited to coffee gatherings at hotels, where they were encouraged to join the group by members who had already received profits. Ade Dian (27), of East Bekasi, said she invested Rp7.5 million after being assured that Mama Yona was not a scam. Local media reports said the scam had destroyed at least two marriages and prompted one victim to purchase insecticide with the intention of committing suicide.
Police are investigating Desy's assets, which include two shop-houses, a pickup truck, three motorbikes, designer bags, gold and diamonds. Her neighbour at the electrical goods store said she had recently purchased a new car. Lawyers said she had on February 7 made transfers of Rp200 million each to two of her relatives.
Desy could face up to six years in jail or a fine of up to Rp.1 billion under the Information and Electronic Transactions Law. Police have appealed to more victims to come forward and urged netizens to exercise caution before joining any online arisan.
If an arisan is promising a big profit, rather than just the eventual return of your money, you'd be better off gossiping with friends and squandering your money elsewhere. It remains to be seen how many more of Facebook's online arisan will unfold.
Feature photo courtesy of pesugihan.net