The next generation of master chefs start here.
Almost an entire generation of children have been raised on cooking shows from the mildly entertaining to fiercely competitive. In the past decade, we have seen the evolution of the chef from humble kitchen auteur to rock-star status as fast as one can say 'Gordon Ramsay'. As such, parents often find themselves scrambling for classes or schools that not only help foster interest and creativity in the kitchen, but also emphasize the importance of nutrition and reinforce core competency skills such as maths and chemistry.
On the other side of the spectrum, cooking may not fall on a child's list of favourite activities, but it might be a fun alternative to watching Harry Potter re-runs on a rainy Sunday whilst mum and dad scramble for ideas on where to go and what to eat and do sans nanny.
Whether your child is a novice or a whiz in the kitchen, here are Jakarta's best children's cooking courses to satisfy every appetite.
Koki Kecilku
As the first cooking school in Jakarta to offer classes for children aged 3-12, including those with special needs or dietary restrictions, Koki Kecilku's programme closely resembles a traditional school environment where students follow a curriculum and are routinely evaluated. The programme focuses on developing fine motor skills and cognitive ability as well as creating a fun social environment.
Joyce Thedjasurya, Koki Kecilku's founder and a mother of two, developed the school's mission with the idea that early childhood activities should not only educate and stimulate, but should be enjoyable and provide an opportunity for kids to develop social and fine motor skills.
Their faculty consists of chef instructors with experience in both cooking and teaching, and a special needs teacher with a background in psychology. Courses focus on practical learning and meet the programme's three basic tenets: fun, safety, and care.
Basic classes run approximately 90 minutes per session and there is usually more than one teacher in a classroom. Students are given positive reinforcement at each stage of their culinary education, building self-esteem and confidence. The programme offers a range of regular once-a-week classroom attendance to private lessons and parties. Students are also welcome on a drop-in basis.
There are currently three locations: Mall Taman Anggrek, Mall AEON BSD and Gading Serpong.
Email: [email protected]
Telephone: +62 818 069 13139
Fees: Rp.650,000 per month (once a week for four sessions maximum per month). Check with school for other offers and courses.
Young Chefs Academy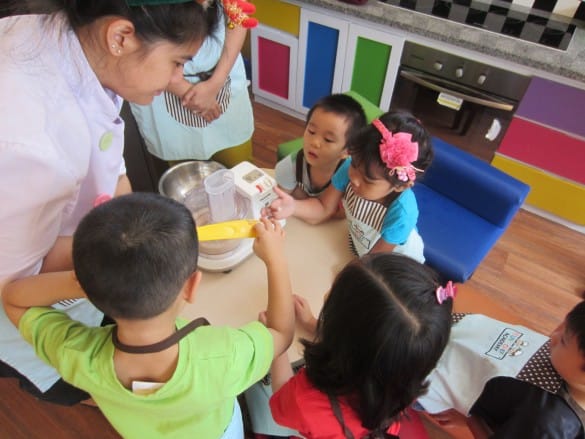 Located at the northern end of Jalan Kemang Raya, on the second floor of a nondescript building, is Young Chefs Academy (YCA). Founded in the United States in 2003, YCA has enjoyed relative success with international franchises in seven countries.
YCA in Jakarta was established in 2012 and prides itself on having the highest standards in town. Their programmes are hands-on, using as many fresh ingredients as possible, with tools that are specially designed for children – think special plastic knives for the youngest students and Kevlar gloves for older ones who are able to use sharp instruments.
Students study and prepare cuisines from countries around the world. They learn to appreciate different cultures through cooking, with a little dash of geography and history for added knowledge. Classes are divided into three age groups and instructors are a balanced mix of experienced chefs and teachers from a preschool or primary school education background.
Apart from their core curriculum, YCA offers field trips, after school programmes, corporate team building, birthday parties and private events. School holidays find the YCA kitchens particularly busy, and their events fill up very quickly.
www.youngchefsacademy.com/id
Email: [email protected] or [email protected] 
Telephone: +62 21 7179 4589
Fees: Core courses range from Rp.850,000 – Rp.1,350,000 per month with additional one-time registration fees. Special events, programmes and private courses upon request.
Dapur Anak
The programme at Dapur Anak was created for children aged 5-13 to teach independence in the kitchen whilst fostering creativity and providing a basic platform to discuss nutrition. Students can choose from Western-style pastry courses that involve baking cakes and cookies to more complicated Indonesian fare. Additionally, they offer courses on making healthy beverages and barista training.
Chef instructors can also be hired to travel to homes for private lessons and birthday parties. Each class is approximately two hours long with a demonstration and practice session immediately following. Dapur Anak is located at Lotte Avenue and Plaza Indonesia Mall. Most classes are currently conducted in Indonesian, but English-based study can be accommodated upon request.
Email: [email protected]/[email protected]
Telephone: +62 21 7179 6376
Fees: Varies by length and duration of course, please enquire.
Sapori Deli at the Fairmont Hotel Jakarta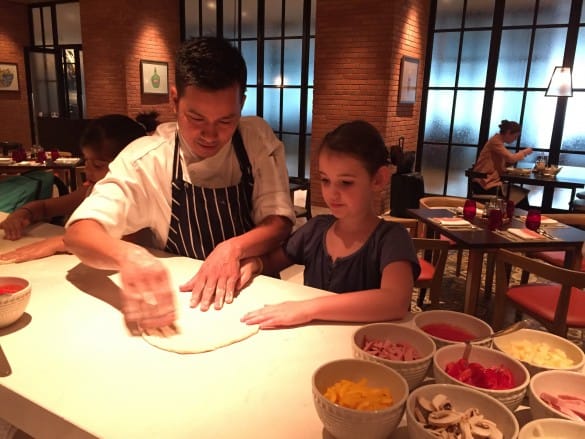 It would be difficult to find a child who does not like pizza and pasta. So what better way to introduce children to cooking than through the art of pizza making?
At the behest of a number of eager clients, Executive Chef Andrew Zarzosa at the Fairmont Hotel Jakarta instituted a DIY pizza bar during brunch every Sunday at their Italian-themed restaurant Sapori Deli. Children's cooking activities soon followed. Chef Zarzosa wants to keep it fun to get kids comfortable with the idea that cooking isn't so hard. He didn't want to bombard their minds with correct technique, history and theory. Chef Ahmad Gojali, who most recently worked for a Michelin-starred restaurant in Macau, oversees the special activities for children ages six and above.
Pizza making activities are administered at a large counter that runs around the open kitchen situated at the centre of Sapori Deli's casual dining room. Children can sit high on a stool and watch their pizzas baking in the traditional brick oven while parents dine comfortably within range.
The class can take anywhere from 15 minutes to an hour, depending on how adept each child is at working the dough and piling on ingredients. The end result is always the best reward, piping hot from the oven.
Email: [email protected]
Telephone: +62 21 2970 3333
Fees: Included in the price of Sunday brunch Rp.194,000++ per child, children under five eat free/private parties and lessons fees available upon request.
Nishimura Restaurant at the Shangri-la Hotel Jakarta
Perhaps pizza just isn't quite challenging enough and your child has a passion for raw fish and rice. Enter Chef Hideki Chomei, whose own passion for cooking started at age five when he assisted his father at the family fish shop by cutting and selling fresh fish.
Children ranging from ages 6-12 can learn the art of sushi making from the distinguished Japanese chef, and receive a certificate of completion at the end of the event. Chef Chomei provides feedback at the end of the course and awards one standout sushi creation. Participants enjoy fun competition as well as learn the process of food preparation and hygiene.
Each child receives a hat and apron to take home. This course is available upon request and can be customized.
Email: [email protected]
Telephone: +62 21 2922 9999
Fees: Standard class Rp.300,000 per child (includes lunch after class), special rates apply for larger or customized groups.