Empowering  Indonesia's socio-economic potential and natural resources is feasible through fulfilling the need for competency and internationally-minded human resources in this industry.
Tourism is a very prospective sector in driving Indonesia's economic growth. Although the need for professionals in this field is high, the availability of personnel who have competence and international insight still needs to be further developed.
Therefore, Menara Bhakti Foundation (YMB), which is also the organiser of Mercu Buana University – a superior accredited private university with nearly 40 years of experience – is considered capable and competent to arrange higher education in the field of tourism and hospitality through the Indonesian Tedja Tourism Institute (IPTI). In addition, YMB also has experience in the hospitality industry as a shareholder in one of the hotels managed by Marriott International which owns Marriot Bonvoy, the world's largest hotel loyalty program.
The Tedja Indonesia Tourism Institute is committed to educating and producing a workforce in the tourism and hospitality sectors that is competent with international standards. The Tedja Indonesia Tourism Institute collaborates with Ecole Hôtelière de Lausanne (EHL), a renowned hotel school in Switzerland, in curriculum development and also establishing a partnership with Marriott International Indonesia.
"We are proud to be part of and contribute to efforts to improve the quality of education in the tourism and hospitality sector in Indonesia, as well as unlocking talent potential that will push the sector to greater heights," said Ramesh Jackson, Area Vice President at Marriott International, Indonesia and Malaysia.
One of the concrete forms of cooperation between Tedja Indonesia Tourism Institute and Marriott International Indonesia is the significant contribution of Marriott International Indonesia to post-study empowerment. Marriott International Indonesia opens job opportunities to 65 percent of Tedja Indonesia Tourism Institute graduates, where 15 percent of these graduates are given the chance to become Management Trainees in a hotel portfolio network and its resorts in Indonesia.
Not only that, as part of the competency development program, Marriott International Indonesia will hold 100 hours of guest lectures every year guided by experts from hotels and resorts in the country. This commitment shows the seriousness of Marriott International Indonesia in helping to develop education and training standards in Indonesia's tourism and hospitality sectors.
"The 'People First' culture at Marriott International that has lasted for 96 years is the main impetus behind our strong position as a company with the title 'employer of choice'. In line with this principle, we continue to be committed to creating fair opportunities for workers to grow economically. professional and meaningful work," added Jackson.
Chairman of the Menara Bhakti Foundation, Nurani Pujiastuti, Dipl.FM, in her remarks at the groundbreaking event on 4th September 2023, said, "I feel grateful to be able to lay the first stone in the establishment of the Tedja Indonesia Tourism Institute campus building in Cipayung, East Jakarta. This establishment didn't only expect to meet the needs of internationally qualified manpower, but also to bring the Indonesian hospitality and tourism industry to a sustainable international standard."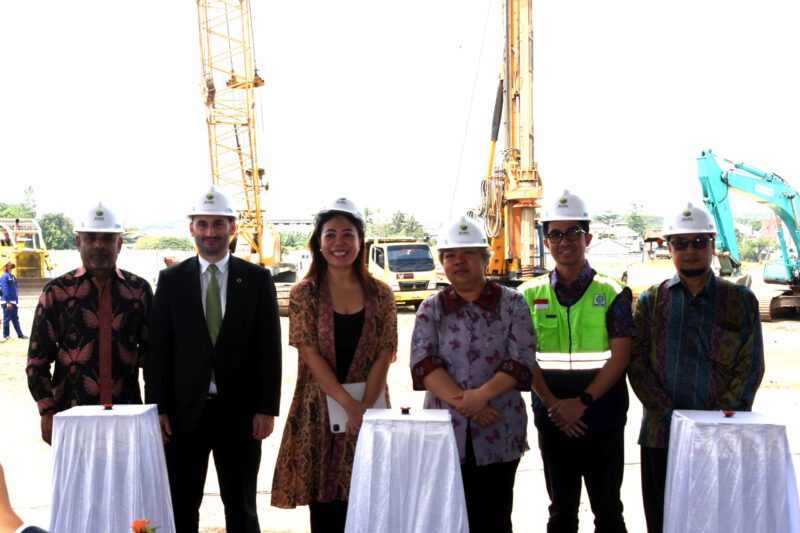 The groundbreaking event for the construction of the Tedja Indonesia Tourism Institute campus was attended by various parties, including officials from the Ministry of Education, Culture, Research and Technology, stakeholders, and other guests. This event was marked by pressing the siren by the Chairman of the Menara Bhakti Foundation, accompanied by other foundation administrators and the Chancellor of Mercu Buana University, Prof. Dr. Ir. Andi Adriansyah, M.Eng., continued with the operation of the bore pile and tumpeng cutting.
Reflecting YMB's commitment to improving the quality of higher education in Indonesia, especially in sectors with great potential to drive national economic growth, greater potential to compete at the international level is possible. This initiative is expected to be a catalyst in the transformation of tourism and hospitality education in Indonesia.