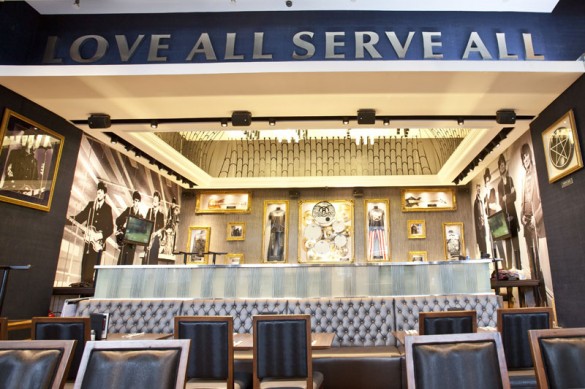 Such a stellar name, The Hard Rock Café is a strong, ongoing presence in any big city. The name resounds with the familiar feeling of eating out, listening to good music and good drinks. Yet the newly renovated and relocated Hard Rock Café Jakarta has a few more surprises than meets the eye.
The newly revamped Hard Rock Café took a new location to call home. After months of hiatus, Hard Rock Café is no longer located at EX but in the Pacific Place mall. This new venue allows for a bigger, more accessible entry way, unrestricted to mall entrances, which is a standard requirement for all Hard Rock Cafés. This renovation is part of a worldwide rejuvenation of the chain into adopting the epithet 'Reborn'.
Only two months have passed since the grand opening, and the Hard Rock Café has already attracted many regulars and newly-converted regulars. This new location is, perhaps, the great deciding factor for the business; the SCBD area is known to charm neighbouring office workers for lunch meetings and after-office drinks. At around 4pm this place is already packed with diners and happy hour fans.
The 'reborn' title doesn't change much in the philosophy of Hard Rock Café as it does the atmosphere of the restaurant and bar. The Hard Rock Café was mainly associated with just that; hard rock music. Now, the born-again venue features a more relaxed lounge setting, family-friendly and suitable for all ages. The open air bar outside is quite refreshing; great for laid back happy hour drinks with friends. The patio opens right up to the streets of SCBD and is a great way of embracing Jakarta in all its glory over drinks as the sun sets.
The marvellous display of musician's gears and instruments is still a trademark of Hard Rock Café. Every seven years, these memorabilia cased in glass are taken down and changed with new ones. Currently, a majestic Aerosmith drum set highlights one corner of the Hard Rock Café Jakarta. Another corner, called The Jakarta Tribute Wall, houses more memorabilia of bands that have performed in Jakarta.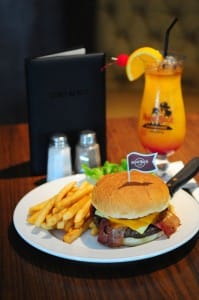 But it's not all about the music and décor; many come for the mouth-watering, large portioned American food. For Indonesian standards, the size of dishes is quite big, unless you are sharing. The best-selling item on the menu – and a great sharing dish – is the Hard Rock Nachos. Devour this as a midday snack with some refreshing drinks. The sharp cheddar cheese atop fresh tortilla chips is such a guilty pleasure. Not only that, the trimmings make the dish all the more flavourful; there's a layer of homemade queso, seasoned pinto beans, sour cream, pico de gallo, jalapenos and some salsa. The cheesy tone is not too heavy as it is combined with the playful and refreshing salsa. And the jalapenos give a little kick to this Mexican-inspired comfort food.
My gastronome partner chose the much-anticipated Legendary 10oz Burger as his entrée. Also a large portion, yet wasn't a feat for him to finish as it is as delicious as it's hyped up to be. The large, succulent beef patty, coupled with turkey bacon, is decorated with cheese, lettuce, tomato and pickles, with a slight twist; a juicy onion ring is wedged in between. One thing that would propel this burger to another level is, perhaps, more pickles to give a playful character. But all in all, it's quite a hearty, tasty American burger.
For a rich and warm dessert, we tried the delicious Fresh Apple Cobbler. It was garnished with vanilla ice cream, walnuts and a drizzle of caramel sauce. Once again, this dish is made for sharing.
The Hard Rock Café is also vegetarian-friendly. The Veggie Leggie burger is a great vegetarian dish, prepared with a vegetarian patty, Portobello mushroom, roasted red pepper and other vegetables seasoned with lemon mayo. A selection of fresh salads is also available.
The Hard Rock Café's has a few fixed items on the menu across its worldwide venues, but they also have autonomy in creating local Indonesian-influenced dishes like nasi goreng and the likes. They will also start launching Indonesian drinks, with locally sourced exotic fruits and zest, soon.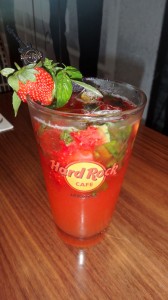 For drinks, we chose the Electric Iced Tea, Strawberry Basil Lemonade, and the Tropical Rock. The iced tea was a refreshing mix of gin, rum, sweet and sour mix, and splash of soda. Its electric blue colour was an eye-catcher. The lemonade was quite a unique drink; the use of basil leaves instead of the ordinary mint leaves in this drink is quite a curveball, and quite a successful one at that. But the winner on drinks has to be the Tropical Rock. It is a delightful concoction of raspberry vodka, crème de banana liqueur, pineapple juice and a dash of melon liqueur. It's similar to a pina colada, but the raspberry vodka makes all the difference.
The prices of food ranges from Rp.40,000 to Rp.400,000 per dish. If you are looking for a good value to price ratio, you'll be satisfied with the Hard Rock Café's menu.
The new Hard Rock Café Jakarta is also making some changes in the music department. The song choices and the videos played are more inclusive of different genres compared to the old rock-and-roll-only selections. Live music is the bread and butter of Hard Rock Cafés and this new Jakarta venue has a more varied daily house band. I Like Monday and Flashback are two of the many regular live music programs they host; the former being themed, such as I Like Rock or I Like Jazz, and the latter is a flashback session for bands who have played at Hard Rock before.
Lunch is the busiest time to visit Hard Rock Café. But their servers – a very friendly and happy bunch of people – will serve you well and make your visit all the more enjoyable. The new layout sure is an invitation for crowds of all ages to go through a familiar Hard Rock Café experience with a twist. Rock out with the new Hard Rock Café Jakarta; they're ready to rock with you!
Hard Rock Café Jakarta
Pacific Place Ground Floor G-05
SCBD Lot 3-5
Jl. Jend. Sudirman Kav. 54-55
Jakarta
+62 (0) 5797-3055
Food: 8.5/10
Service: 8/10
Value: 9/10
Atmosphere: 8.5/10
The Hard Rock Café is a non-smoking space until 10pm.