Dying beautifully and relinquishing, its flame, the embers of Jakarta Fashion Week 2015 (JFW) leave behind memories on a fashion horizon of spectacular creations, quirky takes and nonsensical fun for us to dissect, choose from and make our own.
Senayan City played host to Jakarta Fashion Week, which opened with aplomb. During this fashionable week, three collections stood out – Dini Pratiwi Irawati, Ivan Gunawan and Gracia Shinta.
Dini Pratiwi Irawati
This collection was sublime and would not be out of place with its peers in the international arena. Dini is tall, elegant and charming. I asked her what inspired the collection. She then began to regale me with the poignant fable of unrequited love of a man called Bandung Bondowoso for a beautiful woman Roro Jonggrang. Roro, wanting to reject him, set him the impossible task of requesting that he create a thousand statues and house them in a temple to be built by him. Fearing he would not fulfil this task, he set about an ambitious plan. He had all but completed his task save for one statue and coerced the villagers to create dawn light by setting fire to rice! Knowing that he had been set up to fail and be rejected, Bandung cursed Roro to be forever cast in stone.
Dini showed me images of the beautiful Hindu temple Prambanan where the statute of Roro lives. She had visited this stunning monument and fell in love with it. Through her designs, you can see how the aura of the temple, its history and mood had transmuted to an alluring depiction of a masterpiece created in the tenth century. She wanted the story to come alive through her designs.
She describes her collection as "ready to wear couture". It took two months to create from images of the temple to choosing swatches. After that there was a month of painstakingly getting the 'stencils' right to guide where the gorgeous ethereal particular sequins (sewn on, one by one) would be stitched to create the silhouettes she wanted on her clean cut, simple designs. The materials used in the collection were Duchesse satin, cotton and fringing.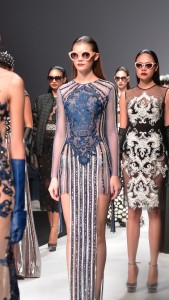 Ivan Gunawan
His show was a spectacle, titled My Kedora. The fragrant crowd that had gathered mid-week was outre looking and very stylishly eclectic. The inspiration was love in its many guises. The dark and light side. The poetic nature of love. The collection's colours of blue, silver, gold and black along with tulle, jacquard and organza represented the whimsical, glorious and sometimes ephemeral nature of love.
The show kicked off with a model wearing a sumptuous lace catsuit, which left very little to the imagination but it just rocked! A model sashaying in a gold dress down the catwalk drew gasps and wolf whistles and worthy it was too of such admiration. A black, billowing, silk skirt with white 'embossed' flowers was simply majestic. A sexy mesh dress with a Ming vase-like embroidery on the bodice, with a long front piece was deviously licentious.
Gracia Shinta
My kind of gal. I loved the super towering wedges. The black cape dress with a bejewelled collar was dramatic as it was beautiful. The white trouser suit with an embodied cape combo was cleverly, innovatively handsome. The red dramatic evening dress was spectacular, and the black and gold slit front dress closing the show could only be described as Cleopatra dramatic, a dress to command a room. Uber cool chic collection.
Alas with the end inching closer, the final night was upon us. The great, the bold, the beautiful and downright quirky packed the fashion tent to the rafters for the finale of what had been a stupendous week of talent and style shown by designers of Jakarta.
Iwan Tirta
Iwan opened the evening with an explosion of Batik colour, oodles of fabric in the form of conservative, ornately decorated kaftan dresses of parachute proportions. The models resembled warrior princesses in fitted long dresses with capes. The women in the audience drooled when a covey of dapper, dashing, scrumptious beaus were sent down the catwalk in snug shirts of Iwan's definitive prints, complimented with the just right 'tight' fitted trousers a man could decently wear! There were hues of browns, gold, red, black and green. The standout piece was the kaftan-style dress with embellishments around the V-neck and humongous sleeves.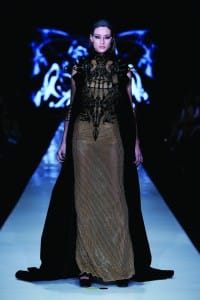 Tex Saverio
He of Lady Gaga fame put on a heart stopping glittering affair. It was his usual twist of quirky wit in his designs. Silver and black were the key notes with the models sent down the runway in Swarovski crystal surgical masks. A white trouser suit was simply sensational, likewise silver skirts, trousers and tops and an abstract black and white skirt. Floor length mesh gowns with dramatic godet were devastatingly gorgeous. The puff ball/long skirt combo teamed with cropped jackets was an ode to the eighties.
Priyo Oktaviano's
Inspired by Africa, models' hair were in exquisite cornrow plaits. The funky, sparkly nose clips with wings were a sophisticated take on septum boar tusk piercings of an indigenous tribe. Chiffon skirts with high-low hems and trails that swayed as the models walked were simple and beautiful. The matching quilted tops provided a nice contrast to the chiffon skirts. A blue trouser suit was elegantly cut and very chic with a swathe of rouged chiffon covering on the 'tail' of the jacket. There were some sexy, heavily beaded skirts jam packed with paillettes, crystal beads, sequins and feathers. A waistcoat dress combo with sheer sleeves and white 'pearl' beading and fitted, short front skirt was simply divine. The long, almost midnight, blue evening dress with tiny buttons at the back, slit at the front, paillettes on the sleeves and a polo neck collar, shouldn't have worked but it sure did! All in all, Mongolian-African-esque chic. The international buyers should come knocking.
Vinora
Clinical, simple and white. Clever take on the ubiquitous white shirt and dinner jacket. Deconstructed shirts and dresses. The off-white tuxedo jacket was scrumptiously chic and definitely "less is more". The half shirt/jacket combo was innovative and would get the attention at a gathering. Simple ideas made beautifully complicated. The shirt dress is on my hit list.
Sapto Djojokartiko
Beading, beading and more beading, sequins with lace, silk organza and tulle. Heavenly creations. Opulent Indian-inspired fare with an ode to the Frisian exotic dancer Margaretha Geertruida. Beautifully beaded trousers and tops. A stunning Sari style top/trouser creation and an equally stunning cape/kaftan low cut front dress were the show stoppers. A standing ovation, if you please!
Nur Zahar
This collection was Navajo meets Lawrence of Arabia meets chic hijab meets Mexicana. Flowing Batik prints in brown, blue and beige with multiple layering, giving the collection a relaxed look. The accessories were long suede boots, short block heel ankle boots and floppy wide brim hats. I fell in love with the tassel poncho; wear that as a dress belted at the hips with some tassel high heeled boots. Muted, modest yet alluring Muslim chic.
Jakarta Fashion Week was a fait accompli extraordinaire, the international fashion world took notice. As my head hit the pillow, I fell asleep dreaming of the beautiful clothes I had seen over the week. The signature music of JFW was a welcome intruder as a soundtrack to my dreams.