The Internationally recognized Agung Rai Museum of Art is one of the venues for a new type of tour called Artpreciation. The tours aim to raise awareness of the unique and diverse arts culture that is an important aspect of the history and influence of Bali as an international arts centre.
Artpreciation is a programme of art tours for small groups that includes lectures by art authorities, visits to galleries and museums, visiting hotels with extensive art collections and exclusive access to studios of prominent Balinese artists.
The growth of spiritual and wellness tourism in Ubud has become a huge boom for the Bali tourism sector. Art is one of the original cultural attractions which has positioned Bali on the international tourism map since the 1930s but has yet to be realized or appreciated for its enormous tourism potential.
Features of the Artpreciation tours start out with a visit to Ubud's famous Agung Rai Museum of Art (ARMA), lectures on the history of Balinese and Indonesian art, and guided tours of acclaimed Balinese artists Made Wianta, Mangu Putra and Made Djirna's studios.
Founder of ARMA Agung Rai loves sharing his knowledge about his important collection of Balinese art, along with explaining architectural features of the museum and cultural distinctions of the Balinese people. Agung Rai was always drawn to the arts and started collecting in 1980. The diverse collection includes works by the legendary Gusti Nyoman Lempad and Ida Bagus Made Poleng, to influential foreign artists such as Walter Spies, the visionary artist who bridged western art with Balinese art. One can see the evolution of Balinese art at ARMA. "Artpreciation tours are both very interesting and important, not only for foreign visitors but for the Balinese as well," says Agung Rai.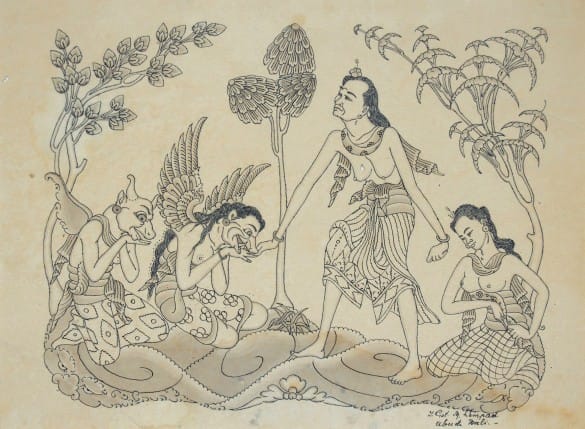 Agung Rai believes there is a lack of appreciation and understanding of the ideology, content and symbolism behind the traditions and the overall development of Balinese art. "It is important to have awareness of the religious, social and artistic values found in Balinese art which is a unique part of our heritage," he adds, believing that Artpreciation tours are essential in educating people and assisting in the survival of Balinese art.
Venturing into the studios of internationally known artists Wianta, Magu Putra and Djirna adds an exciting element to the tours. Their collections of paintings, sculptures and installations in their studios are visually exhilarating and accompanied by fascinating individual stories. The artists take pleasure in openly sharing their knowledge about their inspirations, ideas, and technical processes.
"Usually art collectors do not know where to begin," says historian and art critic, Jean Couteau. "There is a huge amount of 'art' being made in Bali and an abundance of 'galleries' that makes it hard for collectors to make the right choices. Artpreciation makes their learning and selection process much easier."
There are several variations of Artpreciation tours available, providing full and half day tours, including hotel pick-up and delivery. The tour may begin with a presentation and lecture about the history of Balinese and Indonesian art or on how to collect and invest in Balinese art. This may be followed by a museum tour or a visit to an antique or contemporary art collector. Lunch at a fine dining venue will be next on the agenda, where you can continue your conversation with the tour presenter. The day ends with a visit to an artist's studio and transportation back to your hotel.
In addition, ARMA offers cultural festivals and workshops such as woodcarving, cooking classes, batik and offering making. There are daily dance performances by the best Bali dance companies and lectures on Balinese culture are held regularly at Warung Kopi. Children's dance and gamelan classes are also offered, as is a Sunday morning model painting class. Spacious rooms are available at the ARMA resort and spa in a tranquil enclave of lush Balinese gardens with restaurant and spa services of top quality. ARMA believes in involving visitors and guests in the beauty and the culture which makes Bali such a unique destination.
Artpreciation is a welcome addition to the Bali tourism sector and an asset to cultural preservation, perfect for art lovers, art collectors and those with a curiosity about the traditions and values inherent in the fine art of Bali and Indonesia.
Alistair Spiers, founder of Artpreciation believes that "Indonesia's culture is shrinking as rapidly as fast food and convenience stores open." He believes financing the preservation of culture through tourism is the only way forward. "If we do not finance the preservation of culture through tourism we will lose it all together. We need art and cultural tourism in Bali to protect and support these important aspects of Indonesian life."
For more information, visit www.artpreciation.co.id